When one has had to endure a 9 yr. absence from recording as a leader, it would seem obvious that the next recording would be of special significance. When you add into the equation that this would be the 5th time in my career that I have paid, out of my own pocket, for the privilege to record, it becomes even more difficult to estimate just how much "THE GREEN FIELD" has meant to me. People often ask me, "Why was there so much time between "GOT MY MENTAL" and a new recording?"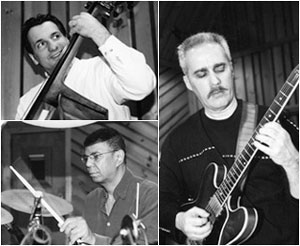 Well, the answer to this becomes painfully obvious. No one, on the recording executive side of the table, felt that I was worth recording. One can attempt to dance around the truth, but you would always return to the same, sad conclusion. For some, this would be too much. But, for some reason, it only seemed to strengthen my resolve in finding a way, no matter how long it might take, to get something recorded and released.
After a lunch/meeting, during '04, with Hiroshi Itsuno, who had just launched his own label, 55 Records in Japan, I felt confident that, no matter what, the recording would have a home, and would, at the very least, be available somewhere on the planet. I also knew that I was going to record again with John Patitucci(Acoustic Bass); Jack DeJohnette(Drums); and Manolo Badrena(Percussion), all players with whom there exists a great musical empathy. Just as it turned out with "GOT MY MENTAL", I could not escape the presence of the Latin element in some of the music. And so, I knew that Ralph Irizarry(Timbales) and Roberto Quintero(Congas) would be added to the trio for those tunes. As the sound and approach to the music-making of the basic guitar trio does not change, the core, the thread would be consistent no matter what. And so, on May 23rd-24th, it all finally came together at Avatar Studio 'A' with Malcolm Pollack behind the console.
Without any question the most thrilling moments took place during the title track, "The Green Field." When performing a piece of music such as this, one can have a vision of just what might be possible, but you never know what will really happen. During the process of production, I was 'forced' to listen to the entire 18:07 performance more times than I can recall, and each time, I was just overwhelmed by Jack DeJohnette's relentless energy and creativity.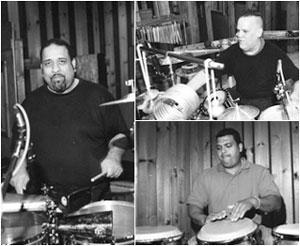 While recording, I had a great view of it all and, at times, it was almost as though there was no conscious effort to play, because I was watching something so masterful unfolding right before my eyes. For me, this one track is worth everything, worth the 9 yrs. of waiting and self-doubt. Because of the length of the track, it had to be placed last in the sequence as one does not want to make people a 'prisoner' of the track. One can only hope that, even in this "rush, rush, rush" world, a few of you will make the commitment of time, at least once, to go on this journey/adventure with the four of us. In that event, the four of us would want to express our gratitude. Thank you for joining us!!!
It is important to always hold one notion in your thoughts, and that is this: "Recording is a privilege, and not a right!" When a recording company is paying the budget, it is most easy to forget this. To some, it is license to abuse the "privilege." But, when you pay for it yourself, the understanding of just how great a privilege it really is becomes magnified 1,000 fold.


[1] El Viñón(Steve Khan)(9:21)
[2] Congeniality(Ornette Coleman)(8:07)
[3] Riot(Herbie Hancock)(7:31)
[4] Fist in Glove(Steve Khan)(7:46)
[5] Cosecha lo que has sembrado(Steve Khan)(7:20)
[6] Sanctuary/Nefertiti(Wayne Shorter)(7:56)
[7] Eronel(Thelonious Monk)(5:25)
[8] You Stepped Out of a Dream(Gus Kahn-Nacio Herb Brown)(5:37)
[9] The Green Field(Steve Khan)(18:07)




Photos in collage: Steve, John Patitucci, and Jack DeJohnette
Manolo Badrena, Ralph Irizarry, and Roberto Quintero
Photos by Richard Laird
Collages by: Youngsuk Fallis

PREVIOUS | HOME | DISCOGRAPHY | NEXT