Since the purchase of my first computer in 1998, a lot wonderful and sometimes strange things have happened. On the very wonderful side, it has been so heartening to have received e-mails from all over the world and to learn that, somehow, my recordings, whether LPs, cassettes, or CDs had reached so many people. For me, the years 1993-1994 were especially turbulent, marked by my father's death in January of 1993, and no less significant, my divorce in 1994. In the middle of these large events, I was able to tour Europe several times with great bandmates, and, as 1993 came to a close, I recorded "CROSSINGS" with Anthony Jackson, Dennis Chambers, Manolo Badrena and Michael Brecker. On the night of April 28th, 1994, my birthday, Anthony, Dennis and I took-off for another European tour. It was quite a time!
On the last night of the tour, May 17th, as per our contract, we played a concert at the Stadtgarten Club in Köln, Germany. As part of our agreement, we were to be broadcast live by WDR, which is as well-known around the world as our NBC, CBS or ABC.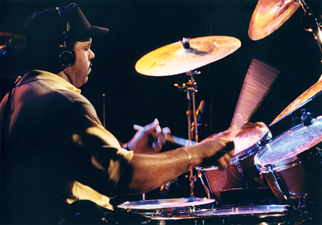 As is always the case, at least for me, I tried my best to guide the sound engineers towards capturing the sound of our trio in the proper light. If one can not afford to travel with their own soundperson, one can never guarantee that the audience will be presented with the music as we hear it. After the concert, I really never thought that I would hear about this night again, and I gave the DAT tape copies to Dennis, as I know that he loves to have such things. If I knew then that this concert would eventually become a real CD? Well, I certainly would have paid more attention to the tapes.
Over the past 10 years, I have received many e-mails from people across the globe telling me that they had a 'live' CD of mine with Anthony and Dennis. I would always write them back to say that, "We have never recorded a live CD!" I certainly have never thought of myself as someone who is 'important' enough to be bootlegged. But then, one day in 2004, an e-mail arrived from a fan in Osaka, Japan telling me that he had just purchased a 3-CD Set in a store there. I wrote him back and asked him if he could take photos of this "CD" and send them to me. And so, he promptly complied, and I could see that someone had packaged the CDs with a not-too-old 8"x10" glossy 'promo' photo of me, and, on the inside, they had even used the Ned Shaw caricature of the three of us, one which we had used as a 'tour poster' in 1994. All I could do was to laugh about all this. But 'fate' was not finished with me yet. Around the time of my birthday, in April of 2007, I went to Medellín, Colombia to visit friends. And, while riding around in the beautiful hills which surround the city, some guitar trio music caught my ear, while playing on the car stereo. There was something familiar about this approach to trio playing, and so, I asked my friend, "Who is that?" And he replied: "That's you, Anthony and Dennis - live in Köln, Germany." Again, I could only laugh about this. But this time, I kept listening and I was amazed by the performances, because I had really never heard them before. I was so distracted by the music that I became lost to the conversation.
Then, as 2007 moved into summertime, I received an e-mail from Ulrich Vormehr, the chief of ESC Records(Germany), asking me if I would feel O.K., if he licensed the WDR Radio Broadcast from 1994 for his label. It was such a stunning development, in light of all that had gone on before, that I was genuinely thrilled to know that this concert would become available, and finally, legally! It wasn't long before I was communicating directly with WDR, and learned that no multi-track masters existed, and that all we would have would be the original 2-trk. masters.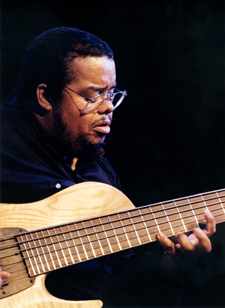 I also learned that we had performed 15 tunes that night, and it was my hope that, somehow, all the tunes could fit on a double-CD. For many artists, a live recording can sometimes serve the purpose of being a "GREATEST HITS" release. Of course, for Jazz artists, this would never be the case. However, this recording now documents what has become of previously recorded tunes, which cover recordings from "EYEWITNESS" all the way through to "CROSSINGS." In all, 7 recordings are represented here by at least one song.
When "CASA LOCO" was recorded in 1983, its original title was to have been "THE SUITCASE" because Jean-Michel Folon had just done a beautiful series of 'suitcase' watercolors. But, those paintings were not available for me to use then, and so, bad Spanish and all, I chose to use "CASA LOCO" for the title. Now, some 24 years later, I finally have the opportunity to use one of the 'suitcase' images. As this is a live recording, one which was done amidst the stress and strain of difficult travels throughout Europe, and, of course, the image of a suitcase, rolling through airports and hotel lobbies is an ever-present one. Hence, the title of this new CD set.
The concert in Köln took place on the last night of our tour. So, though we were hardly thinking ahead to that night, we did have 2-1/2 weeks of clubs and concerts behind us, and this is always a good thing! However, on this night, some really unique and unexpected things did occur. I would love to share some of those moments with you, without spoiling the surprises which might be in store for those of you most familiar with the material. For me, one of the most special moments is Anthony Jackson's solo bass 'prelude' to the tune, "The Suitcase." I remember that, on this night, Anthony was afforded two Lexicon 224 units, which he promptly programmed, but neither Dennis nor I had a clue as to what to expect during the concert. And then, Anthony unleashed what you can now hear. It is really an extraordinary moment, and I am thrilled that it appears here.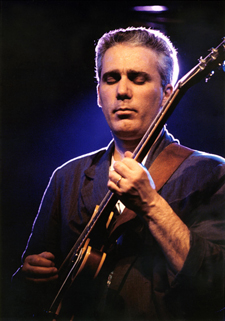 However, understand this, Anthony's playing is consistently brilliant throughout, and the 2-1/2 hours of music presented here is a reflection of all that this most unique and visionary musician can do during any given evening. There are also signature moments during "Where's Mumphrey?"; the Tags of both "Eyewitness" and "Guy Lafleur." And, of course, there is his incredible hook-up with Dennis throughout Joe Henderson's "Caribbean Fire Dance."
It is not often that one can present one complete, totally unedited, drum solo on a CD, but, on this double-CD it is my honor and pleasure to present two Dennis Chambers drum solos 'au natural' - just as they happened that night. From the opening crash and intro to "Where's Mumphrey?" to the closing hit of Lee Morgan's "Mr. Kenyatta," Dennis is absolutely roaring throughout. It is truly breathtaking to hear what he brings to the music. But, Dennis is so much more than just 'pure power' and a relentless 'groove' - just listen to his beautiful brushwork on "Melancholee," "Eyewitness," or my late father's ballad, "Dedicated to You." But, back to the power zone, "Blades" gets the special touch of Dennis' double-bass drum pedal, as he gives that piece from '82 a sense of "total lift-off-ocity!!!" Wow!!! More than all the musical moments we have shared together, Dennis remains one of my closest friends, and someone with whom I just love spending time while traveling. This always includes lots of walking and conversation while exploring new cities, and, of course, sharing meals together, and more conversation and laughter as well. Thanks for all the great times 'D'!!!
I would love to take a moment, and use this forum, to express my gratitude to both Patrizio Chiozza and Gea Marotta for having promoted this particular tour of Europe, and so many others, before and afterwards. And, to Freddy Zerbib our tour manager, and, in general, our "Mr. Everything" because, without his road savvy, his good humor and laughter, we never would have survived any of it. And, I know that he was looking out for our best interests during this recording as well. Finally, I would also want to thank the WDR recording engineer, Thomas Sehringer who, circumstances considered, did such an excellent job of capturing the sound of our trio. When all that exists is a 2-trk. master, if it wasn't recorded well to begin with? There is not much that even the most sophisticated contemporary technology can do to 'fix' it. And so, I am simply grateful to everyone for their roles in making this such a wonderful sounding live recording!!!