As 2014 was coming to a close, I received some very exciting news from the UK that BGO Records was going to release: "TIGHTROPE"(1977); "THE BLUE MAN"(1978); and "ARROWS"(1979), packaged together, as 3 Albums on 2 CDs.
This, of course, was a complete and total surprise to me. For those of you who might not have even been born prior to those years, these 3 albums featured a consistent core group of personnel, that included: Randy Brecker; Michael Brecker; David Sanborn; Don Grolnick; Will Lee; and Steve Gadd. Over the course of the albums, there were significant appearances by these great Guest Artists: Bob James; Ralph MacDonald; Mike Mainieri; Rick Marotta; Errol "Crusher" Bennett; Jeff Mironov; David Spinozza and Rob Mounsey.
If there was an original 'goal' for these 3 albums, it was to try to keep alive the sound, the feeling, the style, and the group of musicians that had been a part of the Brecker Brothers Band throughout most of the mid-'70s. The only difference was that these recordings would be a bit more guitar-centric than the band recordings had been. "TIGHTROPE" never would have happened had it not been for the influence and good faith on the part of both Bobby Colomby and Bob James. It had been the hope that the finished album would represented my original compositions plus one by Randy Brecker. As it turned out, there was a feeling that the album needed a couple of tunes to have broader appeal, especially at radio, and so, the O'Jays' "Darlin' Darlin' Baby"(Sweet Tender Love) was chosen. As fate would have it, that performance which featured a beautiful arrangement by Bob James and the sound of David Sanborn's alto sax, the tune became a minor hit, and the album attained sales figures that were far more than anticipated.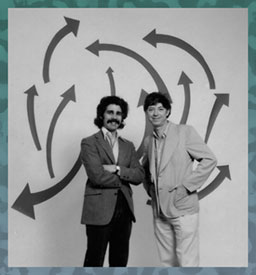 I would never again reach such sales peaks! One of the true high-points for me was when art director Paula Scher said that it would be "no problem" for me to realize another dream and to have original cover artwork by Jean-Michel Folon. The fact that Jean-Michel and I developed a warm friendship that spanned decades and some 13 album covers in total was more than I could have ever asked for.
In 1978, I was afforded the opportunity to produce myself because both Ralph MacDonald and Tom Scott went to bat for me by stating that they felt that I had acquired the necessary experience and knowledge to do a good job. "THE BLUE MAN" was, in my view, more representative of my original vision, featured the same group of players, and another great tune by Randy Brecker. Another long-standing musical friendship moved forward here as well, when Doug Epstein was elevated from the assistant engineer for "TIGHTROPE" to the engineer for the new recording. As the years went on, Doug played a huge role in my first 7 albums as a leader. We remain friends to this day. Some highlights that seem to hold-up over time are: Don Grolnick's fantastic organ solo on "Daily Bulls"; and the playing of both Michael Brecker and Steve Gadd on "An Eye Over Autumn."
Though there were moments when it was uncertain as to whether or not I would get the chance to record a 3rd album for Columbia Records, some good friends on the A&R staff came to my aid, and I was allowed to record "ARROWS" with the brilliant engineer Elliot Scheiner as my co-producer. One difference with this album was that I wrote all 6 of the tunes that appear on it. Another addition was the presence of drummer Rick Marotta on both "Some Arrows" and "Candles." I knew that his style, feel, and sound were the right things for those pieces,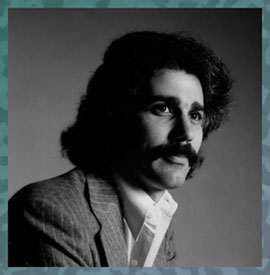 and he played great on them! The very special blend of the three horns: Randy Brecker-Michael Brecker-David Sanborn would not appear together again on a recording of mine. But, I was proud that I was able to keep their unique sound together on each of my 3 albums. Highlights would have to include, the feeling that we all created on "Daily Village"; David Sanborn's playing and Steve Gadd's brushwork on "Calling"; another great organ solo from Don Grolnick on "Some Arrows"; and the retro-Jimi Hendrix ambiance on "Candles." I can't let this go without expressing how the art of interactive, conversational accompaniment was provided by Don Grolnick and Will Lee throughout the 3 albums, but reaching wonderful heights here on "ARROWS." I can't stress enough just how fortunate I was to have been in the presence of all of these great, great musicians!
In truth, I rarely, if ever, listen to any of the music from these 3 albums. Honestly, sometimes I just don't know how well it all holds up over the passage of time. Since this website was launched in September of 1998, via the CONTACT STEVE page, I received a lot of wonderful and very supportive fan e-mails, and if I was to report the results of a most informal poll, I would have to say that, where the 3 Columbia albums are concerned, I have received the most mail about "THE BLUE MAN." There are times when this makes perfect sense to me, but, in the end, I am just grateful that these recordings seem to mean so much to such a wide variety of music listeners. I am grateful to everyone for all the wonderful things that they have written to me.

Most music fans operate under the grave misconception that "the artist" has some control over, or something to say about, a wonderful CD reissue release such as this one. But the truth is that we rarely, if ever, have anything to say!!! It is highly likely that I might never have known about the BGO Records reissue had British music journalist Charles Waring not written to me via the CONTACT STEVE page in December of 2014. Until I read his e-mail, informing me that he had been asked to write the liner notes, I had no idea that this reissue was even in the works!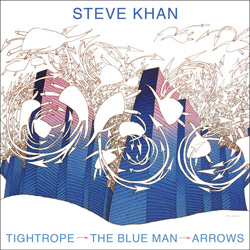 Because Columbia Records, now Sony Music, owns the three albums, they can do whatever they like with them - and that includes doing NOTHING at all! For me, it's just a wonderful miracle that this happened.
Knowing that BGO Records is under no obligation to communicate with me, I decided to take a great risk and ask my dear friend and graphic designer, Janet Perr to design 3 different covers for BGO Records, but using a previously unused Folon piece from 1972 titled "Invasion." Because, over the years, I have received so many positive letters and e-mails about the work of Jean-Michel Folon and his presence on my covers, I thought that this would be wonderful opportunity to give the fans of this music, and the covers, a chance to see something new. And so, I can only express how very grateful I am to company president, Andy Gray for being so receptive to this rather unusual, if not completely crazy, offer from me, the artist. I am so pleased that Andy saw all of this as a positive, and was willing to share two of these cover designs as part of the package. It is all especially moving and emotional for me as Jean-Michel's beloved wife, publisher and manager Paola Ghiringhelli Folon passed away just this past April 29th, 2012. For my part, this reissue is dedicated to Paola's memory, and for all her kindnesses to me over the many years that we all remained friends.


[DISC 1]

from: "TIGHTROPE"
[1] Some Punk Funk (Steve Khan)(5:20)
[2] Darlin' Darlin' Baby(Sweet Tender Love) (Gamble-Huff)(6:29)
[3] Tightrope (Steve Khan)(5:44)
[4] The Big Ones (Randy Brecker)(6:02)
[5] Star Chamber (Steve Khan)(5:19)
[6] Soft Summer Breeze (Spencer-Heywood)(5:00)
[7] Where Shadows Meet (Steve Khan)(3:40)

[DISC 2]

from: "THE BLUE MAN"
[1] Daily Bulls (Steve Khan)(7:02)
[2] The Blue Man (Steve Khan)(6:01)
[3] Some Down Time (Steve Khan)(5:25)
[4] The Little Ones (Randy Brecker)(5:52)
[5] Daily Valley (Steve Khan)(4:52)
[6] An Eye Over Autumn (Steve Khan)(8:48)

from: "ARROWS"
[7] City Suite(11:48)
Part 1: City Monsters (Steve Khan)(5:32)
Part 2: Dream City (Steve Khan)(6:10)
[8] Candles (Steve Khan)(6:57)
[9] Daily Village (Steve Khan(6:42)
[10] Some Arrows (Steve Khan)(5:48)
[11] Calling (Steve Khan)(6:30)




Photos: Steve and Jean-Michel Folon 1979
Portait of Steve
Photos by: Jim Houghton


PREVIOUS | HOME | DISCOGRAPHY | NEXT