1980 was to mark a great turning point for me as an artist. It seemed like the 'Fusion Era' had come to an end and I was really very discouraged with the way I was playing and sounding. Put these factors together with the news that Columbia records was not going to renew my option for a fourth recording....well, it was pretty devastating at the time. I suppose this recording would have never happened had it not been for three very good friends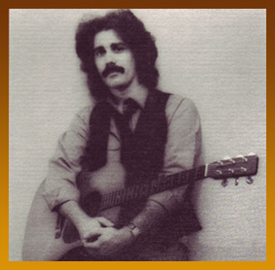 and consistent supporters: pianist, Warren Bernhardt(the great pianist, and my next-door neighbor); engineer, Doug Epstein; and A&R man, Steve Backer.
Warren had been listening to me crafting a collage of Monk tunes for months and encouraged me to record them. As he was urging me, fate brought a phone call from Doug(who did engineering in various degrees on all three of my Columbia recordings at Mediasound) asking me if I had anything in mind recording-wise. He went on to say that, he could probably get us a 'deal' at the studio. This was to be my first totally acoustic guitar recording since "TWO FOR THE ROAD"(the acoustic duets with Larry Coryell).
Thus began my first adventure in paying for a recording out of my own pocket. It was a pretty scary proposition, believe me! It still is a scary thing to do! We completed the recording over a few weekends, and then I attempted to shop the project around. Lucky for me, Steve Backer was launching a new label of his own, Arista/Novus(which released recordings by: John Scofield; Warren Bernhardt; Air; Anthony Braxton; Cecil Taylor and many other artists), and, he picked-up "EVIDENCE." Best of all, he even reimbursed me the entire $6,000 spent in production costs.
To this day, it remains that this is the only time that has happened. Because of the LP format, remember, an LP has two sides? I decided that one side would feature five pieces by some of my favorite jazz composers done as ballads, and Side 2 would be the 9-song medley of Thelonious Monk tunes. Highlights remain: Joe Zawinul's "In a Silent Way" and, of course, the "Monk Medley."
The album was recorded in "The Lounge" at Mediasound Studios on two successive Saturdays: July 12th and 19th, 1980. The "Monk Medley" was recorded on the 19th. Co-producer/Engineer Doug Epstein and I mixed the album on Saturday, July 26th, and the following Saturday, August 2nd.
What must be remembered here is that the album was recorded to multi-track and mixed to 2-trk stereo. Once that was done, the true brilliance of Doug Epstein as a tape editor - armed with with only his ears and a razor blade - came to the fore. To make the "Monk Medley" flow so seamlessly is truly a work of editing art. Yes, I had a concept in mind, but without Doug's deft touch, it might never have been realized. And, the creative touches that he also added, even in that late stage of the process, were just astounding. Each time I hear the medley, I am struck by what remarkable work that Doug did that day.
When Doug and I went to master the LP with Greg Calbi @ Sterling Sound on September 4th, we tried not to make Jazz radio a 'prisoner' of the 18-minute medley, and so, Greg placed a spiral between the tunes so that a DJ could access any one of the 9 tunes individually. I don't know that this really made any difference. When the CD ERA began, The medley took on a different feel, because radio CD players would see it as 9 separate tunes, and not just one long medley. So, as the CDs disappeared from the marketplace, and the album was going to be re-issued in a completely digital format, I made certain that platforms like iTunes would receive this same medley as one continuous track. The reason being that, THIS was the way that I had always intended for it to be heard.

Michael Cuscuna Liner Notes: For many musicians of all bents, now in their twenties and thirties, their first inspirations and impressions came from such masters as Bird, Monk, Trane and the consistently excellent outpouring of the Blue Note label throughout the fifties and sixties. Steve Khan is a versatile, sensitive and complete guitarist who is always co-operative and creative whether in the studio or on stage, whether the music is jazz or R&B or fusion or the mundane obligations of disco and jingles. Perhaps at a distance the connection may not be clear but Steve's roots lie in the masterful jazz listed above.
For me, it is exciting and rewarding to hear Steve explore those roots and pay direct tribute to the jazz masters to whom we all owe so much. In 1975 and '76, Steve toured with Larry Coryell in an acoustic duo context, playing the music of Bobby Hutcherson, Wayne Shorter, Steve Swallow, and Chick Corea. That period was captured on the Arista album, "Two for the Road." But Steve's role was more that of a supportive, if empathetic, rhythm guitarist. His own style and approach to the acoustic guitar began to take shape on "Star Chamber," "Daily Valley" and "Daily Village," which appeared in that order on each of his three CBS albums.
Finally, we have this stunning solo statement on which his ideas, his technique and his purpose are all completely in sync. In his own words, Steve's intention was that "the music to be played would either be from the period of jazz that inspired me to play music, or would be written by some of the composers whose great styles have influenced me."
What is most impressive and unique about Steve's efforts is his ability to grasp the spirit of the composer and reinterpret the music with his own ideas and understanding. For example, the Thelonious Monk medley that occupies one side of the album is pure Monk, but at the same time is very much Steve Khan. From the hesitant rhythm of "Evidence" to the repeated, fading four bar head of "Friday the 13th." The essence of both musicians is revealed.
A few program notes on this medley: Steve's approach to "Monk's Dream" was partially influenced by the version on the late Larry Young's "Unity" album, while the guitars on "Friday the 13th"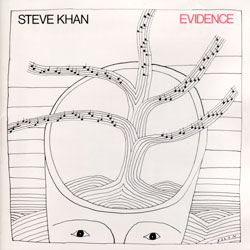 are voiced similar to Hall Overton's original big band chart for Monk from their "Live at Town Hall" album.
The other side opens with Wayne Shorter's "Infant Eyes," which first appeared on the saxophonist's "Speak No Evil" album and has since been kept alive by the many performances of Stan Getz. Also from the classic Blue Note body of music are Lee Morgan's "Melancholee" from the trumpeter's extraordinary "Search for the New Land" album which featured guitarist Grant Green and Horace Silver's gorgeous "Peace," a tune that might not be considered a jazz standard, but is repeatedly revived by many great players. Steve's format is more traditional than the Monk side in the sense that the performances are theme-solo-theme.
This version of Joe Zawinul's "In a Silent Way" is inspired by the composer's own Atlantic recording rather than Miles Davis' more special and extended rendition. Here Khan rallies all of his studio expertise, weaving an arrangement that uses 3 acoustic 6-string guitars, 1 acoustic 12-string guitar, 2 electric 6-string guitars, 2 electric 12-string guitars and a bass pedal loop of a guitar's low E and then playing it at half speed.
Randy Brecker's "Threesome" is the only previously unrecorded composition here. Randy and Steve have been associated with each other's music since the original Brecker Brothers Band and on a variety of special projects such as the live Montreux albums of Ben Sidran and the Arista All-Stars. Steve describes "Threesome" as "a sort of 'out' gospel tune in the great Randy Brecker composing style of a simple melody with a brilliant harmonization."
Although guitar is the only instrument heard on this album, this is not music for guitar in style or indulgence. It is the music of the masters translated to this unlikely instrument by a creative man who was touched and moved by the beauty, intelligence and soulfulness of the music. Steve even uses his knowledge of the studio to advantage, not only in the textures of a piece like "In a Silent Way," but also in such perfect touches as the rolling, backwards guitar chord in the melody of "Think of One." Now that's Monk chuckling.
Most of today's prominent musicians in R&B, fusion and studio work share the common source point of bebop and hard bop because it was intriguing and powerful and set them off on the path that they now follow. Larry Coryell can describe with child-like wonderment and vivid detail the first music heard upon arriving in New York, seeing Grant Green and Larry Young at a Harlem club playing "Tyrone." That feeling and impact never pales. It is not nostalgia or sentimentality because those experiences need not be recreated; they are a part of us. To forget what sent you on your way to being what you are would be to lose the essence of yourself.
On this album, Steve Khan has made a statement of love and respect, while bringing something new, something of himself to that legacy. That's what it represents, what it is is a great album to listen to. - Michael Cuscuna
[1] Infant Eyes(Wayne Shorter)(4:22)
[2] In a Silent Way(Joe Zawinul)(4:47)
[3] Melancholee(Lee Morgan)(4:59)
[4] Threesome(Randy Brecker)(3:07)
[5] Peace(Horace Silver)(3:26)
Thelonious Monk Medley(18:36)
[6] Evidence(Monk)(:54)
[7] Think of One(Monk)(1:16)
[8] Monk's Mood(Monk)(2:44)
[9] Little Rootie Tootie(Monk)(1:20)
[10] Monk's Dream(Monk)(2:37)
[11] Pannonica(Monk)(2:46)
[12] Bye-ya(Monk)(2:07)
[13] Ruby, My Dear(Monk)(3:11)
[14] Friday the 13th(Monk)(1:32)
Steve w/ his David Russell Young 6-string acoustic
Photo: Richard Laird 1980
PREVIOUS | HOME | DISCOGRAPHY | NEXT