Mark Winston Kibble, was born on April 7th, 1964, in the Bronx, NY. His early childhood was spent in Hempstead, New York, Bridgeport, Connecticut, Boston, Massachusetts, and by 1970, Buffalo, New York where he spent most of his childhood.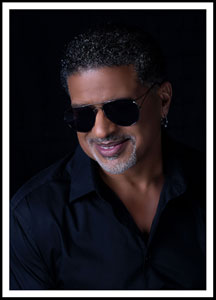 There he would meet Claude McKnight and his many brothers, and begin taking care of his own baby brother, Joey, along with his older sister Michelle.

Mark Kibble is the first tenor for the singing group Take 6, which he formed along with Claude McKnight, in 1980. Mark has played an important role in the development of the group's sound not only as a vocalist but as an arranger, and having come up with the Take 6 sound, they have nicknamed him "the Markitect." During their career the group has sold millions of recordings.

It can be said that most of Mark's early musical influence happened in Buffalo, where his father pastored a very musical church. But by 1976, it was on to Nashville, Tennessee. Soon after Mark went away to high school at Oakwood Academy. There he met Mervyn Warren and began working with him and others on many musical projects. This would lead right up to the famous bathroom rehearsal at Oakwood College during the fall of 1980, where he would once again meet up with Claude McKnight. And the rest is history!

Mark has worked with and produced many many artists... from Quincy Jones to Stevie Wonder, Ray Charles, David Foster, Whitney Houston, Donnie McClurkin, Patrice Jégou, Eliane Elias, and countless others. Most recently, a collaboration with guitarist Steve Khan for a remarkable reimagining of Shuggie Otis' "Island Letter."

Mark with Take 6 has received many music awards including 8 Grammys, 10 Doves, 2 Stellar awards to name just a few. Mark won his own personal Grammy in 2019 for an arrangement to top it all off.

Mark now resides in Nashville, Tennessee where he and his brother Joey own a recording studio. He is married to Elizabeth and has 2 grown children of his own, Chloe and Ryan, and 2 step daughters Monique and Korrin plus a grandson, Zion.

There is no greater joy for Mark than serving God and spreading His Love! He's had the honor of doing this for a full career of 34 years, and he is by no means finished! It's a labor of love and he plans to do it until God says stop.
Mark Kibble Photo Portrait: Tonya Osborne