One of my favorite pieces of philosophical writing appears in the biography of Mark Rothko. The American(though born in Russia) painter, part of the "Abstract Expressionism" movement during the mid-20th Century, was apparently writing a "wry" parody of "How to" books about painting and seemed to be offering a "recipe of a work of art-its ingredients-how to make it-the formula." For me, what follows is something I've used as a springboard for discussion at clinics and seminars for years.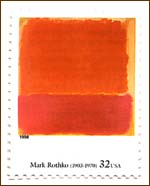 I believe that if you take Rothko's "ingredients" and then apply them to your favorite recordings, you'll find that they are embodied in the music as well...and, perhaps should be. When I look at the recordings and artists I've chosen to list below, I can point out that these factors are at play in most cases. So, when you're done here, think about your own favorite recordings, no matter what the genre or style, and see if they too contain all or most of what Rothko was trying to say...even if done tongue-in-cheek. I usually point out ONE thing, ingredient [1] of Rothko's might not be a part of this list had I been making it, but, you must remember that this was a brilliant man who ended-up committing suicide! That said, here's what he wrote:
| | |
| --- | --- |
| | There must be a clear PREOCCUPATION WITH DEATH - intimations of mortality....Tragic art, romantic art, etc. deals with the knowledge of death. |
| | SENSUALITY. Our basis of being concrete about the world. It is a lustful relationship to things that exist. |
| | TENSION. Either conflict or curbed desire. |
| | IRONY. This is a modern ingredient-the self effacement and examination |
| | WIT and PLAY....for the human element. |
| | The EPHEMERAL and CHANCE....for the human element. |
| | HOPE. 10% to make the tragic concept more endurable. |
He concluded by saying, "I measure these ingredients very carefully when I paint a picture. It is always the form that follows these elements and the picture results from the proportions of these elements."
So, with this in mind.....
If I could ONLY choose one CD to take to an island....
GUITARISTS
Wes Montgomery
"BOSS GUITAR"(Riverside)
great recording, tremendous playing, beautiful guitar sound.
Kenny Burrell
"MIDNIGHT BLUE"(Blue Note)
incredibly soulful recording, w/ classic Stanley Turrentine too.
Grant Green
"STREET OF DREAMS" or "GOIN' WEST"(Blue Note)
the former because of his great chemistry w/ Larry Young, and the latter because of the presence of Herbie Hancock.
Jim Hall
Any of the Quartets w/ Paul Desmond
"EASY LIVING"; "GLAD TO BE UNHAPPY"; and "TAKE TEN"(RCA)
the greatest example of less is more, two beautifully matched souls each with the gift of melodic improvisation.
Howard Roberts
"H.R. IS A DIRTY GUITAR PLAYER" or "COLOR HIM FUNKY"(Capitol)
great sound, ridiculously 'perfect' picking technique...growing-up in Los Angeles, I was crazy about his style of playing.
George Benson
"BODY TALK"(CTI)
though George can sound great on just about ANY of his early recordings, here he is essentially improvising over vamps and his R&B influenced style of jazz guitar is displayed in all its brilliance.
Pat Martino
"EL HOMBRE"; "STRINGS"; "EAST"; or "BAIYINA"(Prestige)
mostly I lean towards his early work....what tremendous time, phrasing, relentless attack and drive....and a great sound in those years.
Larry Coryell
Gary Burton Quartet's "DUSTER"(RCA)
the recording which, to my mind, opened the doors for all of us.
John McLaughlin
any recording with "Shakti"(Columbia/Sony)
a consistently adventurous and visionary musician, hard to overlook the Mahavishnu Orchestra but, somehow I went with these.
Gabor Szabo
"SPELLBINDER"(Impulse)
just love the feeling created in this sparse setting w/ Ron Carter, Chico Hamilton, and Willie Bobo
now, some of my contemporaries...
Ralph Towner
"BATIK" or "SOLO CONCERT"(ECM)
the former is one of my all-time favorites by ANY musician...tremendous interplay with Eddie Gomez and Jack DeJohnette. The latter proves Ralph is just the best at playing solo guitar...
John Abercrombie
"GATEWAY" or "ABERCROMBIE, JOHNSON, ERSKINE-LIVE"(ECM)
one of our most consistently graceful players....free spirit, great sense of adventure...
John Scofield
"EnRoute/LIVE"(Verve)
Sco' is simply at his best here. Tough, swingin', creative, adventurous, humorous! You name it, it's all here. A fantastic player, with all the benefits of experience and maturity!!! You can't go wrong with this one! However, my favorite all-time track is "Wabash III" from "TIME ON MY HANDS"(Blue Note).
Pat Metheny
"STILL LIFE TALKING"(Geffen) or "QUESTION & ANSWER"(Geffen). If I was only allowed ONE TRACK it would be "If I Could" from "FIRST CIRCLE" (ECM), or perhaps, the title track from "THE ROAD TO YOU"! But, I couldn't leave out "Always and Forever" from "SECRET STORY" all perfect examples of beautiful writing and playing.....perhaps the only player to be able to blend great content with far reaching appeal...an almost impossible task.
Bill Frisell
"EAST WEST" or "PAUL MOTIAN ON BROADWAY" Vol. 1 & 2(JMT)
The empathy within Bill's own group is very special. One can't put a price tag on that! Also, relative to the Motian recordings, I just love the way Bill approaches standards....his OWN way! Love all the Bass Desires CDs w/ Scofield too!
Allan Holdsworth
"BELIEVE IT"(Columbia)
Yes, it's Tony Williams' recording but I remember having to open for this group in the duo w/ Larry Coryell....armed with only acoustic guitars.
Scott Henderson
"ILLICIT"(Bluemoon) or "NOMAD"(Relativity)
anything with Tribal Tech....consistently fantastic writing and playing... Scott's blues-based vocabulary gives him an earthiness few others possess and, he always shows up and plays tough.
Bill Connors
"STEP IT"(Evidence)
hard to overlook the early Return to Forever or the Stanley Clarke, however, sentiment has taken over...Remember, he was truly the FIRST guitarist to play 'fusion' with a KILLER 'rock' guitar sound.
Larry Carlton
"LARRY CARLTON" or "STRIKES TWICE"(MCA)
great sound and feel....always seems to play just what's right and never loses sight of his blues roots...
some additional players I also think very highly of:
Ben Monder; Peter Bernstein; Michael Hedges; Albert King; Jimmy Nolen; Jeff Beck; Tuck Andress; Buzzy Feiten; Lowell George; Jimmy Herring; Robben Ford; Brent Mason; Gene Bertoncini; Leonardo Amuedo; Curtis Mayfield; Jimi Hendrix; Freddy King; Diblo Dibala; Larry Campbell; Toninho Horta; Vince Gill; Steuart Smith; Albert Lee; Jorge Laboy; James Muller; Biréli Lagrène; Martijn van Iterson; Sylvain Luc; Wolfgang Muthspiel; Oscar Castro Neves; João Bosco; Jorge Strunz; Gerardo Nuñez; Vicente Amigo; Stephanie Jones; José Angel Navarro; Ed Bickert; Joe Pass; Lenny Breau; Jerry Reed; John Stowell; Stevie Ray Vaughn; James Taylor; Bonnie Raitt: Steve Cropper; Joe Beck; Vic Juris; Kurt Rosenwinkel; Bruce Forman; Jonathan Kreisberg; Mike Moreno; Dave Stryker; Mike Stern; Juan Quintero; Allen Hinds; Bob Mann; Eric Gale; David Spinozza; Hugh McCracken; Dominic Miller; Adam Rogers; Dean Parks; Jeff Mironov; Jeff Golub; John Tropea; Jeff Tamelier; Paul Jackson, Jr.; Mike Landau; Jon Herington; Al McKay; Lolly Vegas; Tony Maiden; John Leventhal; Nigel Tufnell; & Steve Lukather.

And here are some of my favorite drummers:
Elvin Jones; Roy Haynes; Tony Williams; Grady Tate; Jack DeJohnette; Paul Motian; Ben Riley; Peter Erskine; Al Foster; Steve Jordan; Dennis Chambers; Airto Moreira; Willie Bobo; Billy Cobham; Dave Weckl; Joel Rosenblatt; Ben Perowsky; Steve Gadd; Jeff Porcaro; Rick Marotta; Bernard Purdie; Roger Hawkins; Al Jackson; Bill Stewart; Harvey Mason; Ed Greene; Jim Keltner; Jeff "Tain" Watts; Clarence Penn; Kendrick Scott; Matt Wilson; Dave Garibaldi; Eric Gravatt; Adam Nussbaum; Bob Moses; Chris Parker; Jon Christensen; Jeff Sipe; Will Kennedy; Russ Kunkel; Steve Ferrone; Stewart Copeland; Kim Thompson; Stix Hooper; Billy Higgins; Ed Blackwell; Bob Welch; Wells Kelly; Bruno Carr; Richie Hayward; Butch Rillera; Brian Blade; Joe Chambers; Mickey Roker; Earl Palmer; Lewis Nash; and Ringo Starr.
OTHER INSTRUMENTS (so difficult to pick just one recording by any of these players....)
John Coltrane
"COLTRANE PLAYS THE BLUES"(Atlantic) or
"THE JOHN COLTRANE QUARTET PLAYS"(Impulse)
recordings from two distinct periods by this great, GREAT artist. The quartet would be, to many, the greatest band....but....
Miles Davis
"SORCERER"; "NEFERTITI"; & "FILLES DE KILIMANJARO"(Columbia)
anything w/ the great quintet(Wayne, Herbie, Ron, & Tony)...like 'Trane able to create music where the 'mood' created in total becomes larger than any of the individuals...though it could not have been done without them.... perhaps the greatest group ever....
McCoy Tyner
"SUPER TRIOS"(Milestone)
his approach is SO stylized, it can be overwhelming and so appealing. Here with Ron Carter & Tony Williams; and Eddie Gomez & Jack DeJohnette.
Herbie Hancock
"INVENTIONS AND DIMENSIONS"(Blue Note)
perhaps his most overlooked CD, but, it truly changed my life...Willie Bobo plays incredibly here.
Chick Corea
"NOW HE SINGS, NOW HE SOBS"(Blue Note)
what a great CD buy this one is...tons of bonus cuts....influenced virtually everyone who plays today....on ANY instrument....
Larry Young
"UNITY"(Blue Note)
w/ Woody Shaw, Joe Henderson, & Elvin....this CD opened doors for all those who play....What an organ sound & feel.
Sonny Rollins
"A NIGHT AT THE VANGUARD" Vol. I & II(Blue Note)
adventurous tenor sax trio...WAY ahead of its time.
Keith Jarrett
"MY SONG"(ECM)
truly exceptional compositions and empathetic playing....beautiful work by all, but I love all the "STANDARDS" CDs too. And, last, but not least, is "Flying Part 1" from "CHANGES"
Joe Henderson
"MODE FOR JOE"(Blue Note)
a recording I listened to and couldn't understand in college....but, it also changed my life....his sound and phrasing have always been totally unique.
Cal Tjader
"SOUL BURST"(Verve)
I just LOVE this recording....Chick Corea's concepts of accompaniment in Latin jazz completely changed my approach to the GUITAR! I only wish that "Descarga Cubana" went on for another 10 minutes...
Bill Evans
"SUNDAY AT THE VILLAGE VANGUARD"(Riverside)
the first thing I heard by Bill....still listen to it for inspiration and serenity. One of his best trios with Scott LaFaro and Paul Motian.
Wayne Shorter
"JUJU" or "SPEAK NO EVIL"(Blue Note)
one of our greatest composers and stylists.
Freddie Hubbard
"SKY DIVE"(CTI)
such a tremendous player...makes anyone's melody sound as if HE wrote it. The most incredible phrasing and time...as hard as it is to ignore his work for Blue Note; Impulse; and Atlantic, I could listen to "In A Mist" from now until forever! And, I would have to add "Lonely Town" and "Moment to Moment" from "FIRST LIGHT"(CTI). Just gorgeous! This is how you interpret a ballad!
Lee Morgan
"SEARCH FOR THE NEW LAND"(Blue Note)
just used to listen to this ALL the time while in college. Another one of the all-time greats on trumpet....his compositions have held up well too.
Clare Fischer
"LEMBRANÇAS"(Concord Picante)
one of my absolute favorite composers....his sense of keyboard harmony and the movement of inner voices is simply breathtaking.
Sergio Mendes
"BRASILEIRO"(Elektra)
Yes, some of you a probably saying to yourselves, "WHAT is HE doing on this list?" Well, this 1991 recording is simply one of the great, great recordings of all-time! If a recording can be practically flawless, this is it! It is quite simply the most wonderful blending of cross-cultural influences, while remaining so very uniquely Brazilian. Until recently, what other music from another nation has touched the world in such a profound way when virtually NO ONE could understand a single word? Well, that is what Brazilian music has been for decades. Sergio brought together some of Brazil's greatest composers, like Ivan Lins, João Bosco; Guinga; and Carlinhos Brown - and places the voice of his beloved wife, Gracinha Leporace in the middle of it all. And so, what could be more perfect? Add in the fantastic performances from U.S. musicians like: Paul Jackson, Jr.; Jeff Porcaro; Nathan East; Steve Taviglione; Mike Shapiro; and Luis Conte, and now you have quite a concoction. From a production standpoint, the sound could not be better. In the best of times, in the worst of times, I often turn to this CD for inspiration and comfort. Some of this same Mendes magic continued on his 1996 release, "OCEANO"(Verve Forecast).
Jimmy Smith
"THE DYNAMIC DUO"(Verve); "ORGAN GRINDER SWING"(Verve) and "PRAYER MEETIN'"(Blue Note)
managed to sneak in another one w/ Wes Montgomery and Grady Tate...as a college kid, listening to Jimmy Smith always made me feel great. How can I leave out his work with Kenny Burrell? And, it is so hard to leave out his work with Stanley Turrentine!
Stanley Turrentine
"BACK AT THE CHICKEN SHACK"(Blue Note); "MIDNIGHT SPECIAL"(Blue Note) and "SUGAR"(CTI)
He defines what became known as "Soul Tenor." The first two titles are actually Jimmy Smith recordings. Stanley made some great recordings with organist Shirley Scott too.
Gary Burton
"EASY AS PIE"(ECM) and "PICTURE THIS"(ECM)
I've always loved both these recordings which feature Jim Odgren on alto sax. But I'm still waiting for them to be released on CD!!! Of special note are the interpretations of "Isfahan"(Ellington/Strayhorn) and Mingus' "Duke Ellington's Sound of Love."
Bobby Hutcherson
"HAPPENINGS"(Blue Note)
great writing, great playing, great listening....beautiful Herbie Hancock.
Miroslav Vitous
"INFINITE SEARCH"(Embryo/Atlantic)
one of the great recordings, worth it alone for the rendition of "Freedom Jazz Dance." Featuring incredible performances by: Henderson, Hancock, DeJohnette, & McLaughlin.
The Jazz Crusaders
"CHILE CON SOUL"(Pacific Jazz)
one of their best, and often overlooked recordings. Recorded with the help of Clare Fischer and contains two his compositional gems: "Dulzura" and "Ontem a Noite." Regarded as a 'classic' by Latin jazz fans everywhere, and just now released on CD for the 1st time.
Larry Goldings
"AS ONE"(Palmetto)
clearly in the vanguard of the best organ trio music possible! Hard to imagine that there could be three better matched musical souls than Larry, guitarist Peter Bernstein, and drummer Bill Stewart. Consistently musical playing over wonderful tunes. "BIG STUFF"; "MOONBIRD"; and "SWEET SCIENCE" are great too. You almost can't go wrong with any of these CDs.
Yellowjackets
"THE SPIN"(MCA); "GREENHOUSE"(GRP); or "LIKE A RIVER"(GRP)
Virtually any recording from "FOUR CORNERS" on is a winner! Russell Ferrante is, without question, one of our greatest composers, and the addition of Bob Mintzer was tremendous.
Joe Zawinul
"MYSTERIOUS TRAVELLER"(Columbia)
truly one of the most brilliant players and composers of this or any time. Almost impossible to know what to pick from the Weather Report catalog, but, I always favored this recording.