Back on June 1st when this all began for me, I knew so little about Sarah Cooper, but now, here we are and we have arrived at Friday, August 21st, 2020, and Sarah was just a featured player at the Democratic Convention to nominate the ticket of Joe Biden and Kamala Harris. So, that's quite a lot of progress and respect garnered for the depth and the impact of her work, in part, her impressions of Donald Trump using his own moronic words as super-charged fuel for making him look like the fool that he is!
So below, in addition to all the links to her videos, you can read the progression of events as to just how we got here. Enjoy it all with my best wishing and my never-flagging hope that on November 3rd, this nation will do what must be done to save our democracy and our collective souls! I don't believe that the souls of anyone who supported this evil president can ever be rescued.

---
Here we all are, we have now hit June 1st, in 2 days, it will be June 3rd! What does THAT mean? It means that in 5 months, we can all go to the polls and vote - and for some of us, vote to remove that moron Donald J. Trump from office.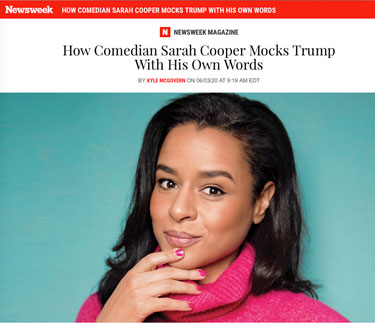 That's how I am viewing the passage of time. Now, it IS June 3rd, and, of all the cosmic things, Sarah Cooper is featured in a piece by Kyle McGovern in today's online edition of NEWSWEEK!
As part of that process for me, it was just a few days before that I somehow stumbled upon a video by comedian, author, actress and social commentator, that same Sarah Cooper, and thought to myself, "Wow, this young lady is just so damn funny!" Why? Because she was sync'ing the idiotic words of Trump in a way that we've really never seen before. But, this run of video impressions began well over one month ago. Why, as always, was I so late to this party? Well, just tonight, I sat and watched about an hour of YouTube clips that dated back to 2014. So, not only am I very LATE to this party, I am 6 years behind the times! In his May 27th, 2020 New York Times article, columnist James Poniewozik titled his piece, "Actions Speak Louder Than Best Words." In the online version, that title was changed to: "Trump Said, I Have the Best Words. Now They're Hers." This kind of recognition for Sarah Cooper is so well-deserved.

As I went through almost all of the available videos, I watched with glee as Sarah addressed such topics as: Her parents; and saw her speaking with Lawrence O'Donnell on MSNBC; and how about waxing philosophical about Meeting your first blackish girlfriend? And,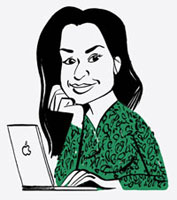 how about how she turned a job at Google around by finding a way to turn everyday observations into a career?
&nbspAnd then, there were these: [1] Nodding Strategies for your next meeting; [2] Famous Last Words of first time startup founders; [3] Lies you tell at work; and [4] How to Pretend You Love Your Secret Santa Gift.

I just think that it was so refreshing for me to "discover" someone who just made me smile and laugh - at everything. And she delivers all of the Trump-related pieces without the slightest touch of personal vanity. I would imagine that the sky is the limit for this extremely talented person. So, for those of you who don't want to spend time poking around the web for her various Trump impressions, here is a pastiche of some of the best ones: [1] Trump on more cases than anybody [2] Trump on testing; [3] Trump on hydroxychloroquine; [4] Trump speaking about per capitas; [5] Trump on grief - that empathetic bastard! And then, of course, there is Trump on [6] Obamagate; [7] Trump on black people; [8] Trump on his 2nd favorite book the Bible; [9] Trump explains how to Bunker; [10] Trump talks tough about Maine lobsters and the European Union; [11] Trump talks about Water problems; [12] Trump talking about Real Estate. What a complete and total jackass he is! [13] Trump talking about Abraham Lincoln; [14] A Trump style Happy Father's Day! [15] That moron Trump preparing for Tulsa and lots of Empty Seats! [16] Trump trying to secure a 2nd Term with experience! [17] Trump explaining Wearing Masks! [18] Trump celebrates the 4th of July! Geez, what a jackass!!! [19] Trump takes a Cognitive Test to prove that "he's all there!!!" [20] after having proven that "he's all there" - Trump talks about that tough test question: Person, Woman, Man, Camera, TV! What a f%&kin' genius this guy is!!! And now? Why not take down [21]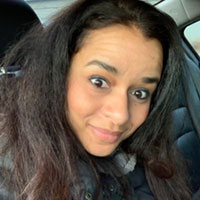 Tic Tok from the web? Meanwhile Trump can destroy the postal service so that no one can safely have their votes counted. And just now, [22] at the Democratic Convention, Sarah takes down Trump in grand fashion!!! I just love her to death!!!

Here, while doing her first guest shot on the "TONIGHT SHOW" with Jimmy Fallon, Sarah explains to Jimmy exactly how she came-up with the idea to take Trump's B.S. artistry and turn it into a comedic exercise - perfect for everyone who has been locked down and shut in to enjoy. And we are the beneficiaries of this stroke of good fortune.

In selecting photos of Sarah Cooper, I tried to tone down the possible glam aspects, she is after all beautiful and married - but, this short piece was to be focused on her sense of humor, her perspectives on life, and for me, the joy of having someone make me smile and laugh. So, as we go on, and on, and still on - now, in addition to the pandemic, we have the horrific murder of George Floyd in Minneapolis, and the outrage of a nation at all of this. In some 400 years, what have we learned about ourselves? I would say, not nearly enough, our worst instincts as human beings remain, and with no end in sight. On this note, just the other day, we, as a nation, received this gift from comedian/social commentator, the incredible Dave Chappelle, I urge everyone to watch and TO LISTEN to what he has to say on this very subject!
Beyond my everlasting hopes in this area, living day to day, please, everyone, no matter what you choose to do, be SAFE and HEALTHY by protecting yourself, and all those around you.

Hoping that, on election day November 3rd, 2020, we will see the result that restores our faith in this country - that we CAN do something about a horrifying evil that somehow we allowed to be elected to the presidency.

Steve Khan
New York, NY
August 21st, 2020