To tell you the truth, I can't remember a single birthday of mine after my dear sister Laurie threw me a most unwanted, but lovely, "Surprise 40th Birthday Party." With each passing year thereafter, I seemed to prefer to just not acknowledge these rituals, and the passing of yet another year.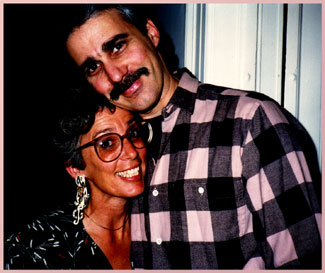 Now, suddenly, as if out of nowhere, #60 was approaching. In truth, the number doesn't really matter all that much. However, when one is reminded of those who have fallen before me, those who were younger than me, it doesn't matter too much when one hears that "50 is the new 30!" or, that "60 is the new 40!" Am I supposed to really believe this bullsh%t? O.K., I guess that I don't totally look my age. I've never been a smoker(apart from one pack when I was 13 yrs. old.....but, I didn't look as cool dangling the cigarette from my lower lip as the tough guys of that era, so I had to let that go!), and, I've never been a drinker! Both of these non-vices helped greatly. Plus, being a jock most of my life (until recent injuries) was good too. Then why is it that I avoid all mirrors now? Why do I now hate taking photos, so much so that I almost can't do it? But, all of this rather juvenile nonsense aside, here I am, and on April 28th, 2007 #60 arrived....and passed quietly!!!
In truth, I probably just would have stayed home, shut-off the phone, and let the day pass quietly. But, some circumstances presented themselves to me, and I decided to do something wildly out of character, and I suddenly made plans to spend a week in Medellín, Colombia with friends, new and old. It turned out to be the best possible thing I could have done. It was so good to be away from everything, and to be surrounded by the beauty of this often maligned country; which, by the way, seems to be well on its way to creating a new and wonderful image for itself. One which will reflect the kindness and hospitality of the people, and the rich nature of their culture.

Now, I have returned to New York, and I await the official U.S./European releases of "BORROWED TIME." At a certain point, this process is always the same, and, in the end, the waiting is just awful.
You know, when we recorded "THE GREEN FIELD" in '05.....and I sat there in my iso-booth watching Jack DeJohnette (then 63 yrs. old!!!) while recording the title track, I kept thinking to myself: "Look at that muthaf#%ker! He's f#%king 63 yrs. old, and he's playing like that! Non-f#%king-stop for 20-minutes.....all feet and hands in constant motion!" A blur of fire, creativity, and energy! It was so inspiring to me, that I have not stopped thinking about it since. Those moments have been burned into my memory, into my being! And now, having recorded this new CD, just a few months before I would turn 60 yrs. old.....I guess my 'hope' is that someday,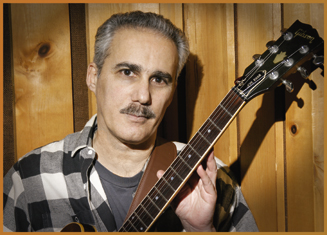 some young person out there (even someone between 40-50) just might be listening, and might say to him/herself: "Man, that f#%king old piece-o'-sh%t Steve Khan was damn near 60 when he recorded 'BORROWED TIME' - if he could do that, then I guess that it's never too late to play!!!" Never!
I guess if anyone had told us, when we were young flame-throwers, in our 20s, that it WAS, in fact, possible to play at a very high level, much later in life, we would have laughed at them!!! Now, it's amazing that, it seems like, in truth, we can actually give our best at this age, because we have acquired a wisdom and a grace about music-making, one which we could not have attained before!!!
So, what is it exactly that I am trying to share with everyone here today? Do I want to express to you all that I sometimes feel like an invisible gelatinous blob floating through space, occupying space, but fundamentally unseen by all those who pass by? Do I tell you how strange it feels to have young people immediately, and all too respectfully, address me as "Sir"? What's up with that? No, let's not go there today.
To continue, I had my troubles as 40 neared. I look back at photos from that period, and wonder to myself "WHAT the hell was I complaining about?" Then, I felt pretty terrible about myself at 47, and didn't appreciate those moments, not nearly enough! And, though some were so very difficult, I see photos from those years, and wonder again, "WHAT the hell was I complaining about?" Not so long ago, at 55, I felt terrible about myself, about life, simply everything. Now, I see photos from that period (like the one used here at the BIOGRAPHY page, cradling the '335' and taken in July of '02), and I wonder again: "WHAT the hell have I been complaining about?" So, perhaps we are arriving at the point now? I guess I'm just trying to say to each of you: Savor the moment, enjoy it; treasure the times; hug your children (Can we ever do this enough?); embrace those around you; tell someone that you love them; tell someone that you miss them; reach out to the diversity all around us, seize the day and work hard, work very hard; while always trying to give your best. And, as Michael Caine's character, Dr. Larch, in "THE CIDER HOUSE RULES" advises his young intern/apprentice: "Be of use!" Yes, whatever it might be that you have chosen to do, make it something that makes this a better world....in the smallest way, in a bigger way. It is all the same. Do something, do something important!!!
In closing, I want to thank everyone out there who visits these pages with regularity and all my new 'friends' over there in "MySpace-land" for all the wonderful birthday wishes. They were so thoughtful, and most appreciated, touching, and quite surprising. Thank you!!! So, onwards we go!!! Love and Peace to you all, but before those things, wishing you good health!!! Always!!!
---
Perhaps, one wonders, where was Steve during his recent birthday? Where does one choose spend his 60th birthday? Yes, that's correct, Steve has now crossed over into the "Final Frontier." Well, Steve chose to spend these days doing something very different, and a bit out of character. He traveled down to Medellín, Colombia
and spent 5 beautiful days there with friends, new and old. But, there is, of course, a deeper story to all of this

In 2007, I took a chance, unusual for me, and traveled to the aforementioned Medellín, Colombia to meet Olga López. I don't know that over the course of my life, at least in photos, I had ever seen a more beautiful woman, and so very, very sweet. When I actually saw her that first afternoon in person, she was even more spectacular. Words simply fail me! I could not believe my good fortune. For those five days, I enjoyed her company, and the conversation immensely. We continued to try to see one another through 2008, but sadly, there was no permanent solution for us. Still, the gift that she gave me of her sweetness, her company, her family, went hand-in-hand with falling in love with both her wonderful city, and the great country of Colombia. It is a love that continues right through to the present day. I will never ever forget 2007 and 2008. Thank you so much dear Olga for welcoming me to your life, your city, and your most glorious country.

Included in my exploits was a trip to the Museo de Antioquia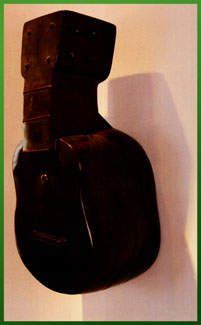 which features an astounding collection of the works of native son, Fernando Botero. I was totally humbled to be so close to this master's work. Botero's huge green guitar sculpture, which this photo and scan do not truly capture, was a site to behold. Another highlight was the all day excursion to see "El Peñol" which is a bit hard to describe unless you've been to see this huge stone extending up towards the sky. There was a stop for lunch in the very quaint little village of San Antonio de Pereira, which afforded some time to sit quietly and enjoy communing with the people. And then, of course, there was all the incredible local cuisine, the desserts to sample, the architecture, and, more than anything, the culture and the warmth and hospitality of the people. Thank goodness that the pace of life is so much slower than what one becomes used to, and perceives as normal after living some 37 years in New York City.

In the end, it was a simply an unusually beautiful way to mark this chronological milestone!!! And, Steve relates that he purchased a Bose iPod SoundDock® before his trip and that, after having it in his hotel room, he fully and totally endorses this unit as the best travel speaker system for anyone's needs. He gave it the full "blast-o-phonic" test, without getting himself ejected from the hotel, and all kinds of music sounded fan-tastic!!! So, it is highly recommended! Thanks so much to everyone for all their wonderful birthday e-mails, Guestbook postings, and phone calls. Lots of love and good health to you all!!!
---
[Photos: Laurie Cahn w/ brother Steve @ Surprise 40th Birthday Party!
Photographer: Unknown family member!

Steve @ 59 in Avatar Studio 'A', January 9th, 2007
Photo by: Richard Laird]
Note: Some 20 yrs. later Steve is still able to wear the white-checked version of the same shirt!
Both purchased in Japan!!!
What does this mean? Quite simply, "men never throw things out!!!"