Adventures in Vocalese..........

Let us first off begin by stating most emphatically that, I am, in no way, a singer, not a vocalist, no such thing, nothing! Like many of us, I am guilty of singing in the shower or singing along when my favorite songs might be playing in my apartment. While on tour in the mid-'70s with the Brecker Bros. Band, I had to step-up and 'sing' some backgrounds with Will Lee (who IS a great singer!), but that was it - nothing more before or since. Having grown-up around many of the great singers of my father's time, I have always known what real singing was and is. In my own career, I've had the rare privilege of hearing voices comes through my headphones in the studio, or through the monitors on stage, of some of the greatest voices and stylists in R&B, Rock, Pop and Jazz - so let me be more clear - I do understand what it is to be a great singer. In addition, watching and hearing all of the great background singers here in New York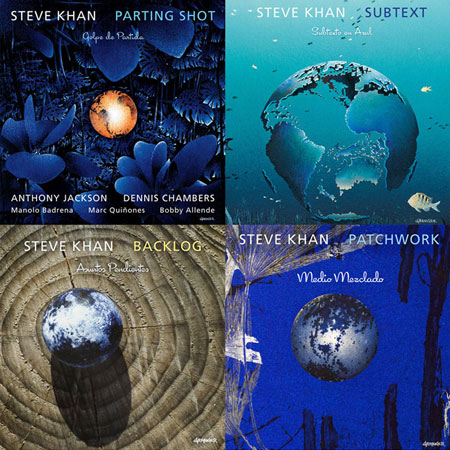 - you don't need much more than that to be put in your place - and to save your own vocalizing for the shower!
However, with the advent of digital home recording and platforms like Protools, when there were no other inexpensive options, I began to record myself doing wordless vocals, vocalese for the purposes of creating demos of my tunes or arrangements of tunes in hopes that eventually someone, a professional would actually sing these ideas. What I found was that my voice, such as it is, had a 'quality' for this particular style of singing that was not too bad. And then, if you sing the same thing 3 times and then place those voices left-center-right, and tuck those voices back in your mix - you actually having something that is listenable. Not perfect by any means, but listenable.
The first time that I felt that my voice was good enough, and captured the right emotion, was for the vocalese sections on "Zancudoville" which appears on "PARTING SHOT"(2011). Of course, to complete the process, the brilliant Rob Mounsey applied his subtle touches using Melodyne and suddenly, I sounded like I could actually sing. Of course, the bare/naked truth is that, I can't!!! However, the real truth here is that my dream would have been to have had the ever fantastic Gracinha Leporace, the wife of Sergio Méndes, sing those parts with me or by herself. She has always been, for me, the absolute top of the top at this particular style of singing. But, no matter how hard I tried, no matter what channels I pursued, it just was not to be, and so I had to let that dream fade away.
The next time I did anything like that was for my collaboration with the wondrous Mariana Ingold on our "Cada Gota de Mar" for the "SUBTEXT"(2014) album. Again, with some help from Rob, we made the coros during the fade sound full and rich, like a chorus of 10 voices. Then, for my arrangement of Andrew Hill's "Catta," which appears on "BACKLOG"(2016), my vocalese, originally recorded as a demo voice, was to give the sublime Tatiana Parra a guide, and turned out to create enough of a nice blend with Tati to fill out all of the sections where the voices appear. Of course, with the touch of Rob Mounsey's sensitive help!
As each album of mine takes on a completely different and new shape, "PATCHWORK"(2019) was no different but, though quite unplanned, vocalese was to play a larger role than I had imagined. The story of just how keyboardist/composer/arranger Jorge Estrada's fantastic tune, "Huracán Clare" ended-up on my album is a story already told at this website at KHAN'S KORNER 1 if you need to refresh your memory. So my vocalese was recorded at home and fixed-up by Rob Mounsey - sounds familiar, right? On this tune, it plays a much bigger role, one that Jorge never imagined, but was something that I heard immediately upon first hearing the demo that I had been sent - ironically by the soon to be mentioned bassist, Jimmy Haslip! This performance marked the longest amount of time that I had sung any vocalese on anything. As I was arranging Keith Jarrett's spectacular "The Journey Home" for "PATCHWORK"(2019), I knew that I wanted vocalese to double Keith's beautiful melody in Part III, but for the last of the three times it is played - and so again, I did a demo for Tati, and somehow our breathy voices blended together in a very sweet way. Finally, for my interpretation of "Nature Boy," which was really never intended to appear on any album of mine, I did the vocalese again as a guide for Tatiana - but then, when she was able to record herself in São Paolo, Brasil, it became obvious that we actually once again sounded good together - and so I just kept it. As Rob's beautiful arrangement completed the portrait, suddenly, though short, the piece was good enough to become the Bonus Track on "PATCHWORK." At that point in time, my career as a vocalese artist was pretty much finished. But no, not so fast.....

Just recently this year, 2020, during the utter and relentless boredom of the COVID-19 pandemic, one day an idea came to me while listening to one of my favorite tunes from bassist Jimmy Haslip's 2002 album, titled "RED HEAT" which had just been reissued by Blue Canoe Records. That song was Vince Mendoza's "She Never Has a Window" (Ella Nunca Tiene Una Ventana). Since I first heard it years ago, when one particular section appeared, I was instinctively motivated to sing it - and I had about 15+ years of practice doing that very thing. And so, in the midst of my daily wanderings, mostly mental and emotional - within these walls - I decided that I wanted to see just what it might sound like IF I put that great tune into a Protools session and created three vocalese tracks. Could I actually get away with doing that - just for my own enjoyment? In the end, the answer was, "Yes!" When embraced by some reverb (as per engineer James Farber's generous suggestions), and tucked inside the track, it actually sounded as though it had always been there - at least to me. I would have you know that, this time, I did all of these voices without any Melodyne help from Rob Mounsey. Believe me, I wanted to seek his help, but I was too embarrassed to bother him with such tedious work for nothing. Once I had a blend and a mix that I thought was decent, I summoned all of my courage, and I sent an mp3 to Jimmy Haslip just for fun. Jimmy and I have been friends, good friends, since 1978 when I first walked into a rehearsal in Los Angeles for a tour, supposedly co-leading a small group with saxophonist Tom Scott. Also in that same room, sitting at a Fender Rhodes, was none other than Russell Ferrante! So, the three of us became friends, and have been friends and watching each other's careers with great interest ever since.
Jimmy's reaction was swift and most unexpected. He loved it, he actually loved it. And, of all things, he wanted to know if it would be O.K. if he submitted this Alternate Vocalese Mix to Blue Canoe Records as some kind of a special promotional track, or even as a BONUS TRACK for various platforms. Of course, I was thrilled, and I said, "You can have it, do anything that you like with it!" I was just thrilled beyond belief that he liked it! What a miracle! This all happened between June 2nd, when I began to record it, and June 19th when I sent a final mix/blend to Jimmy.
Part of the reason that this has all taken place is that, during these pandemic months, our WBGO-FM here in the New York City area, though located in Newark, NJ, has been retroactively playing tunes from "RED HEAT" - in some ways, more spins than albums that are current. How is THAT possible? I don't know, I have really never seen this happen before, but, it is possible! So, as I would see Jimmy's tunes getting played, I would take a screenshot of that image and send it to him. He couldn't believe it either. But who could complain about such a Jazz radio miracle? On this same album, is a song that I had written,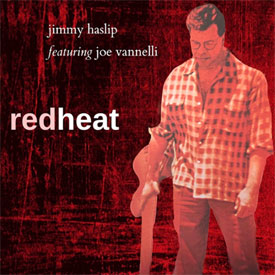 but I never could quite finish it because, at that moment, I was a co-leader of the Caribbean Jazz Project, and I just couldn't see how this very Rhodes-centric piece would fit into our group sound. When Jimmy was putting together material for what was to become "RED HEAT," he asked me if I had any tunes - and I sent him a demo of this tune along with my lead sheets. He loved the piece, and said that he and Russell Ferrante would complete the missing melodic needs. And they did, in a most beautiful way. So the song, later titled "Novelas," became a collaborative effort between the 3 of us. In the present, all of this prompted me to want to see what this tune sounded like as I hadn't listened to it in years, perhaps more than a decade.
And so, I put it on, and about 1-minute into the song, suddenly I began to sing along!!! Oh no, it was happening again!!! And so, as I began to actually like my vocalese, I decided to see if I could record myself again, and blend those 3 voices into the existing 2-trk. mastered mix. It took some work, but after about 3 days, I had something that I felt pretty good about. As it has been, the blending of 3 voices left-center-right covers up a wealth of sins - vocal sins!!! Then, with our process well-established - after one success - I sent Jimmy an mp3 - without having told him what I had been doing or had done to see what his reaction would be. And, once again, he loved it, and has now submitted it to Blue Canoe. What its final place will be enters into new territory for us all. As there are, as yet, no new physical CDs for "RED HEAT," and there might never be such things - it would seem that the best possible usage might be to somehow add both "She Never Has a Window"(Special Vocalese Mix) and "Novelas"(Special Vocalese Mix) to iTunes as BONUS TRACKS, and Jimmy's fans could access them there. But this becomes a record company decision and I, for one, will be fascinated to learn what they decide to do. Should this become a reality, it opens the door for artists to be able to give their older work a new dimension when that's possible. Here, you can listen to these vocalese soundclips by simply clicking on the blue buttons. It's easy, please give it a try.

As I began thinking about writing this piece, I wanted to remember the year in the early '60s when my father, Sammy Cahn, went to Brazil for the first time, perhaps, for that year's International Song Festival - but it has been my recollection that he was also going to meet a very young composer named Antonio Carlos Jobim - perhaps to discuss WHO might be the person to write the English lyrics to his songs? The classic Getz-Gilberto album was recorded in 1963, and I'm fairly certain that this trip to Brazil was BEFORE that historic event. At least that is what I remember.
I recall that my father came home with stories, and many LPs from Brazil - I think that I just took all of them - and I would like to believe that I still have some of them - but to try to find them would probably not be good for the health of my back, because they are in the one LP cabinet in my music room that is obscured by my stupid couch!!! Anyway, it was on those LPs that I first heard someone singing in vocalese. It was most unforgettable and those impressions have stayed with me right to the present - even if unused during the music I began to play and write in my early years.
My dear sister Laurie remembers Dad telling her about a night in a club listening to a singer singing lilting songs, and everyone around him in the audience taking a matchbook and using them to become a kind of group percussion instrument, thus participating in a loving way with the music and the musicians.
And so, as best as I can remember, that's how and where this all began - just about 60 years ago. For those of you who visit these pages often and actually read what I write, I thank you so much and wish only that you STAY SAFE & HEALTHY!


---