On working with Mark Kibble.....

At this latter stage of my life, I can't say that I have a "bucket list" now - nor, in truth, have I ever had one. In my quiet moments, though I have many, many regrets, I don't ruminate on the things that I never did, places I might never have gotten to, and the various great artists, musicians and singers that I might never have had the good fortune to have played with, toured with, or recorded with. Maybe 20-30 years ago, I might have wished that I could have done something with certain artists, but looking back over the scope of a long career - how could I possibly say that I had been cheated in some way?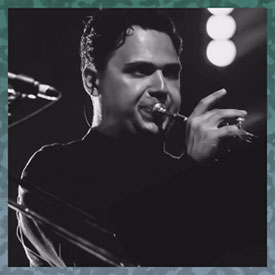 No! Not all all!!! I have been extremely fortunate. In the past 20 years or so, I have lived from recording to recording, and seeing a project begin from the small germ of an idea, up to its fullest realization - as best as I could do that - that has been more than enough for me. But, something happened for me recently that just added a dimension to this aspect of the story that, in a sense, changed everything, changed my life - and so much for the better. It has served to renew my faith in a sense of the possible.

It all began rather innocently on May 21st, 2020 with a fan e-mail through the CONTACT STEVE page at my website written by arranger/trumpeter Reuben Fowler from London, England. Like most of the mail that I receive, I had never met Reuben before, nor communicated with him. His message was extremely kind and sincere and he explained that he was in the process of recording some of his arrangements of Steely Dan material - most of which, at that point, had been done without any lead vocals. Reuben had chosen to do an arrangement of "Kulee Baba," which is a Walter Becker-Donald Fagen song that was one of the songs that was never completed and never appeared on "GAUCHO"(1980). In recent years, a rough session mix had somehow escaped onto the web and the 1st time that it was pointed out to me, I realized that, performing in the rhythm section were Don Grolnick(Rhodes); Chuck Rainey(El. Bass); Jeff Porcaro(Drums) and me, Steve Khan, on guitar. But the best part was that there was a scratch vocal, and a very good one, by Donald.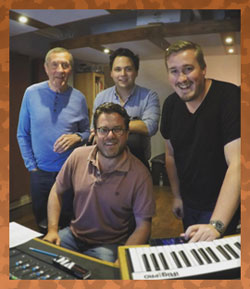 It all reminded me of just how great that song was - and how frustrating it was to know that it would never be finished, and for the most part, never heard.
I responded to Reuben and a correspondence and friendship began. At some point, he sent me an mp3 of his arrangement of the piece, and I really loved it. In general, his rhythm section for the big band consisted of top notch London players: Ian Thomas(Drums); Laurence Cottle(El. Bass); Ross Stanley(Keys) and Mike Outram(Guitar). I took that mp3 and put it into a new Protools session and labored to add some guitars to it. I then sent Reuben a rough mix of what I had done, and he really loved it. As time went on and this horrifying year of enforced captivity deepened, I ended-up playing on 2 more tunes. And, Reuben had managed to get the great Hamish Stuart, of Average White Band fame, to do the lead vocals on a few of the tunes. So, Reuben's project was moving forward. I believe that he had recorded 6 tunes at that point and had 4 more charts that needed to be recorded whenever it was again safe to do that.
As time passed, Reuben sent me the arrangement that he had done for the Steely Dan classic and iconic "Aja" - telling me that he really wasn't happy with it at all, and that he felt that he was going to scrap it. I couldn't believe it - I thought that it was really so well done - and all of the players played really great on it. In my imagination, I heard something that I felt might make the piece more colorful, and so, I added an acoustic guitar and my Strat guitar orchestrations. Lucky for me, Reuben loved what I did. But, I went even a step further, because I heard that this tune could be treated as a Latin tune. Though it had been recorded without a formal click track,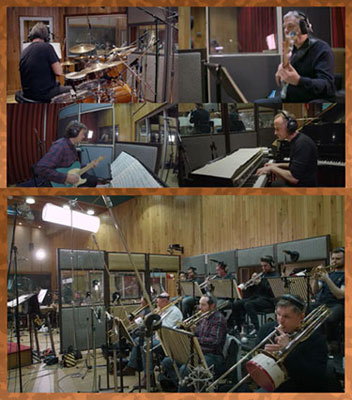 Reuben told me that the tempo zone had been Q=118. So, I had managed to build a Protools session around it, and that tempo held up for most of the tune. Having a working grid, I was able to make, for presentation purposes only, a track adding: conga, timbal, güiro, and even some wind chimes, and shells. When he heard these elements added to everything else, Reuben became really excited at the possibilities. I must also add that this effort was greatly aided and enhanced by the magnificent technological talents of Rob Mounsey, who generously contributed his expertise and created a beautiful tempo map for the entire piece - and it was this very thing that enabled me to place what I had played in a better zone, and laid the groundwork so that maybe someone could perform all of the Latin percussion parts for real and without too much effort.
Somewhere prior to all of that, I had been in touch with my old and dear friend bassist/producer, Jimmy Haslip, out in Los Angeles, about finding some great vocalists who might want to be a part of such a project. While Jimmy and I were hard at work on that aspect, he suggested that he might be able to convince the wonderful drummer and percussionist Jimmy Branly to play all of the Latin percussion stuff. And, it wasn't long before Jimmy Branly made his way into a studio in the Valley, and performed all of that and more to perfection. It was so thrilling to see/hear a concept of mine come to life at that level. Once again, with a decent sounding rough mix, Reuben was excited by the possibilities of what had happened to an arrangement that he had been within an eyelash of throwing out.
But, all of this creativity and hard work would be for naught if we somehow did not have a vocal that could deliver the tune in an emotionally convincing way. Who could be the person, the artist, to do it? It wasn't long before an answer arrived quite out of the cosmos.

Since its release in 2017, I had been listening to Eliane Elias' album "DANCE OF TIME"(Concord Jazz) and especially the tune "Copacabana" had captured my attention. I was absolutely fascinated by the vocal contributions of Mark Kibble, who had become a founding member and one of the lead arrangers for Take 6 joining the already formed quartet from 1980. Eventually their 1988 debut album took the music world by storm and nothing has been the same, where group vocals were concerned, since! But, on "Copacabana" Mark did all of the voices himself - just him - I was so struck and touched by what he could do that his singular talents had been on my mind.
Here I must hasten to add that each year during the Holidays, I always find a moment, usually in the morning hours around Christmas morning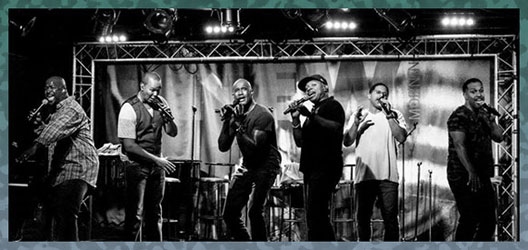 - or sometimes before on Christmas Eve to play two compilation CDs of my favorite Christmas songs from childhood - Frank Sinatra, Peggy Lee, Nat "King" Cole, Tony Bennett, Ray Charles, Lou Rawls, Harry Belafonte and some Jazz artists too like Kenny Burrell, Jimmy Smith, and others. Over the years, I've added more contemporary artists and, of course, Take 6 is prime amongst them. Each year, I again have tears in my eyes for countless reasons - but when I hear Take 6 singing these songs, I am deeply touched by what they've done. Perhaps, a part of it is that, as the years come and go, I become more and more of an overly sentimental old fool? It may seem odd for a Jewish person to be so attached to Christmas songs, but for some reason, growing-up in Los Angeles, my family observed Christmas, and never really celebrated Hanukkah. Strange, but that's all that I can tell you!
And so, as the Yellowjackets and Take 6 had collaborated on two wonderful pieces of music before, I asked Jimmy Haslip if he thought that he could reach out to Mark Kibble and present the track of "Aja" to him to see if he might be interested in joining the project. Within about an hour, Jimmy phoned me back and said that Mark was on board, and that I should phone him to work out the details. And so, I did. It was a wonderful conversation, and I just had such a good feeling about how this would all go. In the end, my hopes and expectations were exceeded beyond my wildest dreams and imagination. And so, that experience has now inspired me to sit and write about it - to try to put it into words as best as I can.

Looking back over the chronology, all of this began to unfold with Reuben in London towards the end of September. Finally, on November 6th, just after our huge election here in the USA, Mark could foresee that he might have time to get to his work on "Aja" during the coming weeks. I know better than to pressure someone of that kind of talent and generosity - and so, I just let it all go and flow as it might - and when Mark had something, I knew that he would eventually send it to me to listen.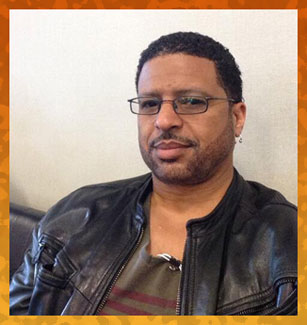 At some point, not too long ago, on December 4th, I wrote to Mark just to see if he had made any progress on recording himself on "Aja." Some time passed without hearing back, but then, quite out of nowhere, just this past Friday, December 12th, Mark sent me a rough mix of what he had done.
I can only say that, when I first heard it, I started to cry - tears born of the joy of hearing something that was THAT GOOD - THAT LEVEL OF ARTISTIC EXCELLENCE. I was just stunned. After listening several times, I made a couple of small notes regarding a few spots where I thought that, if Mark could add in a couple of chordal punctuations, the work would be done. He was so gracious, and it wasn't long before he had done it, and by the end of that day - we were all set. I spent the rest of that weekend, adding Mark's vocal tracks to the Protools session that I had created as my personal parent session here - the only small technological issue was that Mark works in Logic Audio. But, that was quickly resolved, relatively speaking, not a huge problem at all. I spent several hours trying to craft a decent rough mix to present to Reuben, in hopes that he would respond in a similar manner - after hearing what had now become of an arrangement that could have easily ended-up on the scrap heap, and never ever heard by a soul!
When I finally sent Reuben the first of several rough mixes - eventually he responded by expressing his own sense of joy and fulfillment and those sentiments were practically jumping off of the e-mail page. I was really so happy that this had all turned out so wonderfully well. Since that moment, I have continued to tweak and adjust my rough mix - hopefully making it a bit better with each version.

I think that I'm finally ready to get to the point of this whole exercise in storytelling, and that is this. Now, having had the distinct privilege of working with Mark Kibble on this Reuben Fowler arrangement of "Aja," it has become one of the great thrills of my musical life. Experiencing a supremely unique talent, that is all Mark's, has renewed my spirit with a feeling that there could more great things to enjoy in this life. Everything, all the voices, that you will eventually hear one day in the future - hopefully during 2021, was performed by ONE PERSON - yes, one person - that being, Mark Kibble. When I think about that - the level of brilliance and creative vision it takes to do that - I want to believe that I understand it, but now to have been in the virtual presence of it, I am simply humbled and awed by what I have heard. Never in my wildest dreams did I ever imagine that I would be able to work together with Mark Kibble on anything - let alone something of this magnitude. I am so very, very grateful to him, to Reuben Fowler, and to Jimmy Haslip for making this all possible to come together in an end result like this.

HAPPY HOLIDAYS to one and all, and here's to a HAPPY NEW YEAR 2021!!!

- Steve Khan
New York, NY
December 15th, 2020


---
[Photos: Reuben Fowler - Trumpet
Hamish Stuart, Reuben Fowler, Tom Walsh and Darren Williams(Seated)
Reuben Fowler Big Band Collage w/ Rhythm Section
Take 6
Mark Kibble]