PENTATONIC KHANCEPTS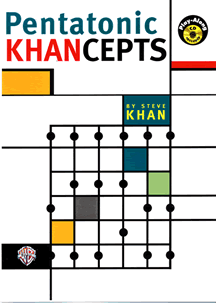 NOW AVAILABLE!!! The book is drawn from concepts which I have been sharing with my private students, and those who have attended my clinics and master classes, for now over 30 years. Like many aspects of my early music education and jazz education, these were ideas which I came upon by myself, because during the years when I was trying to learn about such things, the mid-'60s, there wasn't the scope of information(books, videos, play-alongs, etc.) which exists today. As there are already many fine books dealing with "jazz lines" and their formation, and various theories about how one can best "speak the linear language" of jazz, I felt that I had to narrow my focus and concentrate on one area. This book is intended to work hand-in-hand with "CHORD KHANCEPTS" and function as its linear adjunct. It is, hopefully, a relatively comprehensive study of the improvisational usage of, what I feel are, the two most common pentatonics: the minor pentatonic[R, m3rd, 4th, 5th, 7th] and what I have come to call the dominant 7th pentatonic[R, 2nd, 3rd, 5th, 7th]. In addition, the book tries to clarify the difference between the "blues scale" and the "minor pentatonic" scale. With that done, the book shows how one can then "backtrack" and put to use the blues scale over what might seem to be some pretty uncommon chord structures. It all works beautifully together in the end. The book then seeks and explains, and in great detail, how one goes about applying these simple formations to the basic harmonic "families" encountered in "jazz" or any music where improvisation is important. Any instrumentalist could benefit from the concepts in this book. If one is trying to specifically narrow it down to the guitar, well, I'd have to say that obviously those players who are trying to further develop their abilities to improvise would benefit the most. That doesn't necessarily mean that only 'jazz' or 'jazz-fusion' players would get the most out it. The book is really geared towards everyone! It is not intended to speak over anyone's head, nor beneath it. It appears in standard notation with TAB.....so, one could easily say that it's a "rock"-friendly book. By that I mean, players, whose primary focus might be in rock, R&B, hip-hop, blues, country, pop, and other areas, should also be able to gain a lot from the shared information. There is yet another fantastic example/play-along CD, only one(1) this time, accompanying the book and its text. The CD features performed examples which appear in the book as well as Steve's performance improvisations. The book can be obtained from Amazon.com, as well as Jamey Aebersold or directly from Alfred Publishing Co. at: (888) 310-3342 or online via Order Music Today.

CONTEMPORARY CHORD KHANCEPTS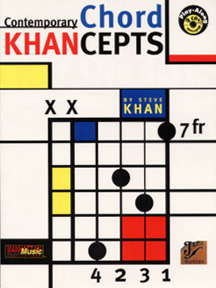 For those of you who have followed my recordings since 1980 and, in some way, have been fascinated by some of the chordal and harmonic language, this is the book you've been looking for. Perhaps best of all, Warner Bros. Publications was generous enough to include two(2) play-along CDs with the book. These CDs include performed examples followed by the 'blank' track for you to use. Though the book does not specifically address my linear approach to soloing, there are five brand new improvised tracks on CD #2(the 'red' CD) which demonstrate how one might integrate the chordal 'Khancepts' with their own melodic lines. Those tracks are: [11][13][15][7] and [9]. The book takes you from the fundamental two-voice building blocks: the guide tones, through the traditional approach to guitar voicings, and finally, my own personal approach to achieving unique and individual harmonic colors. I can only say that to this point, I've been simply overwhelmed by the response to this particular book. It's been a most gratifying experience sharing these ideas with everyone. The book can be obtained from Amazon.com, as well as Jamey Aebersold or directly from Alfred Publishing Co. at: (888) 310-3342 or online via Order Music Today.

The WES MONTGOMERY Guitar Folio

AVAILABLE NOW!! FOURTH EDITION!!! First published in 1978, this book is comprised of transcriptions I had done during my college years('65-'69) at U.C.L.A. as part of my self-education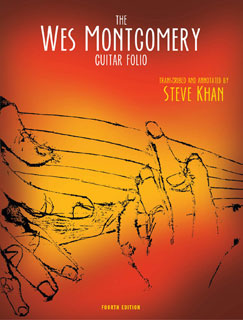 in the language of jazz. In truth, I really never thought that I would ever be able to publish a book much less one on Wes, but, I was very lucky to have my father guide me to Bernie Fisher of Plymouth Music when the company was located in New York City. The initial publication attempted to be a little more rock & pop 'friendly' with the inclusion of chord grids(at the time TAB wasn't all that popular with publishers), but when the 'revised edition' went to press in '95, I decided to conserve space, eliminate all the grids, and just face facts that this book was aimed at the more serious student of Wes Montgomery and, if one was hungry enough, they would slowly deal with reading the notes to extract the information. The book offers a three-prong approach to this great master: [1] transcriptions of recorded solos preceded by the melody statement with the chord changes for improvisation; [2] Wes' chord melody style featuring interpretations of standards; and [3] his original compositions with melody statements and solo changes. The song selections span his entire recording career from his years at Riverside to the Verve and A&M years. The Fourth Edition of the book now offers 30 titles including classics like: "West Coast Blues"; "Movin' Along"; "Freddie the Freeloader"; "The Days of Wine and Roses"; "Angel Eyes"; "Movin' Wes"; "The Thumb"; "Canadian Sunset"; and "Up and At It." New additions include: "Snowfall"; "Unit 7"; "'Round Midnight"; "Cariba" and "Con Alma." Though your local sheet music store should carry it, the book can be easily and best obtained through Jamey Aebersold's services.

PAT MARTINO - The Early Years

Though Pat Martino has enjoyed various 'spikes' in popularity over the years,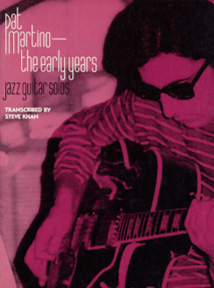 it has always been my contention that, for serious students of his work, the best course of study lies in his recordings during the 'early years' for Prestige Records, recordings done as both a leader and as a sideman where he was featured mostly playing standards. The 16 transcriptions offered in this 1991 edition were also done during my U.C.L.A. years in the mid-'60s and were transported to New York when I arrived here in 1970. After years of sharing them as photocopies with countless private students, and at the insistence of some of them, I decided to make the effort to find a publisher. Were it not for the help of filmmaker/documentarian Phil Fallo, this book might never have seen the light of day, as it was most difficult for all parties to reach an agreement. The book offers my analytical insights into Pat's linear approach. Insights which, at times, might be in sharp contrast to what Pat might say himself about his own work! When all is said and done, the notes he played speak for themselves. Classic solos offered include: "Airegin"; "Close Your Eyes"; "Donna Lee"; "Just Friends"; "Lazy Bird"; "Minority"; "Now's the Time"; and "Strings." Like the Wes Montgomery book, this publication offers no TAB. It is also available from Jamey Aebersold, or directly from Alfred Publishing Co. at: (888) 310-3342. And, of course, from Amazon.com as well.

GUITAR WORKSHOP SERIES: Steve Khan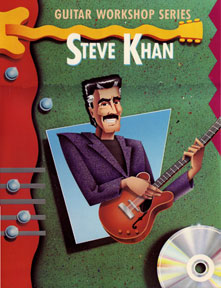 Without question, this book should have been titled: The STEVE KHAN & EYEWITNESS Songbook, because that is what it is! First published in 1991, the book features virtually all the original compositions recorded by Eyewitness on the four CDs: "EYEWITNESS"; "MODERN TIMES"/"BLADES"; "CASA LOCO"; and "PUBLIC ACCESS." In all, the book offers 20 songs in mini-score format for guitar and bass. In addition to the actual written music, each tune offers my personal anecdotes which could be about the derivation of the title, the influences, something about the actual recording itself, or just a story connected to the piece. For fans of this group and its recorded output, the book is a must and hopefully answers the most frequently asked questions. It might still be possible to obtain the book through Jamey Aebersold, but don't count on it! If you are truly interested in the lead sheets for all of the original music that appeared on these recordings, it is recommended that you visit the Index for KHAN'S KORNER 2. There you can find just about all of them, and in a better form than they appeared within the book.