Michael Brecker's Soprano Sax solo on:
"Call"(Hal Galper)



I just can't believe that, of all things, I went to the trouble and effort to transcribe a Michael Brecker soprano sax solo. He hated the soprano!!! As a matter of fact, if one wants to get psychological about it, I can't tell you all how many times Mike left(Was it 'accidentally,' or on purpose?) his soprano sax in various taxis and hotel rooms across the United States.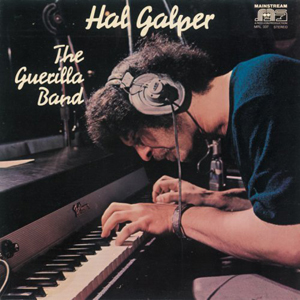 While racing to an airport, I can hear his voice from the backseat of the rent-a-car saying softly, "Uh-oh!" And then, Don Grolnick would turn around, becoming slowly enraged and ask, "Big uh-oh or little uh-oh?" If it was one of Mike's instruments, it was then, of course, a "BIG UH-OH" and, Don would have to turn the car around, and race back to the hotel to retrieve the soprano sax, or Mike's flute. And sometimes, believe it or not, he might have even left his beloved tenor!!! And then, the mad dash back to the airport in hopes of barely making our flight!!! Yes, those were the days!
In the early '70s, around the time that Mike and brother Randy were still playing with Dreams, they recorded a couple of really 'classic' Fusion LPs with the great pianist/composer, Hal Galper. The first of these recordings was titled, "THE GUERILLA BAND"(Mainstream). For this landmark 1971 recording, the group included: Randy Brecker(Trumpet); Bob Mann(Guitar); Victor Gaskin(El. Bass); Steve Haas(Drums); and Don Alias(Drums). Yes, in the spirit of the times, two drummers playing at the same time! When Hal Galper made the 2nd recording in 1973, "WILD BIRD"(Mainstream), the rhythm section changed, but the Breckers and Bob Mann remained. These recordings really resonated with me about 'spirit of the possible.' Hal brought in lots of original music, but interpreted the obscure Van Heusen-Burke standard, "Welcome to My Dream" as well. When I had my first New York band, "Future Shock," we even played some of Hal's tunes. And, one which we always played was "Call" which opens Galper's Guerilla Band LP.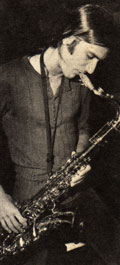 And, it featured an intense, and very spirited soprano sax solo from Mike Brecker. So, let's take a look at it.
In essence, the entire piece is performed over a C7(9b5) 'vamp' but, without a great deal of emphasis on the b7(Bb) from the chordal instruments. Between the two drummers, Haas and Alias, all the 16th-notes are covered, and Victor Gaskin's electric bass part is a rhythmic cross between 'samba' and R&B. I have attempted to encapsulate the basic 'feel' for this vamp in a one-bar excerpt, which you will find at the bottom of Pg. 2. The excerpt includes the electric bass part, and the essence of Bob Mann's funky electric guitar part, with the indication that the Rhodes is basically playing 'pads.' For all the guitarists out there, it should not be forgotten what a great player, in all aspects, Bob Mann was and is! He followed John Abercrombie as the guitarist for Dreams. And, when Randy and Michael left Billy Cobham in '74, and were about to start The Brecker Bros. Band, Bob Mann was the guitarist of choice to do the first recording. He helped, and hugely so, to craft the approach to the Jazz-Funk-R&B based Fusion with which this great horn band was to become associated. He could play any style, and, like both Brecker brothers, he has the talent, taste and time to execute passages with flawless precision. And, he has the huge 'ears' to go wherever the music needs to or wants to go. If you ever doubt this, just listen to him trading phrases with Randy on the title track from Dreams' second and final recording, "IMAGINE MY SURPRISE." He is a great, great musician and player!
The pick-up to Michael's solo begins with some rhythmic uncertainty, as to just where 'one' is after the melodic break. Mike comes in with characteristic self-confidence on what, he hears as 'beat one.' But, as I chose to write this out, it seems that there has to be a 3/4 bar there to accommodate this interpretation. At two other moments during the solo, the groove gets temporarily "turned around" or "lost" and, I had to decide just how I would notate this. I chose to use a 5/4 bar to account for the extra beat. These events happen at bar 6, and then later in bar 28. Of course, I am only speculating on what happened but, when you have two drummers playing and you have an electric bassist who is better known as an acoustic bassist, including his great tenure with "Cannonball" Adderley, there can always be problems. So if, while listening, you're tapping your foot and something feels strange, that's what is going on. Again, I just tried to make sense of it by looking for where the rhythm section agreed to pull everything back together. And, of course, Mike Brecker has to adjust to this on the fly.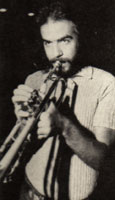 Mike begins his solo with a blues player's emphasis on the root, accentuated by his expressive vibrato. Perhaps, this was all a product of Mike's fascination with rock and blues guitar from this period? Throughout the solo, you see an emphasis on the root(C) and the b7(Bb). These are certainly notes that any blues player would employ. In bar 4, you hear Mike's initial usage of an F#(b5), even though you hear 'D'-triads emanating from Hal Galper's keyboards, this is not the note that most players would want to make a 'big deal' out of. It can become as if you are waving a huge red flag and saying to everyone: "Hey, look what I'm doing! Look at what a cool note I'm playing!" Using a note like this is much more effective when you don't place such great emphasis on it. At least, that's what I would advise. Over the course of this solo, you hear the F# in bars: 4-5; 13-14; 20(Gb); and 29. During the solo, you will hear that Mike gives attention to the natural 9th('D'-natural) which he then uses as a jumping-off point to explore some rather 'snaky' chromatic passages. Key moments with the 'D'-natural appear in bars: 6; 9; 11-12; 25; 31; and 39-41.

I think that it is highly worth pointing out where Mike makes reference to 'blues' and soulful R&B mannerisms during the solo. We already mentioned what he does during bars 1-4. But, there are some other nice moments as well, bars such as: bar 6 into 7; 21 into 22; 26-28; 32; and 36. I also mentioned the usage of his post-Coltrane snaky chromatic lines. These lines appear throughout the solo, some far more elongated than others. He first reveals that such lines are possible and are coming in bar 10. Further examples to look for would be in bars: 14-15; 20-22; 24-26; and 33-36. The latter is probably the longest of all such lines. If one examines the components of this particular line configuration, the harmonic 'logic' within might not be easy to see in some theoretical light. For example, look at the ascending portions which appear on beats 1 and 3. Over the two bars, they descend using consonant pitches on the first beat related the tonal center of 'C': G; E; D; and C. The groupings on beats 2 and 4, looking at the first pitch of each downbeat, you see Ab; F; Eb; and Db. If anything, those notes seem as though they could be connected to the V7(alt.) sounds of G7(alt): Ab(b9); F(7th); Eb(#9); Db(b9). Perhaps that is the internal logic to this long line?
Having had countless discussions over the years with Mike about the soprano which, as all his fans would know, he hasn't really carried with him in decades, I think that he most hated the fact that the instrument can be so unforgiving where pitch is concerned. As everyone also knows, Mike had an impeccable sense of pitch and tuning. So, small wonder that this would have driven him crazy. However, I think that this solo captures a particularly unique spirit Mike had when playing the soprano and, in the end, it's a bit of shame that he just did not want to explore it any further. But, one can hardly blame him when the totality of his brilliant output is considered. I was just a big fan of the way he approached playing the soprano sax. Oh well!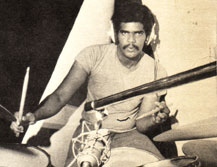 Frankly, I am happy to admit that to complete this particular transcription I needed the help of Andy Robinson's brilliant program called "Transcribe!" My true 'trouble bars' during this particular solo were the insane flurry of notes Mike played in bars 37 and 38, which appear at the top of Pg. 2. This particular flurry of notes, and they are really more of a flurry than his customary perfectly executed double-time passages, was so hard to notate that I needed the help of this program in order to decide on which quarter-notes certain pitches were landing. In truth, I could not have done it without this kind of technological help. No way! It is all a bit ironic because, of all things, it was Mike Brecker who first told me about "Transcribe!" How about that for some irony? And look what I have done. I have transcribed something which he would probably kill me for doing!!! But, I suppose as long as it is done with great love and respect, he will forgive me. Let's hope so.
UPDATE: Well, it took awhile, but finally Amazon.com was able to deliver my Japanese Import CD of "THE GUERILLA BAND" and, considering that I hadn't heard this recording in ages, I want to be the first one to say that it was more than worth the wait!!! Again, this is its very first release in the CD format. So, if you truly consider yourself a fan of the Brecker Bros. or, for that matter, Hal Galper, you MUST order this recording immediately!!! I would have to imagine that this would be a limited run, so, use the link which I have provided(by running your mouse over the CD album cover above), and buy this recording NOW before it disappears. Trust me, it's a great one, a truly great one!!!
This recording was very much ahead of its time, and to hear the Brecker Bros. in their most youthful friskyness is going to be a real treat for everyone. While listening to the interpretation of the not so often heard Van Heusen-Burke standard, "Welcome to My Dream" it was as if I was hearing it, understanding it, from a rhythmic perspective, for the very first time. It is absolutely gorgeous. And the way that Michael and Randy interpret the melody together is the perfect example of beautiful ensemble playing. Always take pleasure in the small things, because they are so easy to miss!!! And so, in closing, please enjoy this great little Michael Brecker soprano sax solo with our best wishes!!!



[Photos of: Michael Brecker; Randy Brecker; Bob Mann; & Don Alias
by: Raymond Moss]