AS A SIDEMAN


[Fred] Obviously, you were one of the most in demand guitar players in the studios during the '70s, and I know that the amount of sessions you did is probably a bit less, when compared to guitarists like Hugh McCracken, David Spinozza, John Tropea, Jeff Mironov, or Larry Carlton and Dean Parks (depending on the coast, east or west), but, here in France, we noticed your name and your playing on so many recordings, even if you did not take any solos, the name of Steve Khan, like the name of Michael Brecker or Steve Gadd, was a given of sorts! Do you remember most of the recordings? Do you still own those records? Do you have a favorite amongst them? Was it mostly fun, boring, exciting, or just routine to record with so many great singers and singer/songwriters?
[SK] Honestly Fred, I hope that my response to this is not going to disappoint you, nor upset you, but, the only important thing for me, because in-depth interviews, like this one, are so rare, is to be honest. And I want you and your readers to know exactly how I feel, and have felt for a long, LONG time.
I was signed to Columbia Records in 1976 by Bob James, on the forceful recommendation of Bobby Colomby, who had loved my work as part of the Brecker Bros. Band. I owe the two of them everything for that opportunity. When I recorded my first album for Columbia, I was almost 30 years old, that would be considered by many to be late for a first album as a leader. But I was overjoyed to be doing it, and very grateful for the privilege of being recorded as an artist. It was the first step in the realization of all my hopes and dreams. As I began to walk down this road, stupid me, I foolishly believed that I would now be a recording artist for Columbia Records for the rest of my life, just like Miles Davis. How foolish does that sound now?
After three albums in the Jazz/Fusion area of the genre, Columbia decided to eliminate almost their entire roster of Jazz and Jazz/Fusion artists, and that included me. This happened in 1980, and I was devastated, in a state of shock, one that seemed to last forever, or too long. When I emerged from that dark tunnel, I was very fortunate to have recorded "EVIDENCE" (my first self-financed album) not too long afterwards, and that was quickly followed by "EYEWITNESS" in 1981. As my growth and career continued, I ended-up have albums, often just one, that were released by virtually ever major label in the area of Jazz, even though I had to pay for many of them myself. I was lucky that they were released and distributed. On the other hand, it is always best, if possible, to have all your recorded work rest with one label. But, there is hardly an artist who can say that! John Abercrombie and ECM come to mind. The realization of one's dreams does not ever go in a straight line, from nothing to something. Along that road, virtually anything can happen, and sometimes you have to adjust and be flexible. I don't know that I have been too great at exhibiting either of those qualities at times. One must always dream BIG, and strive to achieve that dream, no matter what obstacles are presented in your path. So Fred, to begin to truly answer your question, we must go back in time, long before 1977.

Firstly, while I was in my last two years at U.C.L.A., during the summer of 1968, I came to visit my father in New York. At the time, one of his dearest friends, a drummer/percussionist named Stanley Krell was a fixture in the studios and the Broadway scene here. For me, these were two worlds about which I knew nothing. You have to remember that during those years, the names of the musicians who performed on Pop, Rock and R&B recordings were just becoming known! Before that, they did their work with total anonymity. Given what I moved to New York to pursue, it is so hard for me to believe that, not too long, after that time, there was actually a generation of players, mostly on the rhythm section instruments, who actually wanted to become studio musicians. To me? This was unbelievably strange, almost sad in a way. What happened to being in a band and playing your own music?
I remember that trip so well, because Stanley took me with him to sit in the pit of the Broadway show, "CABARET" and there, right in front my eyes, playing 3rd trumpet, was the great Art Farmer. I couldn't believe what I was seeing. Here was the man who had the great quartet with Jim Hall and Steve Swallow. How was this possible? But, there he was!!!
During the following summer of 1969, I was invited to come to New York to play in a quartet with vibraphonist David Friedman and bassist John Miller. We were going to play most of the summer up at what had been the famous Music Inn in western Massachusetts - home to a recording by the Modern Jazz Quartet. I was so excited and nervous about it all.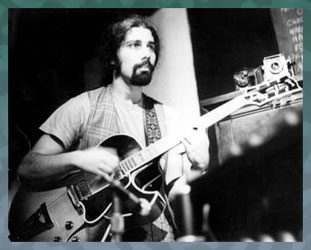 I had jammed in Los Angeles prior to this with David and John, because they had been out there playing at the Troubadour with singer/songwriter Tim Buckley. David had been a student of Stanley Krell's.
David Friedman was a brilliant musician, he was a classically trained percussionist, who was part of Luciano Berio's Julliard Contemporary Music Ensemble, playing some of the most difficult music one can imagine. He was also a busy percussionist in the studio scene, and he wanted me to come with him to see this part of the musical life in New York. I recall one Monday night going to see the Thad Jones-Mel Lewis Jazz Orchestra at the Village Vanguard. It was an incredible night, because subbing in the band that night were Chick Corea on acoustic piano and Miroslav Vitous on acoustic bass. No Sir Roland Hanna, and no Richard Davis! I couldn't believe it, it was so fantastic!!! The very next day, I went to some studio with David Friedman, and what do I see, but some of the musicians from Thad and Mel's band playing on jingles. Across the hall, Chico Hamilton was producing a jingle. And in a third studio, guitarist Billy Mure, who was leaving one session, was asked if he could quickly sub for Jimmy Raney - because Jimmy Raney was somewhere, and too drunk, so I was told, to be able to show-up and play. Oh, and Mike Mainieri was there on one of these sessions too.
I could not believe what I was seeing. In truth, I never wanted to do any of this kind of work - advertising was a pretty sickening profession to a young cynic like me!!! But there they were, some of my heroes, and they were doing work like this right before my very eyes! It was a most confusing sight!

And so, in January of 1970, I moved to New York. All I wanted to do was to play Jazz, or whatever Jazz was becoming - which certainly had it headed in the Fusion direction. I had saved-up as much money as I could before my move, and felt that I could survive 3 years without having to play any "bad" music. How could I have 'planned' that I would be arriving in New York around the same time as all these great musicians, who were all destined to become legends in the years that were to come? It was the greatest act of good fortune anyone could have bestowed upon another human being. We all jammed together night after night, talked about music, listened to music, we just lived music all the time. I believe that everyone's story is very much the same. I don't know of ANYONE, within that group of players, who came to New York to become a studio musician. For the players that I was close to, we all had other dreams and goals.
But, what happened to each of us at different times was that we might have been playing in a small club somewhere - and reputations were being formed and built, and every so often, someone, a jingle or record producer, would walk up to us, after a set, and say something like this: "Hi, I really like the way that you play, can you read music? Could you make a jingle session tomorrow morning at 10 A.M.? It pays union scale." Of course, we all would answer, "Sure! I'll be there." And that's how things began. But, never ever did I ever think that there was going to be such a HUGE artistic price to pay for doing this. In the circles of serious music, being a sessionman is no better than wearing Nathaniel Hawthorne's "scarlet letter" for being a whore!
Worse than this, you are seen as, as the expression goes here in the USA, a "Jack of all trades, and master of none!" That means you are a person(in this case, a musician) who is versatile and can do many things, but you are not GREAT, truly great at any of them!!! And you have no great, deep commitment to anything - not any one form or genre of music!!! For me, I would never want my work to be viewed this way. I was always a very serious musician, period!!!
Foolish though I was, I wanted to believe that when I recorded for the first time as a leader, the Jazz press, the Jazz critics would be able to separate any of the recorded work that I had done as a sideman, and view my own recordinga as the true representation of who I was, and what I stood for. And so, imagine my great disappointment when "TIGHTROPE" was recorded and released in 1977 and suddenly the reviews started to come in, and the general tone of them was: "SESSIONMAN MAKES ALBUM!" When I saw this, I just wanted to die!!! I couldn't believe that this was happening to me. But it did, and I hated it. A phrase like that means that you are artistically dead before you even start!
After 3 recordings for Columbia, I began to change my BIO, and never mentioned again any of the recordings that I had played on as a sideman. Even now, if you read the BIO at my Website, and you will see that NOTHING is said about this kind of work at all until the very last paragraph, and I only mention a few names. That's it.
The cruel irony of all this is that even a great, great artist like Michael Brecker still had to deal with backhanded compliments because of his session work in his own obituary in THE NEW YORK TIMES. What kind of fucking bullshit is that?!?!?! But, I swear to you it's true. I still have his obituary in my night-table drawer. I just read it today to make certain that I hadn't imagined this.

Now, there is another aspect to this. When I moved to New York in 1970, shortly thereafter, in 1972, I learned from my then girlfriend that I was about to become a father. Yes, imagine that!!! I was a young, immature boy faced with immense adult decisions and responsibilities. Frankly, it was terribly frightening. And so, in 1973 my son Heath was born. I was never married to his mother - it was, in a sense, a hippie thing. We tried to live together for 3 years, but it was impossible - we were never destined to be friends, let alone co-parents. This began a most difficult and confusing period of my life. None of my esteemed guitar colleagues, at that time were parents - NONE!!! John Abercrombie still is not. Why do I mention this? Well, it's crucial to my life, because I was always a responsible and devoted father. But, I was terrified that I might not be able to fulfill the immense financial responsibilities that I faced, or that my son's mother was going to sue me at any moment.
So, the musical choices that I felt that I had to make were very different than those faced by my friends. And if you look at those years, both Abercrombie and Scofield were able to tour Europe, and build an audience for themselves, and even lose money doing it - I could NOT have done that. So, I stayed in New York, kept trying to play creative music, but was earning money also by playing on recording sessions and jingles. Had I not done that? I don't think that I could have financially survived, and my son would not have had the things that he needed and deserved to have. Heath didn't ask for this!!! And, perhaps of even greater import, in my case, was the fact that I never had a real manager or a great booking agent. These things nearly killed my career. In a sense, it is really a miracle that I've been able to accomplish this much.
So, I'm saying that everyone's life circumstances are different, but in the end, we have to be responsible for our choices and live with the consequences, even if they are most undesirable!!!

After I had lived in New York for a few years, a fan from California sent me a letter - yes, that's how long ago THAT was - a real letter via mail. And in the letter, he had clipped out an interview from a newspaper with Elvin Jones.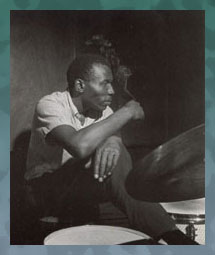 The headline of the interview was: "THERE'S NO SUCH THING AS A PART-TIME JAZZ MUSICIAN!"

The fan wanted to know, what I thought about what Elvin had said. Honestly, I thought about this statement for a long, long time. I actually still think about it, and I even bring this up when I do clinics and master classes to make my students or colleagues THINK about this, and their life, present or future, in music.
The conclusion that I have come to is that Elvin was completely and totally correct in what he said. It comes down to this: You either ARE a Jazz musician or, you are NOT. There is NO in between. You are either LIVING that life - or, you are NOT. It is THAT simple. And more than that, this is true for any other genre of music. There is no such thing as a part-time Rock musician either. You either are one, or you are not!!! That's why, when you're young THAT is your moment, your time to DO IT!!! Nothing should get in your way!!!

But WHAT is the Jazz life? What was it? What has become of it? As I knew it, when I was growing-up the Jazz life consisted of making a recording once or twice per year, and then, you were touring. Touring consisted of playing in all the clubs in the major cities in the USA from Tuesday through Sunday, and then traveling on Monday to the next city and gig, and repeating this routine over, and over, and over again. THAT was the Jazz life as I knew it from afar, and that's what I saw all my musical heroes doing.
Well, everyone knows that THAT LIFE is over! It does not exist any longer and hasn't existed for decades. All those great, great clubs are basically gone. Cities that once had 2-3 clubs, now, they barely have one - and often times that club cannot support a "national act." These days, if an artist is given Friday through Sunday by a club, that's considered fantastic. Thursday through Sunday - wow, that's a miracle - or, you're super famous. Club owners are terrified of having ONE BAD NIGHT - they feel that their whole club could go under if they had a bad night - with very few people showing up.
Touring for musicians? Brutal? The promoters tell you that if you don't have two famous sidemen with you, no tour!!! THAT is the reality!!!

So Fred, I hope that this helps you to understand why I never like speaking about these things. I have worked so hard to put them all in the past, and just have people concentrate on my body of work as an artist. That's the only thing that means anything to me. The rest is all nonsense. I think that there is a great art to being a craftsperson - someone who can play a small role in the musical vision of another artist. I admire the people who do this well greatly. As a music fan, I enjoy those albums too. But, that's not my life! Those were not my goals - not then, not now, not ever. It's so odd, strange to me that a session to me was a Blue Note recording date, a Miles Davis recording, or Grady Tate and Ron Carter playing on Wes Montgomery album, or a Jimmy Smith album. Elvin Jones playing with 'Trane, but also playing with Larry Young, now THOSE were sessions!!! I could go on and on about this. Are those players Sessionmen? I don't think so - they are simpy great, great musicians!!! Period!!!



"TWO FOR THE ROAD"('75) Larry Coryell-Steve Khan


[Fred] "TWO FOR THE ROAD" has never been re-released on CD! WHY?
[SK] Again, the answer is sadly the same. I have no control over any of the older recordings. If it happens to be re-issued while I'm still alive,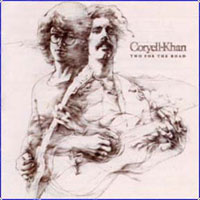 no one will be more surprised than me!!!

[Fred] Anyway, how did you meet and became friends with Larry? Do you still see each other? He was one of the jazz-rock pioneers, but didn't have the success of John McLaughlin, for example.
[SK] Larry and I met when he was touring with Gary Burton between 1967-68. They would come to Los Angeles once or twice per year and either play The Lighthouse or Shelly's Manne-hole. Larry was the first of his generation to be accepted by the Jazz Press, and suddenly the guitar could express its full range in Jazz. He opened the doors for all of us who followed. As it turned out, in my view, his most musical playing ever is probably represented on those 3-4 recordings with Gary Burton.
The reason Larry never achieved the same kind of success that John McLaughlin and others did was that Larry never had a focused singular vision on how to make his own recordings. They were all very uneven. He could have a moment of guitaristic brilliance, and then follow it with something that was positively dreadful. It's all about having a clear focus and a vision. Larry lives in Florida now so we really never run into each other. We seem to correspond via e-mail when commiserating the death of a dear friend. Such events now happen far too often. It's very sad!!! I have and always will have great affection for Larry, and as a guitarist, I admire his talents very much.
Our duo was actually the first Modern Jazz Guitar Duo, but it was difficult to be on the road with Larry then, because there was so much stress and chaos in his personal life. Eventually, I had to leave for my own sanity and well-being.



"BACK TO BACK" & "DON'T STOP THE MUSIC('76-'77)
The Brecker Bros. Band


[Fred] You have played many, many times with those cats in studio. But the BB Band was something else. Did you rehearse a lot before recording? Did you tour a lot with them? Was it really a band, or just a bunch of friends? How was the mood within the band? Was the band big in the U.S.? I mean, it was already the beginning of the end of the jazz-rock/fusion era. The pressure from Arista and Clive Davis was that big?
I love the picture with all the band members with the same shirt! Do you still have the one with your name on it?
[SK] Firstly, yes, we were a band, and at the same time, we were a musical family. We played together ALL the time - that included lots of jamming, rehearsing, you name it. At that time, Don Grolnick, Will Lee, and Chris Parker all lived in the same apartment building in Greenwich Village - so getting together to rehearse was relatively easy - we used to rehearse in Don's apartment.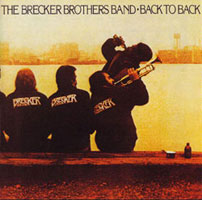 Like any 'family' we certainly had our disagreements. On one side, at times, you had Grolnick and me, who wanted to see us be a GREAT Jazz-Fusion band but, because of the accidental success of the song Sneakin' Up Behind You Randy, Will, and Clive Davis wanted to see the band head in a more funky R&B direction, in other words, MORE singing! Mike, the artiste of the two brothers, wanted to play instrumental music - but, as the younger brother? He could always pulled along by Randy. This caused lots of humorous, and not so humorous, arguments within the band. And, as I said, it was a huge contributing factor to my departure, and eventually Don's too.
For me, "BACK TO BACK" was a very uneven recording with too many disparate elements mixed together. In hindsight, though I view "DON'T STOP THE MUSIC" as being pretty horrible(for similar reasons), I do feel that the melodic guitar sound that I created for tunes like Sponge and Tabula Rasa was really great. Until recently, I had forgotten that I had developed a much better sound at that time. I don't know why I could not recreate that sound on all my Columbia recordings!!! (Laughing)
Because of that one 'hit' single, Arista and management began to book us as an opening act for concerts with many of the top R&B artists of the time including: Rufus w/ Chaka Khan; Graham Central Station; The Ohio Players; Tower of Power - there were times where we were booed off the stage. It was somewhere between brutal and comical. We were a Jazz-Fusion band NOT an R&B band. So, I would not say that we were "BIG" in the USA! Not in the way that most people relate to the word big.
Clive Davis? At one point, I was told that, at a meeting with Randy and Michael, Clive suggested this to them: "Why don't you fire Khan and Grolnick and get two black guys who can sing?" One can only laugh at someone who thinks like that. But, that's a true story!!!
That photo on "BACK TO BACK"? Yes, I still have my blue shirt in the closet!!!




"ALIVEMUTHERFORYA"('77) Cobham-Johnson-Khan-Scott
"INNER CONFLICTS"('78) - Billy Cobham



[SK] Billy and I were friends before we actually played together, but we always had a good musical hook-up!!! When he asked me to record with him for "INNER CONFLICTS," I was really happy. We recorded those two tracks somewhere in the San Francisco vicinity,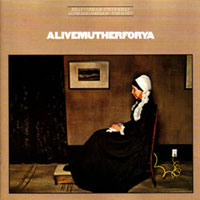 Don Grolnick was there too, during a Brecker Bros. west coast tour. For me my solo on The Muiffin Talks Back is one of my best from that "heavy" Fusion period.
The idea for a tour by the small group CBS All-Stars, which ended-up including Alphonso Johnson, Tom Scott, Mark Soskin, and Billy and me, was born after the Montreux Summit live sessions in 1977. I believe that we rehearsed, perhaps for about 3-5 days in San Francisco, where Billy Cobham had been living. I was the only one who had to fly out from the East Coast. The tour was supposed to cover all of the United States. But, we only got as far west as Minneapolis, and suddenly, Columbia Records felt that they were losing money, so they cancelled the tour, and a scheduled live recording too. Needless to say, this was pretty disappointing, because we were never going to get to play on the West Coast. And this meant that I would not get to play with this band in my hometown of Los Angeles. Then, just as suddenly, they changed their minds, and brought us back to New York to record in front of an invited only audience - all Columbia executives [How boring, horrible could that be? Or, better yet, What is the sound of one hand clapping?], and that's the recording that you now hear. I am constantly amazed at how many people write me, and tell me that they love "ALIVEMUTHERFORYA"!!!
Though most people know it by now, the title of the recording was a play on words based upon Johnny "Guitar" Watson's well-known song from that time, "A Real Mother For Ya."



Mike Mainieri & Steps Ahead
"WANDERLUST"(1981)
"N.Y.C."(1989)
"YIN-YANG"(1992)



[Fred] How about your friendship and musical relationship with Mike Mainieri? Did you enjoy playing and recording with Steps Ahead? I really like your solo on Absolutely Maybe on "N.YC."
[SK] Mike Mainieri, though he had been a fixture in New York, and in the Jazz scene here long before any of us had arrived, he was also a huge part of this "musical family" that I have alluded to. He was voted NEW JAZZ STAR on vibes by our DOWN BEAT magazine when he was only 19 years old. But beyond things like that, he's one of the greatest improvising musicians, and a truly melodic composer. I had loved a recording that he made with his quartet in 1968 titled "INSIGHT"(Solid State) which featured Joe Beck on guitar - even though the music was not as forward looking as what Gary Burton had been doing with his quartet at the same time. Mike is also a 'hustler' - in other words, when nothing is happening? He makes something happen! He forms a group or something else. I admire that capacity a lot.
The original Steps w/ Michael Brecker; Don Grolnick; Eddie Gómez; and Steve Gadd was formed in 1979 by Mike Mainieri but did not really last very long. And not so long after that, the next thing I knew, Mike Mainieri was recording "WANDERLUST" in 1981 - ironically just before Eyewitness was to be formed - and Mike asked me to be a part of it.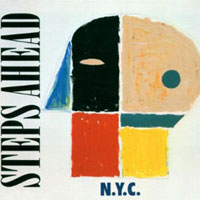 I went from being asked to play on a couple of tunes to practically playing on everything. At the time, we were all very, very close friends - so it was easy musically and personally. And, it was nice to see a young Marcus Miller becoming part of this family. The musical highlight of it all for me was how the tune Crossed Wires came together - because Peter Erskine wasn't sure about how to approach such a piece - so I sat down at the drums for 2-seconds and showed him the basic "surfing" drumbeat, and he adapted it to that tune. That recording ended-up becoming the basis for the reformation of Steps Ahead - which had to be the name of the group because the name "Steps" had been owned by another band!!!
In 1989, Mike was recording an album, really a collection of songs, and it ended-up becoming another Steps Ahead record. Somehow, he didn't have a regular guitarist at that time, and he thought of me. Just as it was in 1981, I was asked to play on a couple of tunes, and then, suddenly, I was invited to pretty much play on everything. For me, it's always more enjoyable, illusion or not, to feel like part of a band, and to work hard on a project for a brief time - rather than just being an "added guest" for a song. This new music involved some sequencing and other 'newer' computer driven devices - but we performed live to what had been programmed.
The piece you mentioned, Absolutely Maybe, which was composed by saxophonist Bendik Hofseth from Norway - was the most enjoyable tune of all for me. It was very comfortable learning it on the spot, and performing it - before Mike Mainieri decided to sit-in and play acoustic piano on it. Before that, it actually had a very Eyewitness-related kind of vibe to it. I believe that it easily could have gone on for 10-minutes but Mike seemed afraid to allow to go to 'that place.' That was unfortunate in my opinion. This is the kind of piece that I wish I had composed - I love the melody because it speaks beautifully without any chords at all - it can stand on its own - that's why I felt that the performance was better without piano - it didn't need it!
Then not so long afterwards, and I'm not sure that I'm remembering all the precise details correctly, but Rachel Z. and Jimi Tunnel had been members of the actual band, and they were also a romantic couple. But, somehow a rather huge Hollywood-type of break-up occurred as they were preparing to recorded "YIN-YANG" left Mike without a guitarist and tons of music to record. So, somehow, he thought of me, and I was most happy to be asked to play, and to save the recording. It was a LOT of music and some of it was very difficult - but, that also makes it fun, as well as a great challenge.



GEEK PATROL CORNER


[Fred] Who are ten guitarists whose playing you admire? (Any time, any style) And, in a few words for each one, why?
[SK] This is so difficult too!!! Why are you doing this to me?!?!?

[1] Wes Montgomery
- for his beautiful sound, touch, sense of swing, his love for a melody

[2] Kenny Burrell
- for his sound, touch, swing, and dedication to the blues

[3] Grant Green
- for his feel, and the bluesy nature of his playing

[4] Jim Hall
- for his sound, his phrasing, his immense musicality, always improvising with a sense of development of ideas

[5] Ralph Towner
- for his touch, his sense of dramatic dynamics, his inventiveness and creativity

[6] John Abercrombie
- the great dignity in his playing and his sense of taste

[7] John Scofield
- for his capacity to always be so loose and spontaneous, and for being able to always write 10 new tunes!! How the fuck does he do that?

[8] Lowell George
- no one played slide guitar like him and sang so soulfully

[9] James Taylor
- how do you accompany yourself with greater grace and beauty? James is a fantastic player and songwriter!

[10] Steve Cropper or Jimmy Nolen
- either one for just being so damn funky!!!

I mention many guitarists at my website, at the page: STEVE RECOMMENDS so everyone should really visit that page if they want a more clear view of what I think.

[Fred] What are the five records you would take with you on a desert island?
[SK] And this is impossible!!! Again, for a more balanced view, please visit STEVE RECOMMENDS at my site!!! But, just to be crazy, here are 5, and 5 only: "UNITY" Larry Young; "INVENTIONS AND DIMENSIONS" Herbie Hancock; "NOW HE SINGS, NOW HE SOBS"(CD version) Chick Corea; "MY SONG" Keith Jarrett; and "BATIK" Ralph Towner