Though
Hal Galper
's tune "
Point of View
" closes his remarkable 1971 album, "
THE GUERILLA BAND
"(Mainstream), to me, it could have easily been the opening track. In its way, it serves to define just what this album was to be about, to represent to everyone involved in this kind of music or to anyone who would later get to hear it and enjoy it.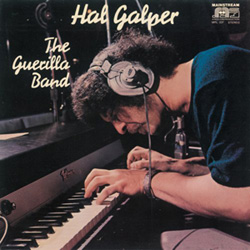 This rather ingenious composition which, written in cut-time, spans just 24 bars, features long lines that make the piece remarkable for its depth and rich harmonic colors, considering that the melody is stated over an E-pedal, often with accents on beat 4 anticipating each phrase.
As the melodic line unveils itself, as stated with great eloquence by
Randy Brecker
(Trumpet) and
Michael Brecker
(Tenor Sax) revealing their very personal
sense of flexibility
in that statement, while making it feel
precise
at the same time. They make this melody sound as if they are floating over the time and yet, when you look at the lead sheet, you can see that they have very specific rhythmic parameters within which to work. The musical chemistry between these two uniquely talented brothers showcases their love for stating a melody - always with creativity and grace. In addition to Hal, Randy and Mike, the featured players on this album were:
Bob Mann
(Guitar);
Victor Gaskin
(El. Bass);
Steve Haas
(Drums); and
Don Alias
(Drums).
How many harmonic colors can one have over a pedal? In labeling all of these chords or sonorities, I actually felt compelled to consult with my longtime friend and often musical colleague,
Rob Mounsey
to see if he would label some of these chords as I had originally chosen to label them. We only modestly disagreed on one chord/sound. With a piece like this, so very driven by the melodic line itself, it is so effective because of the subtle movement of the inner voices. I wrote out this lead sheet, having all of the melody notes with their stems up, and then filling in a small taste of the significant harmonies below. My hope is that this will be helpful to you and not too confusing. "Point of View" begins with a very open sounding E2(no 3rd) voicing. For that brief time, it is very "major" sounding, but in bars 3-4 with a
D-natural
in the melody, with the upward movement in the harmony from B-natural to C-natural, the color of the chord changes to what Rob would label as: Am6/E. This sonority quickly returns to the fundamental E2 sound. But, in bars 9-10, Hal introduces a Phrygian sonority, which we might label as Dm9/E. As Hal works his way back to the parent sonority, he passes through
C#
in the melody which sounds perfectly normal, even though that note is really not in the E Phrygian mode. So, it is harmonized most times by an Em7(9sus) chord. Bars 13-16 see us returning to the E2 chord. But, when bar 17 is anticipated, the color changes to Em7 - just as the melody went from G# down to G-natural. For me, all of this sounds so perfectly musical and
natural
. The last bars of the song return to the E2 chord sounds.
Hal Galper's "THE GUERILLA BAND" album is very much a reflection of the kind of production values of the LP Era in our music. For the purposes of getting the
hottest
pressing from mastering, producers wanted to keep the total music time down to around 38-minutes, in other words, not longer than 19-minutes per side. If you look at the timings of the various tunes on the album, you can see that Side A is just under 17-minutes and Side B is just under 20-minutes. Both well within the range, generally speaking. But, more than technical issues like this, each tune feels like it is very open-ended even though only one tune hits the 9-minute mark. "Point of View" clocks in @ 5:49. Until I had actually transcribed Mike Brecker's opening solo, I really never realized that he had played a set amount of choruses, that being 3. In keeping with that, Randy's solo and Hal's solo were also 3 choruses. I really never heard this great tune as being so structured, because it always seemed to be so
free
. But, in the end, it is a most structured piece of music.
---
Those Hal Galper sessions were all recording sessions we so looked forward to doing. Hal was always well-prepared, and we had played some of the music on gigs - so we just basically set-up and played. They are so far in the past, a time when we were working in the studios just about every day, so everything tends to run together in my head.
As for playing the heads with Mike on anything, we just had a special 6th sense to phrase together. The pitch was always nailed, and we never had to talk about the phrasing. Conceptually, we always heard things the same way: the use of that particular vibrato on certain notes, or lack thereof on other notes; the bending of other notes; adding grace notes, things like that. So we developed that so-called Brecker Sound together without any discussion. It was just natural. There was a certain joie de vivre in our sound that people seemed to latch onto! We just loved playing together, and that's about all that I can say about it! - Randy Brecker

---
It is my hope that seeing this lead sheet, studying the great
Mike Brecker Solo
, and listening to this great album by
Hal Galper
that you will be inspired to explore some or all of his recordings that followed during the '70s and beyond. During that period of time, Hal Galper spent a couple of years in
Cannonball Adderley
's Quintet, and then moved on to spend quite a period of time with another great alto saxophonist,
Phil Woods
.