....and this just in to the Newsroom:
---

DAY #21 AFTER ELECTION DAY(11/24/20): Three weeks to the day, finally, the GSA(General Services Administration) administrator Emily Murphy sent the "letter of ascertainment" which allows the President-Elect Joe Biden to officially begin his transition in earnest.
It is already apparent that the president-elect is going about staffing his administration in an orderly and most intelligent manner choosing the department heads with great care for their experience and expertise. The polar opposite of how that idiot Trump approached the same tasks. Small wonder that his presidency and administration were disastrous from inception to the bitter end - and it has been bitter. Now, of course, how will all of these choices be met by that other bastard Mitch McConnell. One has to expect the worst - and be hopeful of something a bit better.
Meanwhile the countdown to January 20th continues, only 50 days left until this jackass will be removed from our lives, politically and otherwise. That moment can't come soon enough!


---

DAY #19 AFTER ELECTION DAY(11/22/20): On this quiet Sunday here in New York City, I wanted to express something that I have been thinking about for almost 3 weeks now when Trump apologists comment that he, President Trump, should be thinking about "his legacy"! Each time that I hear that word or phrase, I ask myself: "What f&%king LEGACY could these people possibly be talking about?!?!?!?
Initially, I wanted to make my own partial list of all of the things that Trump has done these past 4 years, continuing right up to this moment, that were particularly abhorrent and horrifying to me. I did not want my list to be much longer than 10 events or moments. In order to aid the accumulation of my list and make it a bit more scholarly, I sought to see perhaps what others might have written. I went online and typed in the following phrase: "Trump's worst moments as president....." I could not believe what I read in just the first two entries that came back to me. I was stunned by what I saw and read, the utter scope of it all - and so, as part of my humble presentation, I will also give you, those who are interested, the links to these most erudite pieces, and you can investigate them for yourself and come to your own conclusions.
The political cartoon that I offer here is from the great Serge Chapleau of La Presse in Montréal, Québec, Canada. Even with my 4 years of high school French, I can still understand that the caption basically reads: "The Pyromaniac-in-Chief." A good friend, in that same great city, has been sending me these wonderful cartoons during the past 4 years, and I have collected and treasured them.

Firstly, from Jeffrey Goldberg, editor-in-chief, and his brilliant staff of The Atlantic magazine came an article entitled: "50 Moments That Define an Improbable Presidency." In his prelude to their list, he wrote the following: "In an October 2016 editorial, The Atlantic wrote of Donald Trump: "He is a demagogue, a xenophobe, a sexist, a know-nothing, and a liar." We argued that Trump "expresses admiration for authoritarian rulers, and evinces authoritarian tendencies himself." Trump, we also noted, "is easily goaded, a poor quality for someone seeking control of America's nuclear arsenal. He is an enemy of fact-based discourse; he is ignorant of, and indifferent to, the Constitution; he appears not to read." - In retrospect, we may be guilty of understatement."
Goldberg concluded the introduction by writing this: "Our 2016 editorial was a repudiation of Donald Trump's character as much as it was an endorsement of Hillary Clinton for president. It was not meant to be partisan. The Atlantic's founders promised their readers that we would be 'of no party or clique.' This remains a core governing principle of the magazine today. What follows is a catalog of incidents, ranked - highly subjectively! - according to both their outlandishness and their importance. In most any previous presidency, Democratic or Republican, each moment on this list would have been unthinkable." So, if you care, click on the link above, and just scroll through this list of 50 moments, and think about THAT as your LEGACY!

As if that was not enough, then in the next entry response to my Google query I found from McSweeney's a piece that bears the extensive title: "LEST WE FORGET THE HORRORS: A CATALOG OF TRUMP'S WORST CRUELTIES, COLLUSIONS, CORRUPTIONS, AND CRIMES: THE COMPLETE LISTING (SO FAR): ATROCITIES 1- 995. The presentation in ALL CAPS was from them, NOT from me! it was compiled by John McMurtrie various other terrific writers. But imagine if you will, we went from an extensive list of 50 misdeeds to now, 995. Think about that, PLEASE! In a brief commentary before the list begins, they wrote: "Early in President Trump's term, McSweeney's editors began to catalog the head-spinning number of misdeeds coming from his administration. We called this list a collection of Trump's cruelties, collusions, and crimes, and it felt urgent then to track them, to ensure these horrors - happening almost daily - would not be forgotten. This election year, amid a harrowing global health, civil rights, humanitarian, and economic crisis, we know it's never been more critical to note these horrors, to remember them, and to do all in our power to reverse them." Again, I implore you click on the link above, and scroll through this list of 995 moments in chronological order, and think about THAT as this bastard's damn LEGACY!

How can I, one small person, come up with a reduced list that would do justice to the horrors that we've been subjected to these past 4 years? Undaunted, I will try, and in no particular order: [1] The complete and total mishandling of the Corona Virus pandemic; [2] Charlottesville, VA after a rally featuring neo-Nazis and former Ku Klux Klan members carried tiki torches and shouted slogans including "The Jews Will Not Replace Us." Trump comments that there were "fine people on both sides"! [3] During the NATO Summit in Brussels, Belgium where Trump visibly pushed Montenegro's Prime Minister out of the way so he could to stand in front for a picture with other world leaders. [4] the Muslim travel ban. [5] Comments on Mexicans: "When Mexico sends its people, they're not sending their best. They're sending people that have lots of problems. They're bringing drugs. They're bringing crime. They're rapists. And some, I assume, are good people." [5A] After suffering devastation from Hurricane Maria, the ever empathetic Trump visits the island and throws paper towels to the people. What an asshole!!! [6] Referring to Kamala Harris, Biden's choice of running mate, 'nasty.' "She was nasty to a level that was just a horrible thing," the president said, referring to her questioning of Supreme Court nominee Brett Kavanaugh during his Senate confirmation hearing. Trump added that Harris "was the meanest, most horrible, most disrespectful of anybody in the U.S. Senate." [7] On the killing of George Floyd: calling protesters "THUGS," a racially loaded term. For the second time in a week, Twitter attached a warning label to his tweet, in which the president seemed to condone violence, writing, "Any difficulty and we will assume control but, when the looting starts, the shooting starts." [8] Referring to Haiti, El Salvador, and nations in Africa as "shithole countries." [9] Leaving the Paris Climate Accord, damaging NATO and the United Nations - concluding with the entire General Assembly laughing at Trump!!! He made the United States the laughing stock of the world. [10] Separating small children from their parents at our southern border and placing them in cages. How can any one person, one administration be that cruel?
Once I got started, I could hardly stop - but those things just came immediately to mind. So, when some people will want to talk about his LEGACY, there will be nothing positive that they can say because whatever that might be, it will be dwarfed by either of the two great lists presented above from The Atlantic and from McSweeney's.


---

DAY #10 AFTER ELECTION DAY(11/13/20): Finally, the state of Georgia has been called!!! With the earlier call of Arizona, President-Elect Joe Biden and Vice-President-Elect Kamala Harris now have the full and complete total of 306 electoral votes. Now, in this one crucial area of the election, it's really OVER!!! At least, for a moment, we have some small additional sense of relief.
Meanwhile, as a nation, we've had to endure two more days of Trump being an invisible spoiled child, refusing to concede or acknowledge that he lost the election. This buffoon is supposed to speak to the nation at 4 P.M.(EST) and, unless his personality flaws have disappeared - it is doubtful that he will say anything of merit, nor anything that resembles any acceptable reality or truth.
It remains that critical information and services are being denied to Biden's transition team and this will soon put the country at risk. As people have noted, Joe Biden doesn't a polite "guided tour" of the White House! He knows where the bathrooms already. Trump and 'his people' were totally unprepared to move into the office, and now, 4 years later, they are totally unprepared to exit. The rest of us are just going to have to continue to exercise great patience. Meanwhile the countdown to January 20th continues, only 59 days left until this jackass will be removed from our lives politically and otherwise. This can't come soon enough!

DAY #8 AFTER ELECTION DAY(11/11/20): It looks like I'm losing track of how many days have now passed since election day, November 3rd, 2020, but finally there was an update to the electoral vote count and, in this case, a gain for Trump with the state of Alaska being called in his favor, giving him 3 more, arriving at a total of 217. Arizona and Georgia with 98%-99% of the votes tabulated, those states have still not been formally given to President-Elect Joe Biden.. Patience, patience, patience!!! Meanwhile, Trump continues to act like a spoiled little kid - I can't believe that I hear reputable news people actually saying that he's harming his "legacy"! What legacy? It would all be filled with stories like this and, in essence ZERO accomplishments - NOTHING!!! Unless you count the complete gutting of the all government departments as an "accomplishment." Meanwhile, Team Biden continues the daily work of assembling his transition team and laying the groundwork for filling all of the positions that Trump has allowed to go empty for basically his entire 4 years. Hopefully, in the coming days, something will change for the better - but, with Trump - that is highly doubtful. What a complete and total jerk!

DAY #6 & 7 AFTER ELECTION DAY(11/8-9/20): I have been waiting to update, this page with the final results from both Georgia and Arizona but so far, neither of these states has been called. As we knew would happen, professionals that they both are, Joe Biden and Kamala Harris have 'hit the ground running' and have chosen the members of their own Corona Virus Team. And, as we also expected, that petulant pig Trump is still pouting and ranting like the 2 year old that he is and has always been - while not allowing a normal 'transition of power' by making certain that the Biden transition people will have proper access to getting the wheels of government moving in the right direction again. This will show, at least to people paying attention, just how much Trump had hollowed out the government. That's what he thought that he could do because, as he told the nation: "I ALONE CAN FIX THIS!" Well, that's complete and total B.S.! And still, 70 million fools voted for this clown. And so, in that spirit, here's a political cartoon from Bill Bramhall that paints an excellent portrait of how Trump will be remembered by most of us!

DAY #5 AFTER ELECTION DAY(11/7/20): I'm writing this morning with, at the very least, one huge sense of relief that Joe Biden and Kamala Harris have won the election and that, on January 20th, 2021, Donald Trump will be gone from the White House! Whether or not he leaves peacefully, or is dragged out kicking and screaming is yet to be known - but with him, anything is possible. Even the worst in human beings is possible.
Last night's speeches marked a return to a certain kind of civility and dignity that has been sadly missing for the past four years. I only watched Kamala Harris' speech because whatever she was going to say and how she would express it was a great meaning to me. Some of you might recall, that Kamala Harris was "my candidate" to be the president, but her candidacy failed to connect with enough people. Perhaps I was wrong that she could have beaten Trump? But, we'll never know the answer to that. Her speech was, for me, very moving and filled with hope for the possibilities that America is, at its best. Once again, I had tears in my eyes during several moments. For me, that's a good feeling. Seeing and hearing her speak renewed my sense of fragile pride in my own country - that sense had been severely damaged by four years of Trump.
I have been watching the world and world leaders respond to Biden's victory and ascent to the presidency with a great sense of relief and optimism. That, for me, is most welcome - and should be obvious. Biden, in his address, has stated that he wants us to, in fact, restore our place in the democratic world by being a more active part of both N.A.T.O. and the United Nations, Rejoining the Paris Climate Accord, and the World Health Organization. And here at home, removing Trump's Muslim travel ban, and also reinstating the D.A.C.A. program for all of our Dreamers!!! These are all steps that are most welcome to me.
With just 72 days remaining until January 20th, 2021, inauguration day for Joe Biden and Kamala Harris there is no telling what damage Trump can do to this democracy prior to his exit. There is speculation that he will give himself and members of his family and closest allies all executive pardons, even though to this point in time, they have not been charged with any crimes - yet! But this absolution, of sorts, will only free them from federal crimes. State crimes? They all can still face those charges - and likely as not, surely will face them - or at least, I hope so - and that Trump is fitted with a nice orange jumpsuit and reserved 'room' at Lewisburg Penitentiary! He faces tax evasion, tax fraud, and a mountain of debt from which he has just walked away! Who can respect anyone who does such a thing? In the end, the sword of justice will come after people like that!
Back to New York City for one moment. The city is E-L-E-C-T-R-I-C, it's alive - I don't need to be reminded of what it felt like here at the same moment in 2016. The city was as quiet as a funeral - the city felt it. I know that feeling all too well. It was horrible, impossible to sleep - harder to face the next day, the next four years. But we faced them, and as brutal as they have been, we have survived, and not lost our own fighting spirit. But today, November 7th, 2020, is another day. This city really does FEEL these things - and anyone who is here can FEEL it, and will long remember this day, and that feeling! Now? There's work to be done!


---

DAY #4 AFTER ELECTION DAY(11/7/20): And now? JOE BIDEN has been elected to be our 46th president!!!

Here at home in New York City, at about 11:40 A.M.(EST) I suddenly began to hear people/women screaming for joy in the streets of my neighborhood, cars honking for joy everywhere!!! I hadn't heard the news myself because I had been taking a break from the TV coverage - but I knew what that screaming meant. It meant that Pennsylvania, the state of Joe Biden's birth, had finally come through and Joe Biden is our president-elect and now, "for joy, for joy" [Maynard G. Krebs voice!] I can say that that big, ugly, fat bastard Donald Trump has been voted OUT OF OFFICE!!!
Back to New York City for one moment. The city is E-L-E-C-T-R-I-C, it's alive - I don't need to be reminded of what it felt like here at the same moment in 2016. The city was as quiet as a funeral - the city felt it. I know that feeling all too well. It was horrible, impossible to sleep - harder to face the next day, the next four years. But we faced them, and as brutal as they have been, we have survived and not lost our own fighting spirit. But today, November 7th, 2020, is another day. This city really does FEEL these things - and anyone who is here can FEEL it, and will long remember this day and that feeling! Now? There's work to be done!
I have tears in my eyes as I am writing this, tears of joy. because this was so difficult to do. Maybe this is the way things have to be at times? But, to be able to feel like this when, at times, it seemed so very far out of reach, is such a relief. Getting ourselves, as a nation, out of all of the horrible things that Trump, and those who have blindly followed his bidding, has done and said is going to be a long and very difficult process. I believe that Joe Biden and Kamala Harris can do so much after taking office to repair our international relationships with our allies, our standing in the world - our roles in N.A.T.O. and the United Nations - our renewed participation in the Paris Climate Accord. These things will all get done. But domestically? We are a country in two huge pieces - each side filled with rage at the other. Donald Trump lost the popular vote by some 4 million votes - but, he still got 70 million votes himself. I don't understand any of those people who voted for him!!! Not at all. They could not have seen and listened to the same things that I saw and heard for the past 4 years, and before, and come to a conclusion that this cruel man should be our president!!! But they did, that's what they believe. They are Americans just like me and all the people who think and believe like me - they are going to be here - and for a long, long time. Thinking that they, in large part, could ever be swayed from their stance is foolish.
The damage that Trump has done to our rule of law to our justice department, and to the Supreme Court, the latter is pretty irreparable and will affect our children and grandchildren for decades. It's horrible to think about. But, come January 21st, Trump will be gone!!! Not silenced, but gone!!! And yes, he could become some kind of Republican "kingmaker" but his voice will have been greatly silenced and the rest of us will no longer be forced to listen to his lies and racist, xenophobic, and misogynistic comments and rants. He can buy a TV channel and talk on it all day for all I care. And, let us not forget, that the Southern District of New York is coming after him for countless misdeeds - taxes, tax fraud, and who knows what else? Do not be surprised if Trump follows his own words and leaves the country, rather than face jail!!!

So, as a nation, what are we? What have we become? I am not profound enough to really express it. But, as horrible, as brutal as these past 4 years have been, the USA, and a majority of its people, slight though it might be (if 4+ million votes more can be slight), did what our constitutional safeguards, like impeachment and a Senate filled with Republican cowards, could not do!!! Trump had to be voted OUT by the people themselves - and we did it. It wasn't pretty, it wasn't easy, but the people made a Herculean effort, and came out to vote in numbers never seen before. And here we are - close to the dawn of something a little better, hopefully much better. We will have a more civil discourse at the highest levels once Trump is ushered OUT of the White House. Do you remember what he said when he moved in? He actually described the White House as "a dump"!!! And yes, 70 million people voted to give him another 4 years.
As the late and very great John Lewis so passionately said on December 18th, 2019, when bemoaning our apparent fate, "Our children and their children will ask us what did you do? What did you say? For some this vote may be hard. But we have a mission and a mandate to be on the right side of history." Well, a goodly amount of us can now say that what we did was that we got out there, VOTED and made our voice heard and now felt!!! I might have lost hope in this country for these 4 years, but now, some of my faith has been restored. I have already received countless phone calls, e-mails, and messages from friends all over the world, different languages, cultures - but it is a beautiful feeling, because it took me decades to build all of these friendships. I'm so grateful to everyone for their good vibes, and yes, even prayers! Thank you, thank you, thank you!!!


---

DAY #3 AFTER ELECTION DAY(11/6/20): Yes, it has been agonizing waiting for the final results and projections of a winner, but let us not forget that decisions by state governments had to be made for the safety and good health of its people. And so, this is where early voting, mail-in ballots, absentee ballots became essential during this election cycle because people's lives are more important than having immediate results. Yes, perhaps all of the states could have adopted a uniform policy as to when these non-election day votes would be counted, but they didn't, and so, here we are! The counting goes on. I'm sorry that the expression of my thoughts and feelings at this moment might be a bit scattered, but I'm trying my best.
While there remains some uncertainty in Arizona, somehow during the overnight hours, Joe Biden flipped Georgia and finally went ahead. If only by some 1,000+ votes, for the first time, Biden had the lead. This was, needless to say, a huge development. And then, in the morning hours of this day, finally, Biden took the lead in Pennsylvania. What many savvy political observers had seen as 'what would happen' - has now happened. As a Democrat, as a lifelong liberal thinker and believer, I am not going to have the complete and total rejection and repudiation of everything that is Donald Trump - a horrific carnival barker that somehow he received some 70+ million votes. Imagine that! Joe Biden will have received some 73+ million votes - beating Trump, again in the popular vote, by 4 million votes! One million more votes than Hillary Clinton beat Trump by in 2016.
The should the voting trends hold and Joe Biden becomes our 46th president, with Kamala Harris as our vice-president, I will only be 'thrilled' because Trump will have been removed from the White House. The last line of defense had to be US the people! Perhaps that's the best way, but it was the ONLY way - and, in a bitterly divided country, who could be certain of that? Not me. Joe Biden is uniquely qualified to, at the very least, repair certain things that Trump came close to destroying, but couldn't actually do it. I'm speaking of our relationships with our allies, repairing our place in NATO and the United Nations - and, rejoining the Paris Climate Accord. However, fully repairing the damage that Trump has done to the office of the presidency, to our civil political discourse - that will be much more difficult to fix. It's going to take time, and I, for one, am certainly willing to give him whatever time he needs.
It is not for me to be thanking the people who helped so much to make this all happen, but, in my mind, we will never be able to underestimate the contributions and courage of people and organizations like: Jim Clyburn, Stacy Abrams, all the members of The Lincoln Project, even Lebron James for mobilizing athletes across all of our pro sports teams, and getting NBA owners (most of whom are probably Trump supporters) to make their arenas available across the nation so that people could come safely and vote early or drop-off their ballots with confidence - even as Trump undermined the integrity of our postal system, not to mention our judicial system. It was so gratifying to see that yesterday MSNBC immediately cut away from Trump's insane address, full of falsehoods. Again, an act of great courage to cut off the remarks of a sitting president. In some countries, you would never have seen this!
And so, we will continue to patiently wait for a result.


---

DAY #2 AFTER ELECTION DAY(11/5/20): Yesterday was a day, also unlike any other, when the presidential election turned around and suddenly, with all of the COVID-19 affected early and absentee votes finally being fully counted, Joe Biden pushed ahead of Trump in key states giving him a clear pathway to 270 electoral votes. As the day dawns here, 3/5th of that pathway have been confirmed, and we're just awaiting a final count from both Arizona and Nevada, with Biden leading in both them. It appears that we might not know something conclusive until around 9 P.M.(EST). Meanwhile, the counting continues in Pennsylvania and Biden has cut Trump's lead from 700,000 votes down to just above 100,000 votes with 89% of the votes counted. So, that state is still possible. But, as I was saying, the path through Arizona and Nevada gets Biden to exactly 270, and Pennsylvania won't be necessary. So, it will be a long, long day, but hopefully, when bed time arrives, we'll know something - perhaps even something conclusive? Let's be patient, calm and hopeful.

Election day(11/3/20), night, late night have all happened, the day(11/4/2020) has dawned here in New York City, and, though we may not have a final result on our presidential election, one thing has become very clear - at least to me - I don't understand anything about my own country! As a lifelong liberal, a "hippie" and Democrat - one who has never voted for a Republican candidate - NEVER - I just don't see how anyone could have possibly wanted Donald Trump to have another 4 years in the White House. Win or lose, what strikes me as so very, very sad is that we have ended-up seeing that these past 4 years were NOT an aberration, this is, in fact, who and what we are as a nation. Long ago, I learned that New York City is like a country unto itself, what we, most of us, think and feel here does NOT reflect the nation as a whole. Most people, once you have crossed into the real America via our bridges and tunnels, they would want us to just be swallowed-up by the Atlantic Ocean and never be seen or heard from again. Believe me, I understand this.
What was I hoping for? What was I expecting? I suppose that you could say that I was hoping for a complete rebuke and rejection of everything that is and has been these past 4 years under Donald Trump. But that did not happen. Like many people, for news and politics, I watch MSNBC and CNN, all along both networks were extremely cautious, and I think that we all were told or warned that this election was going to be close, very close - and that, the full results might not be known for several days, even weeks. And yes, that's where we all sit right now. But, I do believe that we were told that there was a chance that Joe Biden could take states like: Florida, North Carolina, Georgia, Texas and Ohio. If Biden could possibly take just 2 of them, his path to 270 electoral votes would be considerably easier. But NO!!! Trump won all 5 of those key 'battleground' states. And just as it was in 2016, Trump vs. Clinton, my hopes were dashed, step by step, moment by moment - all of these states were going to end-up in the column of Donald Trump. The 2020 election was not really supposed to come down to Wisconsin, Michigan, Pennsylvania, and Arizona and Nevada. We, the public, seemed to have been told that Wisconsin, Michigan, and Pennsylvania were going to be close, but they were all leaning towards Biden. There were moments throughout the night when I felt so completely beaten and despondent, because Trump was ahead in all 3 of them! If Pennsylvania was to be considered Joe Biden's "home state" (he was born in Scranton, PA) - I did not have to look any further than to remember that Al Gore lost his own "home state" of Tennessee to George W. Bush. "Home state"? What the fk does that mean? It is now 4:30 P.M.(EST) and the CNN Electoral College Map now shows: Biden: 253 and Trump: 213 with 270 being the goal for a victory.
I sit here and I absolutely can not understand how some 72+ million of my countrymen could vote for Donald Trump after what they have witnessed and heard for 4 years. HOW could that be possible - HOW could anyone want 4 more years of THAT? And yet, basically 1/2 of this country actually wants that. And even if Joe Biden should somehow eek out a win, and become our 46th president, we are now an even more divided and polarized country than we were just two days ago. The Democrats actually lost a few seats in the House of Representatives, while maintaining their majority, but they did NOT gain enough ground to take over the Senate. Status quo reigns - a really awful status quo at that. Bastards like Mitch McConnell and Lindsay Graham will return to the Senate for 6 more years. Some of us wanted to believe that there was actually "hope" that they could be defeated and turned out to the street. Yesterday afternoon, I watched an interview with the great representative Jim Clyburn from South Carolina speaking about Jamie Harrison and his campaign to unseat Lindsey Graham, and Clyburn said something like: "No matter what happens, Jamie Harrison is a winner!" That told me that Jamie Harrison was NOT going to win, he was going to LOSE - and they knew it. I was so miserable about this. I knew that Jim Clyburn knew exactly what he was saying in that moment. And Lindsey Graham will be back. I'm just disgusted by this.
Right now, I am exhausted, and I feel defeated and despondent that people, the ones who voted for Trump were told, bombarded with certain ideas - like "Joe Biden is a socialist." Anyone who has followed his life, his political life knows that he a centrist Democrat, yes a liberal, but hardly much further than just to the left of center. And yet, enough people believed that to create fear, not just in Florida, but all across the country - and here we are. Distract, distract, distract and Trump's people forget about everything that he has said and done - it becomes as if, these four years never happened. I'm going to continue to update this essay in progress as the day or days move along. I apologize that I can't be more clear or erudite here - but, being in a fog, this is the best that I can do right now. Thank you for reading this and for bearing with me. As I have said to many friends over the years, you can never underestimate the utter stupidity of the American voting public! This was never more true than right now!

It is getting close to 4:30 P.M.(EST) here in New York, and from what I can see, Joe Biden has ONE realistic PATH to 270, and that is that he hangs onto: Arizona, Nevada, Wisconsin, Michigan and Maine! That would put Biden at exactly 270. I don't believe that he can come back in North Carolina or Georgia, and he is still behind by 300,000 votes in Pennsylvania - it's hard to imagine that he can make up such a deficit solely by the mail-in and early voting tabulations in the Philadelphia area. But, we have to wait and see. And then, most likely Trump will contest everything in the courts.


---

VOTE!!!(11/3/20): Finally, it IS election day, Tuesday, November 3rd, 2020. It felt as though it has taken us forever to get here, but the moment is now at hand. Tonight, or perhaps shortly thereafter, we will learn just what kind of country we actually are. Hopefully, we can be what many of us aspire for us to be, and that we can relocate the path whereby we can be leaning more towards what is right, true and good.
Just this past Sunday, I watched the HBO documentary, "THE SOUL OF AMERICA" based upon presidential scholar and prolific author Jon Meacham's 2018 book of the same name. As Meacham puts it, we have arrived at a point where "it is our better angels fighting against our worst impulses." I can only say that I learned a great deal watching Meacham tie the present to the past - details and events that I had been overlooking as my faulty memory of history continues to fail me now and again. What is at stake here, if we cannot control the worst impulses of some of the people, will define just what "the soul" of THIS America is. Should we fail? I don't even want to think about what history is going to say about us as a nation!
Today, November 3rd, 2020 is likely to become one of those days, especially for younger people, when they will forever remember where they were, who they were with, and what they did and felt throughout the day, evening and late night hours - no matter what the result turns out to be. It will be a day that shapes and colors everyone's life - at least here, in the USA.

Just one week ago, this past Monday, TIME magazine presented this beautiful cover, and it is the only time in the history of the magazine when "TIME" has not appeared at the top. The only word you see is "VOTE"!!! The striking and beautiful graphic art is by Shepard Fairey, who created the iconic Barack Obama "HOPE" posters long ago. Voting, let's face it, what else is there? I voted by mail some weeks ago, so on that score, I can rest easier knowing that I have done my small part - now? I'm counting on everyone else to do theirs. GO VOTE - don't leave the work to the rest of us!!! Be a part of it. Take nothing for granted, or to use a track & field metaphor, run right through the finish line! As everyone acknowledges and continues to say or write, this IS the most important/crucial election of our lives. There is NOTHING else but THIS!!!
We have endured 4 brutal and horrifying years under Donald Trump, and he has done his level best to defile and undermine every institution at home, and to alienate every single ally that we have ever treasured and sought to maintain. Trump has become our national shame and embarrassment. Despite an overwhelming amount of evidence, all in plain sight, it seems to be that, win or lose, Trump will still get some 50+ million votes. It's way past time to be asking HOW is this possible, or WHAT the hell is wrong with us here in the USA. But something IS very wrong.
To some, our constitution gave us certain protections against the appearance of a would-be autocrat like Trump. Perhaps the last line of defense was his impeachment? He was impeached - but a collection of Republican cowards would not vote to remove him from office. Representative Adam Schiff warned and shamed them all, when he said in his final address, "If you thought this was bad, it is only going to get worse!" and look what has happened. Now, the final guardrail or firewall is us, the people, it is all in our hands now, we have to do the work that our government refused to do.
In voting for Joe Biden and Kamala Harris, in addition to the positives that they both bring with them - we are voting Trump OUT OF OFFICE. Should we fail in this monumental effort, heaven help us - those of us who feel this way are so weary and exhausted from all of this, and can't imagine that this country will survive another 4 years of this kind of boorish and loutish behavior from a president - and his blatant disrespect shown to all people. In the final analysis, will we all be able to say that these past four years were just an aberration, and that this nation was somehow strong enough to withstand such horrors? Or, have we become everything that many of us never would have thought possible?

Just yesterday, on MSNBC's MORNING JOE, Zanny Minton Beddoes, the editor of London's esteemed THE ECONOMIST, presented their endorsement of Joe Biden for president.
"In the past four years he (Trump) has repeatedly desecrated the values, principles and practices that made America a haven for its own people and a beacon to the world. Those who accuse Mr. Biden of the same or worse should stop and think. Those who breezily dismiss Mr. Trump's bullying and lies as so much tweeting are ignoring the harm he has wrought.
In this election America faces a fateful choice. At stake is the nature of its democracy. One path leads to a fractious, personalised rule, dominated by a head of state who scorns decency and truth. The other (Joe Biden) leads to something better - something truer to what this newspaper sees as the values that originally made America an inspiration around the world." - Zanny Minton Beddoes

On Friday, October 30th, Winston Churchill's granddaughter, Edwina Sandys penned an Op-Ed column for USA TODAY and wrote the following: "I'm an artist, but it's time for me to speak out on politics. Trump compared himself to my grandfather, but he's no Winston Churchill. I voted for Biden and today I'm joining Republicans and Independents for Biden." Then she continued...
"Withdrawing from the Paris climate agreement was a serious matter. Trump doesn't believe, or chooses not to believe, in science or climate change. Selfishly, Trump thinks only of himself. Like a spoiled child, he wants to break up all the other kids' toys."

Staff writer Susan B. Glasser has penned a fantastic essay for The New Yorker. Here's portion of how she summed things up:
"In many ways, the whole Trump Presidency can be encapsulated in the past few days and weeks. It is self-dealing, denialism, dishonesty, and deflection. It is narcissism, recklessness, and disregard for the public good - and for democracy itself. There is nothing and no one he has not corrupted - or tried to. Even the remaining uncertainty about the election's outcome is a product of Trump's cynical, self-serving, and dangerous assault on the political system."

Some of you might recall that it was graphic artist, Shepard Fairey who also designed these wonderful posters in 2017 just after the inauguration of Trump - when the sounds of protest were heard nationwide. But, the damage had been done - or worse, it was just beginning. As Fred Hiatt wrote in teh WASHINGTON POST this past August, "Trump's primary motivations are spite, self-aggrandizement and greed." But I believe that it was the Lincoln Project's co-founder Steve Schmidt who said something like this: "Trump has 3 guiding principles: Spite! [Pause] Spite!! [Longer pause] and Spite!!!" I'm afraid that THAT says it all - because it's true. His own niece, clinical psychologist Mary Trump described him as "the world's most dangerous man." And he IS that!
Because of Trump's dismantling of our postal system, even if your ballot was postmarked before November 3rd, we can't be certain that it would still be counted! So now, you have to, at the very least, go and drop it off in person. Or, of course, vote in person!!! But don't leave this vital work to everyone else, YOUR VOICE MUST BE HEARD. Make the effort and VOTE!!!


---

NEW ESSAY(9/9/20): With our own great Jazz station WBGO-FM continuing to play music from "PATCHWORK," especially both "Huracán Clare" and bonus track "Nature Boy," I decided to write a piece that I have titled, "ADVENTURES IN VOCALESE" to tell the story of exactly how, when and why I began to explore singing wordless vocals on my own albums. But now, in the midst of our global COVID-19 pandemic, and here in the USA, our national terror about what could happen in the coming election on November 3rd, out of a need to exercise some creativity, by some miracle, I have expanded the possibilities, and two new such vocalese experiments now exist in the real world.
With the reissue of bassist Jimmy Haslip's 2000 album, "RED HEAT"(Blue Canoe), now receiving retroactive airplay from WBGO, I revisited a couple of my favorite tunes on that album, and as yet another experiment, I recorded my voice in specific sections, as I heard and felt them. At this new page, I tell that story of how this happened, and what has developed since I sent those experiments to Jimmy just to see what he thought. I hope that some of you will take a moment to read what I have written, and will then click on those blue buttons to listen to the provided soundclips for both Vince Mendoza's very romantic and beautiful "She Never Has a Window" and "Novelas"(Khan-Ferrante-Haslip). I hope that you enjoy what you hear. So much is possible if one just goes with their heart and takes chances.

There is another part of this story that goes much further back in time, and if you choose to click on this link, you will be taken to an Addendum: that I wrote this past September 5th. This date was an important one within my family while growing-up. But, the story is connected to my father's first trip to Brazil and his bringing home LPs that gave me my first taste of vocalese which, needless to say, was never forgotten. However, my search for a possible year of when Dad's trip was taken netted something far more interesting and pleasantly surprising for me. I hope that everyone will enjoy this additional part of the story!


---

JUST PUBLISHED!(8/14/20): If one is fortunate, usually interviews take place before and/or during the run of an album. Once that run has been completed, there are not going to be any interviews forthcoming. However, in this case, it just so happened that recently I was contacted by journalist Jim Worsley from the eminent AllAboutJazz.com website about doing a lengthy INTERVIEW for this important publication. At first, I wasn't really sure just what purpose it might serve, but how could I refuse such an invitation? And so, after many e-mail exchanges and a few introductory phone conversations, Jim and I scheduled our phone interview for Tuesday, July 28th. After our wide-ranging conversation, Jim set about the tedious task of transcribing what had been said. Normally, I insist on seeing and proofing the interview before it goes to press or up on the web, but this time, for some reason, I decided to let go of that demand. I just gave Jim the verbal O.K. to edit out all forms of colloquial expressions that function well in conversation, but do not read well as prose. He promised to try his best to do that. It was my intention all along that I would take that same interview from the pages of AllAboutJazz, which was officially posted on Friday, August 14th, and present it, in my own style, via a NEW PAGE at my own website, and that is what I have done.
It was as if I was now transcribing Jim's transcription of our conversation and, as I went along, I made my own adjustments as to just how I wanted the interview to read. Doing things this way is also a great opportunity to complete or extend some thoughts or stories that I was expressing/telling with more details. This becomes hard work, long hours - I spent some 12 hours sitting at the computer trying to put the interview into the best form that I could. To enhance the storytelling aspects of the interview, as I always try to do, I wanted to present some photos that would be connected to the conversation, and so, some of the photos that you will see while reading I have never shared before - not at my website and not at Facebook. For example, the photo of my father and me, as my dear sister Laurie just informed me, was taken around June 18th, 1988 on the occasion of dad's 75th birthday. Looking at the photo now, I am struck by just how frail he looked then. It also occurs to me now that I am less than 2 years away from notching-up that number myself. How the hell is THAT possible? Oh well....
I fully realize that most people never bother to read 1/2 of what I write here at my website, but undaunted, I continue to write in hopes that someone out there is actually reading this stuff. To that person, or those people, thank you so much! In closing, I would want to thank Jim Worsley and AllAboutJazz for doing this interview and publishing it. It remains a great honor.


---

New Reviews! From the October 16th, 2020 issue of "Jazz Sensibilities," we now have a tremendous review by Stamish Malcuss. Most grateful for all of the high praise included within.

"Each phrase of his "Naan Issue" solo lines between the chordal figures is an adventure in articulation. From legato bebop lines to bending blues figures, Khan effortlessly spins out the textures with flawlessly clean technique. His time feel is so relaxed and in the pocket that when he does push and pull the beat, it has such depth and purpose it makes the line have even more power. Khan is a tremendous improviser, and "Naan Issue" has five minutes of pure improvisational delight by Khan.
Patchwork is a fantastic ensemble taking us through a series of beautifully arranged jazz tunes and one Khan original, all within the Latin jazz genre. The guest players add sonic variance and Khan's guitar sound pallet also adds to the many textures. Khan's improvising is astounding on every selection and a great study in modern Latin jazz guitar playing at a technical level. The ensemble is listening and interactive with each other, and each song has an exciting form. It simply does not get any better than that!"


---

From the September 9th, 2020 issue of "The Jazz Word" a fine online magazine, we have Nolan DeBuke's wonderful review. Some great superlatives for the recording can be found here as well.

"There is a saying among players "a musicians' musician." In essence, this is the player most respected by his or her peers. One such player comes to mind immediately guitarist Steve Khan. His breadth of command on his instrument is no less than a marvel to behold. ...... Overall, Patchwork is a masterful effort that proves Khan is a force to be reckoned with, a must-have for any collection."


---

From the August 17th, 2020 issue of "Staccatofy" online magazine, we have Adorjan Horvát's 9.3 rated review. Amongst his stated superlatives for the recording are:

"Steve's commanding aesthetic is evident in each tune. His authenticity of the Latin vernacular execution is as fluid and as embracing as his imaginative performances. Each displays the potent acumen of a true player." He concludes by writing: "Khan's expressive guitar playing is a masterful combination of chords and single notes, a pianistic approach on the guitar few can master with such elegance. His syncing with the rhythm section is also of note here. Khan has a deep understanding of the history of jazz, Latin jazz, and how to translate that language in a meaningful and eloquent way through the guitar. Patchwork is a beautiful project from start to finish, and that's the short of it!"

To see the full review here at the site, visit our assembled a page for all of the significant "PATCHWORK" REVIEWS & INTERVIEWS.


---

BRAND NEW!(7/20/20): Perhaps we could get started with this? Here in North America, most reasonably worldly and semi-sophisticated people, not just musicians or artists, associate the "tango" with Argentina. Over the years, there have been many Jazz tunes that have used the word "Tango" in the title - but, of course, to most experts in the genre - these pieces of music have little or NOTHING to do with the Tango as they know it, and as they live it - the dance, the music, the people, the faces and the culture. And so, at best, we can say that most compositions would only be a loving "impression" of a Tango and nothing more. It could even be great as an impression - but who is to be the judge of that?
I would contend that Carla Bley has given us a very loving gift with this older composition of hers - and from the title, "Reactionary Tango" - it is obvious that her liberal politics are still showing - and for me, that's a good thing!!! It is perfect for this moment in human history. So, I just wanted to be clear about this before we go further.

In the far too many moments of incredible boredom, and not much creative inspiration being generated from within my soul and spirit - sometimes, a piece of music comes back to me, and I become energized to reinvestigate it. Such was the case with Carla Bley's beautiful "Reactionary Tango," which I first heard when recorded by Gary Burton on his 1981 album, "EASY AS PIE"(ECM). [Carla's own interpretation appeared first on her album, "SOCIAL STUDIES" - also from 1981] The album featured Jim Odgren on alto sax; Steve Swallow on el. bass and Mike Hyman on drums. I have always been struck by how very expressive this melody is, and how beautifully it was played by Jim Odgren, without ever being emotionally over-the-top. Some years ago, I decided to transcribe the piece and make a lead sheet - just for myself - I never ever had the intention of arranging it or recording it as an artist.
Then suddenly, there was a post from a wonderful Argentine musician asking, in a global manner, for music on which to collaborate - and I thought that, for that person, this great song could be the perfect vehicle. In order to present the piece, I brought the Gary Burton version, which is nearly 12-minutes long, into Protools to see if I could edit out the 3 solos and then, it would become just one long melody statement. By some miracle, I was able to do it and suddenly the piece was about 4:20. I wrote that person a message and included my hand-written lead sheets and the edited mp3, but as it often goes, I received no response. As a day or two passed, I decided to just make an arrangement as an experiment to see if I could take the Tango-esque elements in Carla's composition, and give it the flavor of Latin rhythms in the form of an Afro-Bolero. And so now, I think that we could say that, I have created a Tangolero. I would also add that I have seen Carla's lead sheets, and the full piece, really a suite, is in 3 long sections with each one occupying a full pdf file. So Gary Burton did a fantastic job sorting out the sections with the most content as he heard them.
As my arrangement continued to grow, there was a moment when I actually felt that, if I added in my acoustic guitar, it might fill out the harmony in places and add a very subtle sense of propulsion. Initially, I had no plans to appear on this piece - but, of course, I've said that before, most notably with "Nature Boy," the bonus track from "PATCHWORK." Still, the question remained, WHO could be "the voice" of this piece? After seeing several beautiful videos by Aca Seca Trio keyboardist and vocalist, Andrés Beeuwsaert and his partner violinist Sara Ryan, I thought to myself that THEY would be the perfect musical and personal combination for this effort - IF, of course, the song resonated with them both. Lucky for me, it did, and here we all are.

What I love about what Sara and Andrés have done here is that they artfully represent what great beauty there can be in the personal expression of a melody - at times, a most simple melody. They craft and personalize the contours of what Carla Bley had written. They have taken sections where there is just a simple repeated note, and with dynamics and playing, at times, warmly behind the beat they have turned it into something that is very emotional. You feel the undercurrents of the swirling harmonies underneath, because of their statement of the melody. For me, that is what this was all about. The feelings come back for me when I hear Sara and Andrés playing this way. This is where the fundamental emotions of Tango come into play. When Jazz began to be taught in music schools here in the USA, there were books and professors who listed amongst the key elements of the genre as: Improvisation and Interpretation, and during "Reactionary Tango" you hear the personalization of interpreting this melody in the moment. That was what I was hoping for, and Sara and Andrés brought it, big time!!! I must add that I love Andrés' improvised opening and closing comments on the melodica - these phrases were elegantly stated. Don't overlook them!

As I am sharing the wonderful finished HD video, in both B&W and color, that Andrés and Sara filmed, you can access them by clicking on the photo above. Then, I decided to give anyone interested a chance to hear and play only the audio by pushing the blue button provided here. I hope that you will want to hear it this way too. At least now, the option is yours.
Of course, for me, the brilliant and ever creative Rob Mounsey became involved and orchestrated the harmonies suggested by my arrangement. It goes without saying that, each time Rob and I do something, anything together, it is such a great thrill and most gratifying for me.
As Andrés and Sara have their feet firmly planted in the world of contemporary video presentations, the final product rested with them. For my part, I am just so proud and happy that we could do something like this together - send the music out there - and hope that, in some cosmic
way, it might connect with people and thereby lighten their load on any given day. For those who took the time to listen and go on the journey embodied within this wonderful Carla Bley piece of music, we thank you so much.

From Sara, Andrés, Rob and me, we send love and good wishes to everyone along with the hope that you are doing your best to STAY SAFE & HEALTHY!!!

Steve Khan New York, July 20th, 2020

NOTE:(7/20/20): As it was very possible that many of you would experience problems trying to load-in these HD quality videos for viewing on your smartphones, for those who don't really spend much time viewing such things on their computers any longer, with the help of both editors Phil Fallo and Paul Mounsey, we created video-light mp4 versions. We are confident that this will enable our more contemporary viewers to see this work close to as intended.


---

Back on June 1st when this all began for me, I knew so little about Sarah Cooper, but now, here we are and we have arrived at Friday, August 21st, 2020, and Sarah was just a featured player at the Democratic Convention to nominate the ticket of Joe Biden and Kamala Harris. So, that's quite a lot of progress and respect garnered for the depth and the impact of her work, in part, her impressions of Donald Trump using his own moronic words as super-charged fuel for making him look like the fool that he is!
Now, you can access everything via the newly created Sarah Cooper Page, in addition to all the links to her videos, you can read the progression of events as to just how we got here. Enjoy it all with my best wishing and my never-flagging hope that on November 3rd, this nation will do what must be done to save our democracy and our collective souls!


---

It wasn't all that long ago, back on May 18th, 2020, that I was contacted by David Bandrowski to see if I would interested be in doing an interview for his Banjo Studio Podcast, which is conducted by guitarist/composer and arranger Jonathan Freilich. At first, I thought that this was some kind of mistake, that they had contacted me in error. What could I possibly have to do with the banjo? I went to the site, and saw that I was not familiar with many of the great banjo artists who were featured, but I certainly had developed a feeling for Ketch Secor from being mesmerized by the recent Ken Burns documentary "COUNTRY MUSIC" - so much so that I actually bought the DVD of the whole series. I thought that Ketch was really fantastic throughout. I had also seen Chris Eldridge many times on TV as part of The Punch Brothers. But, what made me feel much more comfortable was the fact that Kurt Rosenwinkel had done one, and he is much more in my zone of experience. Not to mention, he is a superb player.
And so, on the afternoon of Friday, June 5th, Jonathan and I got together via Zoom, and had a wonderful time talking about music and life. He was so engaging and well-informed that it made everything flow in the nicest possible manner. I hope that some of you will venture there and listen to and enjoy the INTERVIEW.

There might be those amongst you reading this and wondering to yourself. "Steve, what right do YOU have to be talking about the banjo?" Well, of course, I don't think that, in the context of the interview, Jonathan and I ever actually spoke about that instrument, nor my experiences with it here in New York - not that any of those experiences would qualify me to be in such a discussion. However....
In my career, trying to survive in New York, I was actually called upon to play the banjo a few times. Most of the time, in those years here in New York, the great Eric Weisberg, he of "Dueling Banjos" fame, was called to do all of the serious banjo work that existed. And alongside guitarist, Charlie Brown they formed a 1-2 country music punch here in the city. Early on, I learned a trick about how to survive when called to play the banjo. It was simple, just tune the 4 strings like the top 4 strings of a guitar: D-G-B-E and play it like that. And so I did. This happened a few times when recording, and I also subbed in a Broadway show, where I had to play banjo on a song or two - most of it was just strumming.
But, if I might submit some evidence of my stellar work on banjo, you have no further to look than singer Gary Lemel's version of "Mack the Knife" from his album which was intended to be a tribute to Bobby Darin. The album was arranged by the great pianist Roger Kellaway, whom I saw conducting for Bobby Darin in Las Vegas when I was in college. Of course, I knew of Roger because he had played on Wes Montgomery's "BUMPIN'" album. That was more than enough for me! On the session, which was produced by Bobby Colomby, I was joined by heroes of mine: Bob Cranshaw (ac. bass) and Grady Tate (drums). So with that put out in the open, I humbly submit that there is evidence of my eminent qualifications to now be a part of the Banjo Studio Podcast. And, if it needs to be said, it was a real pleasure to be a part of the series, and I enjoyed speaking with Jonathan immensely. We had a great time.


UPDATE!(10/8/20): Now looking at "PATCHWORK" on the JazzWeek 52-Week Chart, the album has sustained a position on this 100 album chart for 52 Weeks!!! That's a full year y'all! There is no question that this album has had great staying power for the better part of one year. This alone is remarkable to me. Here at home in New York, our WBGO-FM has been a great champion for the album, as it continues to get periodic airplay which is so great for an album whose 'run' really ended in January, 2020, after a September, 2019 release. Remarkably, WBGO has recently been playing "Nature Boy" the digital bonus track and Jorge Estrada's "Huracán Clare" a lot! I can't complain about any of this.

Back on April 16th, I saw that "PATCHWORK" had finally lost its spot in the TOP 10 on the JazzWeek 26-Week Chart falling to #12. Such things are inevitable, but having stayed at #8 for a number of weeks was really wonderful. No matter what, the staying power of this album was to be pretty remarkable - considering the sad fact that some key stations decided to never play the album at all, and in some key cities, the album was barely played. When you boil it all down, to have spent one-half of a year on the air, in one form or another, feels really great. I'm so very grateful to everyone who has been a part of this.

Way back when December 26th arrived one week after the unique journey of "PATCHWORK" at Jazz radio, and its spot in the JazzWeek Radio Chart's TOP 10 had finally come to an end, I could only thank both Mark Rini and Josh Ellman of GROOV Marketing for their gallant and Herculean efforts on behalf of this album. In all, the album made a sustained run that kept it on this esteemed chart for a total of 19 weeks!!! Perhaps nicest of all was that on the year end 13-Week Chart, "PATCHWORK" came in at #8 for the last quarter of 2019. All things considered, that is a pretty great accomplishment.
To have been in the TOP 10 for a total of 5 WEEKS was so unexpected, and I will remain very pleased about this. The album had gone down to #15, and at that point, based upon my experience, I thought that the album had peaked and would go no higher - never to rise again. One can hope to ascend again, if that is even remotely possible, but that has never happened with any past recording of mine. As it is said, "What goes up, must come down!" Obviously, I had been expecting the latter.
Given the present conditions at Jazz Radio, meaning that there are over 300 albums, new or recently released, in play - at this moment, I have to feel pretty good about this particular result. So, for those of you who have been asking me, "Steve, what happened?" - this is now the best answer that I can provide!!!
Thanks so much to all the stations that did play the album, and to their music directors and DJs for supporting the album - some with such great consistency. To my friends and the fans of this music, I am so grateful for your positive vibes and energy from near and far!!!

NOTE: For anyone who is interested, Steve has written an essay, titled JAZZ RADIO & RADIO PROMOTION which addresses many of the concerns of any artists with regards to taking the best possible care of your album and giving it every chance to be heard. We hope that everyone will take the time to read it and think about it.


---

Like everyone else on this planet, and certainly here in New York City, we are all trying our best to follow the governmental guidelines to protect our SAFETY and HEALTH. How are we doing? I would say that, without comprehensive testing, how can we, anyone, truly know if we have been exposed the virus, or had even passed through a milder case of it and actually not known about it? Until we can all have easy access to testing, the uncertainty will surely cause the most intrepid amongst us to be so very careful and cautious.
Needless to say, some days are better than others, and last night, disgusted by the sight of myself, I decided to pull out my hair trimmer and just bite the bullet, and see if I could give myself a haircut, and try to look a little less awful and stupid. I don't know that I succeeded, but the good news is that no one really sees me anyway!
For a musician, one can be saved by moments of creativity that have some kind of a future. Sunday, April 12th was a day like so many others, and after some thought, I found myself inspired to see if I could possibly create a collage of all of the album covers of mine that have been graced by the artwork of the great Jean-Michel Folon. I actually finished one version and later realized that I had actually forgotten one of the covers, and had to adjust the collage to its final total of 17 covers. But NO!!! Just today, Sunday, April 19th, I had this strange feeling that I had forgotten yet another one of the album covers, and true to form, I had forgotten to include "THE SUITCASE"! And yet again, I had to adjust the collage. So now the final total, is actually 18 covers. Scary how important details like this can escape me at this stage of life. I really had not realized that there had been that many covers with a singular artistic point-of-view.
I really hope that anyone who happens upon this page will click on the link above and enjoy scrolling through all of the covers and perhaps, when viewing some of them, a musical memory will come back triggered by an association to a particular cover. For me, I hear things when I see them. So, here's wishing everyone a safe passage along this seemingly never-ending road of doubt and fear - but, on we must go, ever onward. For now, just try to be SAFE and HEALTHY. What else is there to do?


---

You just never know what people are going to discover @ YouTube! Just the other day, out of nowhere, someone wondered if that was me playing in the filming of the great Bo Diddley recording a Dr. Pepper® commercial during the late '70s - probably between 1977-79. Of course, I had to investigate this, and there I was sitting next to guitarist John Tropea with Gordon Edwards (el. bass); Jimmie Young (drums) and Joe Shepley (trumpet). All under the baton of pianist/arranger Horace Ott. It should never be forgotten that it was Horace Ott who wrote the famous arrangement for Nina Simone's iconic performance of "I Put a Spell on You"! The background singers are [from left to right] Hilda Harris, Barbara Massey and the great Valerie Simpson.
After some exhaustive research, consulting with Bill Eaton, Debbie McDuffie and Randy Brecker, it seems that we also have Buddy Terry (tenor sax); John Kelly (trombone) and Babe Clark (baritone sax).
Given these days filled with social distancing and slightly loosened sense of quarantine, it becomes a fertile time for goofy research like this. For me, it was wonderful to be back in touch with people that I don't get to see too often. SAFE and HEALTHY remain the key words each day!!!


This past, Tuesday, June 23rd was the 69th BIRTHDAY
of our great and beloved contrabassist and friend, Anthony Jackson. In order to celebrate and commemorate this moment, A.J. was told that he was going to be participating in a Berklee College of Music webinar via Zoom.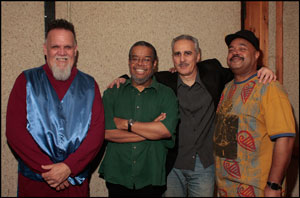 That part of this elaborate ruse was formulated by Steve Bailey. Other key players in making the real event happen were Danette Albetta and Victor Wooten. The idea was that there would a monstrous surprise for Anthony when many of his closest friends and colleagues showed-up on Zoom to wish him a very "HAPPY BIRTHDAY!"
From the world of the bass, well wishers included: Victor Wooten; Will Lee; John Patitucci; Basil Fearington; James Genus; Chuck Rainey; Ron Carter; Darryl Jones; Yiorgos Fakanas; Neil Stubenhaus; Alphonso Johnson; Stanley Clarke and one of Anthony's earliest heroes, Jack Casady. These great drummers were present: Steve Gadd; Steve Jordan; Steve Ferrone; Dave Weckl; Simon Phillips; Cliff Almond & Lenny White. The piano was represented by Michel Camilo. The guitar was represented by Mike Stern, Leni Stern, and yours truly. Anthony's ever-present luthiers Vinny Fodera and Joey Lauricella were there. And one of Anthony's most supportive journalists, Chris Jisi was there as well.
Everyone was very respectful of the space needed so that each person could, in some way, wish Anthony the happiest of birthdays and also, perhaps, share a story, some were funny, some were serious, but all said with love and warmth. I should have taken a screenshot during the proceedings, but I wasn't thinking clearly at the time - it was all very emotional in its way.
The Richard Laird photo shared here is from 2011 and the "PARTING SHOT" recording, the last time that Anthony and I had played together. I would hasten to include that Anthony looked terrific, sounded terrific and was in great spirits surrounded virtually by so much love from friends and colleagues.

---
A nice surprise! The ever-wonderful James Taylor has recorded one of my father's songs, "Teach Me Tonight" written with Gene DePaul. I knew nothing about this until a fan from Italy sent me the link via Facebook. In a great irony, the CD will be released on my son Heath's birthday, February 28th!!!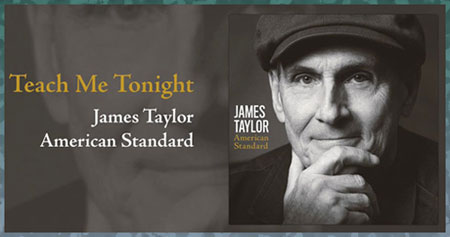 Of all the zany things, this is going to be the 1st Single from the album!!! That's really crazy!!! I'm certain that my father would have loved this! In another irony, the usage of the alphabet in the lyrics is interesting to hear at this particular moment in my life.

My father, when speaking about air travel, used to always say this to me: "Steve, birds don't write songs - WHY should I fly?" In one of the great ironies of life, he ended-up flying all the time!!! Go figure!!! Songwriters take note!!!

Thanks so much to everyone for the outpouring of love for my dad's song, interpreted in this most special way by the great, great James Taylor. James just makes every song, new and old, by personalizing it, become better than it ever was. JT is a national treasure.

And, in some promotional material that I just saw, they couldn't even spell my father, Sammy Cahn's last name correctly - as Sammy Chan!!! This has happened many times to me - even in album credits. Even when I say: "O.K., here it is: 'C' as in Charlie, 'A' as in ant, 'H' as in Harry, and 'N' as in Nancy....." They then say, "Right, C-h-a-n!!!" It's hopeless because 'A' and 'H' just sound too much alike to most people!!! These misspellings continue right to this day.

Over the course of my recordings, I've recorded some of my father's songs, but I've always tried to choose the more obscure ones, the ones that few people play, with one exception. Here is the list: "Dedicated to You" from "PUBLIC ACCESS"('89) and "THE SUITCASE"('94); "Autumn in Rome" from "HEADLINE"('92); "It's You or No One" from "CROSSINGS"('94) [The exception, but played as a love song!]; "The Christmas Waltz"(w/ The Brecker Bros.) from "JAZZ TO THE WORLD"('95); "The Last Dance" from "GOT MY MENTAL"('96); "You're My Girl" from "BORROWED TIME"('07); "Our Town" from "BACKLOG"('17). My father and I never enjoyed the best of father-son relationships, but when I have recorded his songs, for that time, it can feel as though there was a powerful connection. That is hard to escape! My love for music, the arts, my fascination with words and writing, his wit and very particular wisdom, and an unending appreciation for songs and their lyrics. All these things I carry with me every single day.


---
As 2019 is rapidly coming to a close, a wonderful 'gift' arrived this morning when I was notified by AllAboutJazz.com that their superb senior critic/music writer, John Kelman, had selected "PATCHWORK"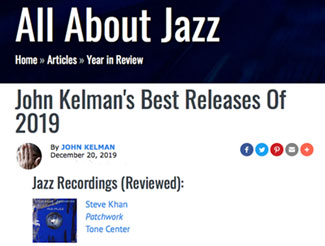 as one of his BEST RELEASES OF 2019.
In his presentation, he divided those albums mentioned into several categories including: Jazz; Beyond Jazz; Unreviewed But Still Faves; Jazz Recordings (New & Archival); and Beyond Jazz Recordings (New & Archival). His tastes are very, very eclectic. In order to make the image fit within this space, I had to crop out the recordings by: Bill Bruford; Bill Frisell/Thomas Morgan; Marc Copland; and Phillip Johnson. My apologies for that, but, if you click on the link, you can see and read everything!

If it needs to be said, this recording could never have turned out this way without the immense contributions of: Rubén Rodríguez (Baby Bass/El. Bass); Dennis Chambers (Drums); Marc Quiñones (Timbal, Bongó, Percussion); Bobby Allende (Conga); Rob Mounsey (Keys & Orchestrations) and guests: Randy Brecker (Flügelhorn); Bob Mintzer (Tenor Sax); Tatiana Parra (Voice), and Jorge Estrada (Keys) on his own brilliant composition, "Huracán Clare"!!! They all share in this equally.

Needless to say, I would have been happy to have appeared anywhere on such a list - as my albums are often ignored when such lists are published. But, to have been singled out in this way is really a great thrill, and might well be one of the best treats I will receive this Holiday Season 2019!!!

And so, on that note, once again, HAPPY HOLIDAYS
to one and all.......

---
CDs AVAILABLE @ Amazon.com!!! "PATCHWORK" is the title of Steve's new recording, and there is, of course, a subtitle in Spanish, "Medio Mezclado." The music became available via iTunes first on AUGUST 23RD!!!. It is a bit hard to explain just why the new music is available digitally first, but this time, this is just the way that this process had to unfold. It has been a very strange month while nervously awaiting this singular moment, but let us hope that the seas have now calmed, and there can be relatively smooth sailing from this point forward. Fingers still crossed!
This new recording represents the 4th in a series where Steve continues to enhance the role of the guitar in the context of Latin music and Latin Jazz. You can read a brief part of the story behind this album below.

When "BACKLOG" had completed its run, and I had tried to pursue every possible avenue for helping it to reach the ears of people, there comes a moment when you have to let it go. If there is a 'reward' in any of it, it is simply knowing that, within reason, you did the best that you could, and that the recording represents where you happened to be at a particular moment in your life.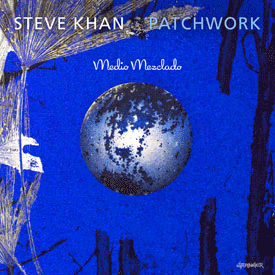 As things begin to then settle down, one realizes that they are completely spent, simply exhausted, and this begins a time, at least for me, that is always filled with the sense of being directionless, and having no answer to the eternal question: "What's next?" As I have never been the kind of artist who stockpiles material around the apartment, scattered about on various pieces of music paper, and even ideas or thoughts on notepads, what I put into the last recording represented everything that I had, and everything that I was capable of. I gave everything to it - for better or worse. But, now what? Hours pass into days, days into weeks, weeks into months, and yes, months into years - all with no sign of renewed inspiration. Where, oh where is that going to come from? Surely from within, but how? And when? I was resigned to feeling that it was never going to come to me again. That is, needless to say, an awful feeling for any artist to have.
On one July, 2018 afternoon, I was having a conversation with drummer Mark Walker, and I don't even recall how the topic turned to the Thelonious Monk-Kenny Clarke classic, "Epistrophy" but, without my even being aware of it, I had been thinking about that tune from a rhythmic perspective, and I tried to point-out a moment to Mark where I felt that something that Monk was playing was telling me that it was, or could be, Afro-Cuban 6/8. Mark nodded in agreement, and for the moment, the conversation went on to other areas of life. But my thoughts about that tune continued to swirl around in my imagination. It was shortly thereafter that I dragged my old Yamaha DX-7 keyboard out of the closet and out of its case, set it up next to my computer, plugged in the midi to USB cable, and the next thing I knew - an arrangement was being developed!
Where once I had nothing, not an idea, suddenly 6 other tunes that I had always loved came to mind, and work began simultaneously on each one. Days and nights just passed in and out of one another, and about 6 weeks later, I paused to take a deep breath, and realized that I had gone from nothing to having 7 completed, or nearly so, arrangements in the computer! I couldn't believe it. It was, for that moment, such a wonderful feeling - hard to articulate exactly how much it means to me - how much it meant to me - to my spirit. To have accidentally relocated my creative center felt like a miracle - because I was certain that it was never ever going to visit me again. Once I had arrived at that point, there was going to be no stopping me in taking the necessary steps to realizing yet another dream, making a recording happen - no matter what the cost might be emotionally, physically, and no less so, financially! But, this is my life, this is who I am, this is what I do - what else is there?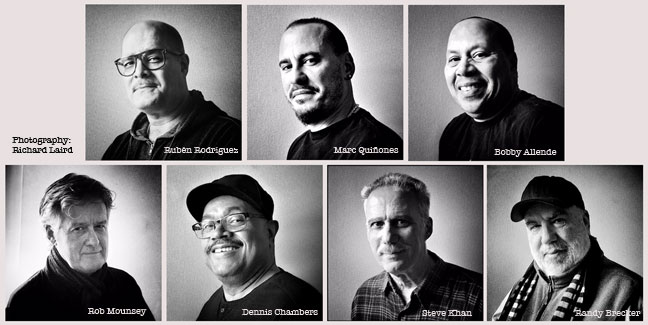 And thus began a series of the usual, for me, consultations with trusted colleagues and close friends: Rafael Greco, Rob Mounsey, Marc Quiñones, Rubén Rodríguez and James Farber. There is always a lot of back-and-forth, and in the process, the arrangements morph and change for the better. For me, it is always an immense learning experience, and an exercise in testing my flexibility.
But, something was missing! How is it possible that I could have done all of this work, and I didn't have one original tune! Nothing!!! How is it possible that I couldn't even compose an acceptable blues?!?!?! What was wrong with me? I was so frustrated, and very angry with myself. And then, once again, seemingly out of nowhere, I was trying to find something, an idea, a blues-related tune to inspire a student of mine, and I decided to pull out the title song from Wes Montgomery's "MOVIN' ALONG"(Riverside) album, which involves a series of 7(9sus) chords in Eb. Once again, I saw the beauty in those harmonies, and felt that I could compose a blues, a melody using that chordal structure. And so, with lots of trial and error, I did it!!! And finally, I had an 'original' tune. At that moment, it filled the need from a rhythmic perspective for a Cha-cha-cha in the context of the album as a whole. Now that there were 8 tunes in total, I felt that this was enough.
As we are so perilously close the end of "THE CD ERA" and no one really knows for certain just what is going to happen next, I felt that trying to do 9-10 tunes for an album was just more than I wanted to take on. Those "extra" one or two tunes can be really costly, causing more time spent recording, and later, mixing. It all adds up. And of course, knowing that NO ONE is ever going to listen to the album as I hear it - as one continuous piece of work, what is the real difference between 8 tunes and 10? People barely have the attention span to listen to one full tune without being interrupted and distracted by their damn smartphones. Well, that plan lasted but a little while - and suddenly, I was driven to include two 'extra' pieces of music that also had come to mean a lot to me. So, you will see that there are now 10 songs that make-up the totality of what I have chosen to now title: "PATCHWORK." Well, I have to amend this now because, almost without thinking, I had recorded over 85-minutes of music, and the limit that one can put on a commercial CD is just below 78-minutes of music. What is the solution for that? Simple, I suppose, one tune becomes a BONUS TRACK for downloads only!!! So, I'm going to have to try that approach.

And so, on March 18th & 19th, we entered Sear Sound here in New York City, and recorded the album. With brilliant production coordination by Jill Dell'Abate, without whom I would have been completely lost, those gathered included: Rob, Marc, Rubén, Bobby Allende, and Dennis Chambers, plus the presence of guest artists including Randy Brecker, Bob Mintzer, Tatiana Parra and Jorge Estrada.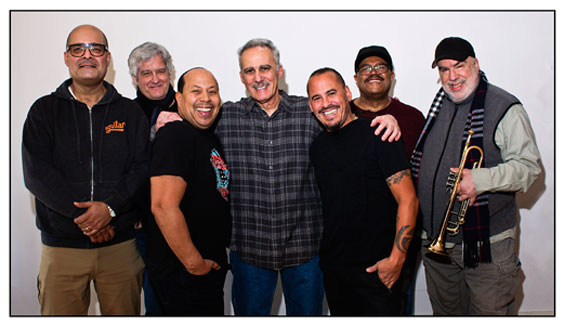 Eventually, we will see/hear just what we did!
The image shared here is by the great Michel Granger from his breathtakingly beautiful series of mixed-media paintings titled "Herbarium" from 2016. Once again, the design is by my brilliant colleague Janet Perr, and now, you are seeing what the real CD cover will look like. As all of these friendships continue to the present, the photographs were taken again by Richard Laird. I'm so fortunate to be surrounded by warm and like-minded people, who represent their own work with tremendous artistic passion. I can also now reveal that the liner notes were written by Puerto Rico's own Rafael Vega Curry, who brings his unique perspective and perceptions to the recording.
Over the many years, in interviews, and in private conversations, I've been asked about finding one's own voice on their instrument, or in music, and it took me a long time to formulate what has now become my default response, and that is this: "Don't waste time and energy thinking about or bemoaning what you can't do, concentrate on seeing what it is that you do do well, and rejoice in that!" So, with that kept in mind, and held in one's heart, I can say at this moment that, and I am speaking more about life than about music, "Yes, there are many things that I can't do, or that I don't do well, or that I do not do close to as well as when I was considerably younger - not for the lack of trying - but, I do feel a sense of great warmth in knowing that I can now say that, all my failings aside, I can do THIS!!!" Wherever this inspiration came from this time, I am eternally grateful for this moment in my life. I never thought that this could happen.
For those of you who have stayed with me for all these years, especially since 2011, I am so grateful for your support and words of encouragement. Thank you all so much!!!

---
Jazz Radio remains a magical thing... as I wrote some weeks ago, during the overnight hours after seeing that on KSDS-FM Jazz station, DJ Norm Swanberg presented "The Journey Home"(Keith Jarrett)(15:34) from "PATCHWORK" in its entirety! I can't explain to you all how much this means to me!!! It never gets old to know that, somewhere, you have been played on the radio. Even at this stage of life, it makes you feel like a kid again. It must also be noted that the 1st person to play the full performance of "The Journey Home" was actually Alisa Clancy(KCSM-FM), and she played it on her morning program! More recently, Sheila Anderson(WBGO-FM) played it on her late night show. Any time that this happens, it's a great, great thing!!! If you care to, you can read my ESSAY.

---
First Review! How can one be more fortunate than to have senior writer, the very esteemed, John Kelman write such an incredibly detailed, thoughtful and sensitive epic Review for AllAboutJazz.com, just published on September 16th. He began his piece by writing:

"Patchwork, the guitarist's fourth installment in a most decided and inimitable exploration of the nexus point where jazz guitar and Latin/Afro Cuban rhythms meet. Now, one of the cornerstones of his ever-imaginative arrangements and much, much more. Khan's focus may, indeed, have leaned further away from original composition, moving more decidedly towards imaginative and innovative Latin-inflected rearrangements (both harmonically and, perhaps most importantly, rhythmically) of music written by artists including, most prominently, Thelonious Monk, Ornette Coleman and Bobby Hutcherson. But the guitarist's interpretive skills are so strong, so vivid and so inimitable, that even an evergreen tune like Monk's "Epistrophy" feels as much Khan's as it does the original (and similarly unparalleled) composer's."

First reaction from Jazz radio! On the day of the radio mailing (8/29), both digital and CDs, Jerry Gordon @ WPRB-FM, Princeton, New Jersey wrote: "Another Masterpiece! Congratulations, Steve. Another great one! Listening now. Some great surprises like 'The Journey Home.' All great. Fusion? You were there first! Best, Jerry"
What a wonderful way to start! And so, the ride begins...

Reaction from France and Jazz magazine! Great writer, Frédèric Goaty opined the following in brief: Steve Khan T. & T. "Fort de son immense culture jazz, le guitariste new-yorkais a toujours le chic pour (re) mettre en valeur des thèmes un peu oubliés, tel celui-ci, d'Ornette Coleman. En y ajoutant bien sûr sa touche latin jazz très contemporaine. Où ça?" "PATCHWORK" Medio Mezclado(Tone Center) Import/USA, sortie 20/9.

---
"THE MUSICIAN'S LIFELINE"(Peter Erskine & Dave Black)

Some months ago, Peter Erskine sent me an e-mail asking if I would be willing to take a brief "survey" and answer some 6-7 questions for a book that he was putting together with Dave Black. Of course, I said, "Yes!"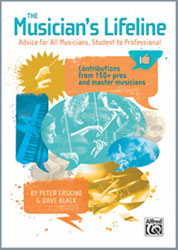 and I attacked those questions with spirit and vigor right away. Sounds simple, right? A-ha!!! But there is yet another story to be told here. Allow me to make this connection for you with the following cautionary tale.....

During my first year of college @ U.C.L.A. in 1965, yes, way back then, in one of my huge survey courses, 500 students in an immense lecture hall, there was a famous 'pop' quiz. Of course, everyone was in various states of panic and feeling that this was so 'unfair' to have this thrown at us - out of nowhere. As we all sat down, probably with our "blue books" in hand (though it could have been a multiple choice exam), the professor or his/her teaching assistant said one final thing to us, BEFORE we would begin, and that was this: "Make certain that before you start, you have read ALL of the instructions carefully! O.K.? You may now begin....."
Well, there must been about 10 instructions, and, idiot that I once was, I read the first 3-4 of them and, as they seemed so simple and basic, I just skipped the rest. Little did I realize that, down at #10, was one that said this [more or less]: "Close your booklet, and bring it to the front of the class! You have completed the exam!" As I was taking the exam, I wondered why a few people had gotten up, turned in their exams, and left. [I can only shake my head and laugh at myself right now!]
So, if you read the introductory story to my piece about the wonderful new book by Peter Erskine and Dave Black, "THE MUSICIAN'S LIFELINE"(Alfred Music), you will understand why, I am, yet again, laughing at myself because, perhaps, I haven't really learned a damn thing in all of these years!!!

The book features fantastic insights and anecdotes from great musicians like [and this is only a partial list]: Randy Brecker, Bob Mintzer, Dave Liebman, John Scofield, Mike Mainieri, Vinnie Colaiuta, Will Lee, Luis Conte, Adam Nussbaum, Alan Pasqua, Carl Allen, John Beasley, Russ Ferrante, Jorge Calandrelli, Chuck Berghofer, Ignacio Berroa, Terri Lyne Carrington, Gary Burton, Nathan East, George Garzone, Joe Lovano, Jim Keltner, Bernard Purdie, Chuck Rainey, John Robinson, Danny Gottlieb, Lalo Schifrin, Janis Siegel, Leland Sklar, Kenny Werner, and Matt Wilson.

BIG LOVE to all, and congratulations to Pete and Dave for this wonderful and immensely entertaining book, Steve

---
NEW VIDEO INTERVIEW!!! This past April 24th, a Wednesday night, I did something that I rarely ever do, and certainly rarely get asked to do, but, as I felt that this was important, I became a part of the prestigious and wonderful interviews conducted by Dr. David Schroeder for his NYU Jazz Interviews Series. For me, this was a great, great honor to now be in the company of so many of my close friends and colleagues.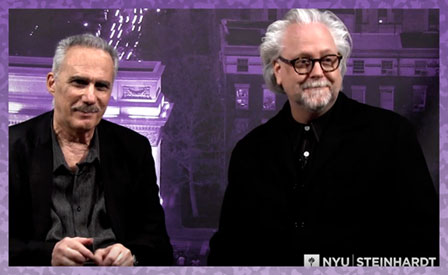 A partial list of those who have preceded me might include: Randy Brecker; Dave Liebman; Gil Goldstein; Peter Erskine; John Abercrombie; John Scofield; Ralph Towner; Jack DeJohnette; Pat Martino; Roy Haynes; Jim Hall; Bill Frisell; Chris Potter; Cedar Walton and just before me, Mike Mainieri.
To have been allowed to share various stories from the past and the present with an audience of Dave's students was so very special for me. It's hard to explain how much it meant to me without getting emotional about it. At this stage of my life, for me, this is the way that things go. Before the interview, Dave and I spent a couple of hours together, which included a nice meal, and by the time that we were ready to film the interview, for me, it was as if I was sitting there with an old friend and colleague. It's rare that one feels this way.
I can't thank Dave enough for having asked me to do this, and to the crew, and all of the wonderful students for their interest and their questions, which followed during the post-filming stage of the evening. I will hope that those of you who take the time to watch and listen will feel as though you were there with us, and that something, one small thing that I might have shared will resonate with you and be useful as your life goes on, especially if you are a person of the arts, an artist involved in music.
In advance, my thanks to everyone who has offered such positive feedback on that evening. But mostly, my deepest thanks to Dave Schroeder because he made it all so easy!!!

NEW PODCAST INTERVIEW!!!. More recently, on the very scary night before HALLOWEEN, October 30th, 2019, I was invited by Dr. Dave Schroeder to continue our original interview, picking it up around 1985, but this time in PODCAST form, which Dr. Dave has now made available via iTunes. If you've got some time to kill, this might be a fun way to do it. Hopefully, the storytelling about various experiences in music, especially going through how each new album came into being will be of interest and edifying to musicians young and old. That was my hope from the outset. Here's wishing everyone a very HAPPY NEW YEAR 2020!!!

Addendum - June 1st, 2019: Jim Ricci a former student of mine, and one of my earliest, saw this entire video interview and was somehow inspired to write and post the following @ Facebook. It is perhaps, without question, the most thoughtful and kind thing that I've ever had written about me, and I wanted to share it with everyone here. It means a great deal to me...

"I just watched a terrific interview with the fabulous jazz guitarist Steve Khan. Steve is a living legend, and I was extremely fortunate to have found him as a guitar teacher and mentor I when I was a young (but very inexperienced) high school student. It was in the early 1970s - a period that, in retrospect, was a pretty crazy era in music. The music scene in NYC seemed to boil-over with an artistic vitality that was powered by atomic energy. The city served as a giant incubator. It was also a virtual melting-pot of musical styles, cultures, and generations. 1970 was a time of radical change, when rock met jazz and everything else in-between. Fusion, confusion, and revolution were in the air.
Steve's recent interview with Dr. David Schroeder at NYU includes some interesting details about this amazing period in history. His story is about how various forces, combined with good luck and a unique synergy among talented musician-friends, shaped the long journey of his life and career. There is a lot of wisdom for musicians in his remarks, and some rather entertaining stories about the giants he worked with throughout the changing phases of his personal musical evolution.
He talks about growing-up as an ordinary kid interested in sports in a home with his dad, who was the famous Hollywood lyricist/songwriter Sammy Cahn. Their houseguests included celebrities such as Dean Martin, and to Steve at the time, that seemed normal. The sound of his father's constant pecking at the typewriter still seems resonate in his memory of a childhood in West Los Angeles. The son of a songsmith, only later did he fully realize the importance of knowing the lyrics of a tune on a tip he heard from Miles Davis.
As a teacher, Steve was serious, demanding, and inspirational. He demonstrated to me by example how to live the life of a musician by doing it - every day - with a passion. I recall going to hear him jam with Gil Evans' experimental ad hoc big band, which was free and open to the public at the "Common Room" connected to the Westbeth artist studios in Greenwich Village where Evans lived. I still have Steve's detailed transcriptions of Wes Montgomery tunes, which prove, once again, that making transcriptions of recorded music can really go a long way in developing one's hearing and musicianship.
Steve wrote a recommendation letter that got me into Berklee. I was accepted, and I moved to Boston where my own musical journey subsequently followed a very different direction in music. We lost contact until just recently. But I feel very lucky to have had this important formative experience with a musical master. I'm still discovering his music, which sounds as fresh today as it did nearly 50 years ago." - Jim Ricci

---
JUST PUBLISHED!!!
a new Steve Khan interview, conducted by bassist/journalist Antonio Gandía, and presented entirely in Spanish for the September/October issue of Músico Pro Magazine. We are privileged and proud to offer the complete and unexpurgated version of the INTERVIEW here at the website. We will be hoping that all of our Spanish speaking visitors will take advantage of this opportunity to hear directly from Steve in your own language.
No one was more shocked than Steve was when Antonio sent him an e-mail with the news that the editors had decided to make the piece their cover story. After many, many years of doing this,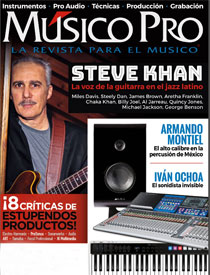 Steve had come to realize that these kinds of public relations niceties were just not "in the cards" for him. It is truly one of those moments in life where one expects absolutely nothing, and then, out of the blue, something, something wonderful drops into one's lap from out of the sky - and there it is!!! It might never, ever happen again, and Steve is so very grateful to everyone involved, but especially to Antonio Gandía for his unrelenting positive energy and good vibes throughout.

Queridos amigos: Hace ya bastante tiempo desde la última vez que hice una entrevista completamente en español. El verano pasado, el bajista / periodista musical Antonio Gandía me escribió y me preguntó si podía hacer una entrevista para la revista "MÚSICO PRO". Yo felizmente respondí "¡Sí! ¡Absolutamente!" Unas semanas más tarde, Antonio y yo establecimos una conversación telefónica/entrevista, y los resultados están ahora disponibles en la edición de septiembre/octubre de la revista. Por cuestiones de espacio, Antonio no pudo incluir todo lo que hablamos en la versión de la revista, sin embargo, el texto completo sin expurgar también aparece en mi sitio web, en una página dedicada, y todos mis amigos que hablan español pueden accederla a través del ENLACE que se proporciona aquí.
Antonio hizo un trabajo maravilloso ya que nuestra conversación cubrió muchas áreas de mi vida en la música, y ahora, espero que brinde una buena lectura para todos los que se preocupen por tomarse el tiempo para leerla. Para aquellos de ustedes que se perdieron de alguno de mis lanzamientos de CD recientes, (porque mis anuncios fueron en su mayoría en inglés), ahora pueden aprender un poco sobre los CDs y en su propio idioma.
Estoy muy agradecido con Antonio y la revista "MÚSICO PRO" por su interés en mí y por dar seguimiento para hacer que esto sucediera. La sorpresa más grande de todas llegó cuando Antonio me envió una copia de la portada, y, por primera vez, en años, décadas, allí estaba yo en la portada de una revista de música. Es notable porque este tipo de cosas nunca me pasan. Entonces, ¿cuál fue el nivel de mi gratitud antes? Ahora se multiplicó 1,000 veces. ¡Y estoy feliz de compartir esto con todos hoy! Los más cálidos deseos y un GRAN abrazo para todos.

- Steve Khan (Septiembre de 2018)
---
NOW AVAILABLE!!! What a great pleasure it is to announce that it is now official that BGO Records(UK) has released the reissue of the spectacularly innovative Eyewitness 2 albums "PUBLIC ACCESS-HEADLINE-CROSSINGS"!!!
To make this reissue project viable, would there be a way to include all of the music from both "PUBLIC ACCESS"(1989) and "CROSSINGS"(1994) and somehow add in the 3 tunes recorded for "HEADLINE"(1992)? After great trial & error, there was one way to do it, and it worked! With the recording of "PUBLIC ACCESS" the Eyewitness approach to music-making continued with original members: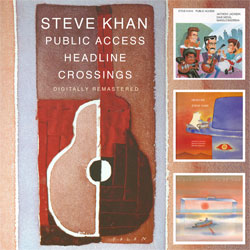 Anthony Jackson (Contrabass Guitar) and Manolo Badrena (Percussion & Voice), but this time with Dave Weckl (Drums) alongside Steve on guitar.
After a complete break, and the recording of "LET'S CALL THS"(1991), Steve was asked to record again, with Ron Carter (Ac. Bass) and Al Foster (Drums), but to also do 1/2 of the new album with yet another incarnation of Eyewitness, this time including the great Dennis Chambers (Drums). And so, those 3 wonderful performances from "HEADLINE" are now included in this reissue package. Finally, in 1993, the group gathered together again to record "CROSSINGS" and this time, a special guest artist was added to the mix, and the best and most logical choice was Michael Brecker(Tenor Sax), who appeared on the 3 of the 10 tunes.
In all, one can clearly hear the threads of contemporary Latin music being woven and carried forward right to Steve's present work on his 3 most recent albums: "PARTING SHOT"(2011); "SUBTEXT"(2014) and "BACKLOG"(2017)! Listen closely to the music contained in this wonderful reissue, and you will recognize the feeling and sounds of what was to come some 20 years later.
As always, the beautiful reissue cover features the original cover images of Jean-Michel Folon in a gorgeous design by Janet Perr, and you are getting your first look at it here! As it has been in the past, the process to get all the details in order did not happen overnight, and our thanks go out to the good people at Universal Music and BGO Records for their interest, and spirit of cooperation.

In his new and wonderful liner notes for this package, esteemed Jazz journalist Bill Milkowski wrote the following:

"In his most recent outings - 2011's Parting Shot, 2014's Subtext and 2017's Backlog - Khan's blending of Latin rhythms and jazz have come to fruition with timbalero Marc Quiñones, conguero Bobby Allende and bassist Rubén Rodríguez providing the authentic Afro-Cuban grooves to the mix. The seeds for those cross-fertilization experiments were planted on his '70s Columbia albums and nurtured in the early '80s on Eyewitness, Modern Times and Casa Loco. With Public Access, Headline and Crossings, Khan makes the next incremental leap in that continuum. There was nothing like this music and approach to music-making in the '90s - and there is still nothing quite like it."

It wasn't so long ago that the always thoughtful and informed John Kelman wrote a wonderful piece, Eyewitness Remembered, for AllAboutJazz.com, and that very same piece served as an inspiration to float the idea of an Eyewitness reissue to BGO Records. Now, here we are, a couple of years later, and now, an Eyewitness2 reissue has been officially released. Now, Mr. Kelman has written yet another brilliant Review of this new package. We hope that everyone will take a moment to read what he had to say about these recordings and the players. In this spectacular review, Mr. Kelman wrote the following:

"If The Eyewitness Trilogy introduced a group whose concept was innovative at the time and remains so today, the essential "PUBLIC ACCESS-HEADLINE-CROSSINGS" takes it more than a few steps further, both in its move from original material to imaginative interpretations, and in acting as a bridge between the guitarist's earlier recordings and later, even more decidedly Latin-oriented albums.
Khan, more than many guitarists alive today, demonstrates remarkable knowledge and breadth when it comes to jazz, and as an astute and individual interpreter of the Great American Songbook traditions. Eyewitness is often lauded for its unique (especially for its time) language and approach, deeply felt grooves and stellar playing. Still, the group's telepathic ability to engage with one another on a profound level must not be overlooked, its intrinsic conversational ability, a definitive one. It was the Steve Khan of his career defining "EVIDENCE"(1980), who introduced the concept for Eyewitness, whose approach would continue and evolve, and ultimately imbue other projects throughout the rest of his career. If anything, Khan's guitar gymnastics and light-speed phrasings have become all the more effective for the greater care with which he uses them. In the post-"EVIDENCE" world, nothing about Khan's playing could ever be considered superfluous; instead, every note counts, every note matters."

As 2018 came to a close, John Kelman selected this reissue as one of the BEST RELEASES OF 2018. This development was most surprising and a big thrill as a reissue is almost never selected for such an honor!!!

---
On Turning '70'"!
During this discourse, he sentimentally touches upon diverse topics such as: his years between 60 and 70; Barack Obama; life expectancy for baby boomers; his father and Frank Sinatra; his recordings released during the past 10 years; almost getting mugged on Broadway; one's looks; health issues; love and loss; and finally, what does his green field look like 10 years later.
No matter what the number is for any particular birthday, there is probably always good cause for some moments of great reflection. One can always ask the philosophical question: "Am I anywhere near where I expected to be by this time in my life?" How one answers that question tells us a great deal.

---
WEBSITE UPGRADE!!! Some years ago, at the suggestion of webmaster, Blaine Fallis, we made a big change at the site, and added the Wimpy Button so that visitors could play our soundclips and remain on any analysis, transcription or lead sheet page housed at both KORNER 1 and KORNER 2. Though no system is completely perfect for the individual purposes and needs of any particular music website, this system seemed to be functioning well, and for a number of years. Of course, with the ever-changing technologies and innovations in web design, sometimes, one doesn't know if your site is really up-to-date or not.
Recently, of all things, I was in P.C. Richard, here in New York City, trying to buy a small portable AM/FM radio, and I got into a conversation with the young clerk. At a certain point, he asked me, "What do you do?" So, rather than trying to explain that to him, I told him that I was a guitarist, and tried to point him in the direction of my website, where he could listen to some soundclips from my recordings.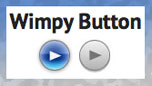 Because he can't access the Web from the store's computer system, he just used his handy/dandy iPhone. When he arrived at the Discography page for "SUBTEXT," I told him to scroll down, and then just "push any button" and he would hear the music. He said to me, "I don't see any buttons!" I couldn't believe it, but he was telling me the truth. When I arrived home, I phoned Blaine and described what had happened, and when he checked his own iPhone, he realized that the technologies for the iPhone, Android, Tablet, and iPad had passed our little website, and flown right on by!!! It is amazing to realize that, for the longest time, countless visitors to the site, employing their smartphones, never even knew that they could hear music soundclips at all the various pages. Now, all that has changed!
So, Blaine got in contact with the Wimpy Player website and their technical support, and we were, within a matter of days of some back-and-forth, armed with the new tools to begin to upgrade some 800 music pages at both KORNER 1 and KORNER 2. Endless days of pasting in new code, and testing everything and, believe it or not, in a little over one week, everything was ready to go!!! How about that?!?!?! We decided to go with a slightly different look for our new Wimpy Buttons, and they are now blue, as you can see, and not the original gray buttons from our past.
The final step, and I needed a long, long break after the KORNER pages had been done, was to finally, after all these years, offer soundclips for all of the songs at all of the individual DISCOGRAPHY pages. That immense task was recently completed, and now, everyone, after clicking on a recording's mini-CD cover at that page, can read my reflections about that album and, while doing so, can listen to soundclips of any of the songs! Give it a try!!!
In the end, it is our hope that now everyone can enjoy hearing the music that has always been offered here, but finally available on contemporary devices that go beyond our normal laptop and desktop computers!!! Wishing you all happy explorations at the site!!!


NOW AVAILABLE!!! We are so pleased that we can now officially announce that, in the March/April area of 2016, BGO Records(UK) will release a reissue of the groundbreaking albums "EYEWITNESS-MODERN TIMES-CASA LOCO"!!!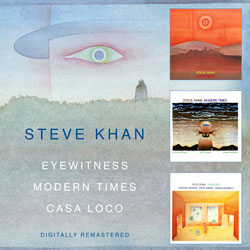 All 3 albums will be digitally remastered and housed on 2 CDs. Originally recorded between 1981-1983, these albums featured the seminal group of: Anthony Jackson (Bass Guitar & Contrabass Guitar), Steve Jordan (Drums) and, Manolo Badrena (Percussion & Voice), alongside Steve on guitar.
This will be the first time that "MODERN TIMES" has been available on CD outside of Japan. And, of course, as we near the end of the CD Age, this might well be the last time these fantastic recordings will be offered as CDs.
As always, the beautiful reissue cover features the original cover images of Jean-Michel Folon in a gorgeous design by Janet Perr, and you are getting your first look at it here! It was a long and difficult process to make this reissue happen, and our thanks go out to the good people at Universal Music and BGO Records for their interest, and spirit of cooperation.
It wasn't so long ago that John Kelman wrote a wonderful piece, Eyewitness Remembered, for allaboutjazz.com, and that very same piece served as an inspiration to float the idea of an Eyewitness reissue to BGO Records. Now, here we are, some months later, the reissue has been officially released and now, Kelman has penned this superb Review of the package. We hope that everyone will take a moment to read what he had to say about these recordings and the players.


On January 20th-21st, 2017, inauguration weekend, in order to distract myself and avoid watching anything on TV, I decided to sit down and express some thoughts that had been building within for quite some time, especially since November 8th of 2016. And so, I wrote a short ESSAY about the Snake Oil Salesman that "we" as a nation had elected, and now installed, as President of the United States.
If you care to, you are welcome to read them and take them with you for whatever they might be worth. Like many of my particular political, moral, ethical slant on life, I am extremely concerned about the future of the USA, and the impact that this is going to have on the rest of the civilized, and not-so-civilized world. I suppose that we can hope for better times ahead, but it is so very hard to see that right now!!! As some young people say: "Peace out!!!"


Just after November 4th, 2008,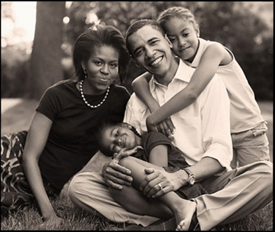 when Barack Obama was elected to become our 44th President. While so much of the rest of our world was rejoicing in our choice of a leader, I extended my congratulations to President Obama, as well as to our new First Lady, Michelle Obama, and their daughters, Malia Ann and Sasha.
Once his election was a reality, I wrote an ESSAY which detailed my thoughts and observations. These were obviously solely my thoughts alone, and some of them might have resonated with some of you, and others might not have found them to be so agreeable. No matter what, it was the dawning of a new day, a new age, and hopefully better times ahead for everyone!!! Perhaps, dare I say it, an even better world for everyone!!!

Addendum - November 12th, 2016: With the election now a few days in the rear view mirror, we all must accept the results of what has happened, people from all sections of our nation, and the world as well, now begin to assess the 8 years of President Barack Obama. During the run-up to the election, the campaign, and since November 8th, I have been hearing, and from far more well-informed people than I, the word legacy used for this president's term in office. And, for as much as I have heard, I have not heard one single person offer what I am about to say here. And that is this....
In 2009, when Barack and Michelle Obama took over residence in the White House, the United States was at one of its lowest moments in terms of its perception by the people, the countries, and the leaders of the rest of civilized world. For the years prior to President Obama's election, I had been traveling around the world, and really, for the 1st time in my professional life as a musician, I had felt incredible hatred and resentment coming at the U.S. from wherever I traveled. Everything felt so very different, unlike any time before.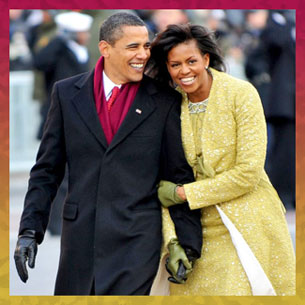 It made me horribly sad, sad for all of us who, no matter what, love our country, and take great pride in being Americans, North Americans! So now, here we are, it is late 2016, and in only 71 days from now, Barack and Michelle Obama will leave the White House for the last time with their two wonderful daughters, Malia and Sasha, and I am going to miss this great, great family tremendously every day that will follow.
For me, President Obama's greatest accomplishment during his time in office was that, around the world, he restored, and elevated to new heights, the dignity of the office of the president, and the kind of respect and even love that we all would hope that our president would command and deserve. He spoke beautifully, and always in respectful, dignified and measured tones, and people, and world leaders listened. Whether or not they agreed with what was said is not necessarily the most important thing. They listened. Virtually everywhere Barack and Michelle Obama traveled, and represented us all so well, they were our Global Ambassadors of good will, and were greeted with the kind of adoration that we could only have hoped any person from the USA might receive. When they leave the White House, the Obamas will still have that, and they will always have it, because of the way that they have carried themselves, and spoke throughout these past 8 years.
When President Obama took office, he faced the daunting task of trying to correct the mess that had been left at his doorstep, and to try to do it with an excessively hostile congress waiting to fight him on any proposal that he might make to those bodies. How is one supposed to "accomplish" anything when facing that? Let us not forget the racial component too, Barack Obama had to be perfect in every detail, and, in many ways, he hardly made an error. Imagine living with that pressure alone. And so, with congress, he tried, and he tried, and he tried again, only to be rejected at almost every turn. So, on the legislation side of things, perhaps there might not be much to grab onto when looking back at those 8 years? But, think again, and remember just where our international posture was before 2009, and where it is now as he leaves office. Watch and listen to what happens as he makes his last trip to Europe as our president. And then, come January 20th of 2017, you watch and see how President Donald Trump is greeted and thought of around the world!!! When you have observed this, you will begin to realize, and perhaps finally appreciate just how wonderful the Obamas were at carrying us all with them. I, for one, am going to miss them both so very much, and I will be wishing them the very best of everything, good health, and happiness for the rest of their days. Thank you for everything Barack and Michelle Obama.

Steve Khan
New York, NY
November 12th, 2016


On November 10th, 2016, journalist/historian, Neal Gabler wrote a fantastic essay/editorial for the website, Moyers & Company expressing in a most thoughtful, eloquent, and emotional manner, what is, for many, a most sober assessment of our recent election on November 8th. His piece was titled: "Farewell, America" and now, you can read it in full here. Take some time, read it at your leisure, and then, think about what you have read.
Then, in the December 1st issue of the London Review of Books, Cambridge political scholar, David Runciman wrote a most engaging piece about the 2016 U.S. election of Donald Trump titled, "Is This How Democracy Ends?" You can also read it in full here. Taken with the Gabler essay, you have two perspectives on the same election by brilliant writers, one from the United States, and the other from England, which offer the national and international perspectives for those who view the events in a particular way, as I do. Enjoy both pieces, and then, pause to give them some thought. We will see how the things written look in the coming years!


AVAILABLE NOW!!! As 2014 was coming to a close, I received some very exciting news from the UK that BGO Records was going to release: "TIGHTROPE"(1977); "THE BLUE MAN"(1978); and "ARROWS"(1979) packaged together as 3 Albums on 2 CDs.
This, of course, was a complete and total surprise to me. For those of you who might not have even been born prior to those years, these 3 albums featured a consistent personnel, including: Randy Brecker; Michael Brecker; David Sanborn; Don Grolnick; Will Lee; and Steve Gadd. Over the course of the albums there were appearances by these great Guest Artists: Bob James; Ralph MacDonald; Mike Mainieri; Rick Marotta; Errol "Crusher" Bennett; Jeff Mironov; David Spinozza and Rob Mounsey.
Andy Gray(BGO Records) and his staff were so kind as to allow me to have Janet Perr design a cover that would include a previously unused Jean-Michel Folon image. Many people, outside of the music business, believe that "the artist" always has something to say about how their "work" or "catalog" is to be used and treated. But, when you do not "own" the actual recordings, the artist has absolutely NOTHING to say about anything, and is almost NEVER consulted about anything. Sometimes, this can have disastrous artistic consequences - because, in the end, no one knows those older recordings better than the artist!!! So, for everything that is positive about this release, I am very grateful to Andy for allowing me to be in-the-loop about many of the significant issues!!! At present, the UK release was rescheduled for March 30th, 2015 with the USA release quickly to follow on April 7th!!!
For those of you who can read in French, or can, at the very least, deduce what is being said, once again, Frédèric Goaty has written a fantastic piece for Muziq Magazine, the title of which fundamentally translates to: "The Cult Trilology," referring to the 3 Columbia albums, now offered in this fantastic reissue package. Enjoy his great article one way or another!!!


As 2015 began, the cosmos seemed to perfectly aligned for certain events to come together. It all began when, as part of his Rediscovery reviews series, allaboutjazz.com's senior writer John Kelman wrote an incredible review of the original "EYEWITNESS" album. The review points out how this recording has informed and influenced all of Steve's work right up to the present. As news of that review began to reverberate through Facebook and the Internet, we were informed via Frédèric Goaty, one of France's premier Jazz journalists, that Peter Cato had just written an article for Muziq Magazine, which prominently features all three Eyewitness albums as part of a notion that links music from other genres to the music of The Police.
So, we hope that you will take advantage of the link and look at Peter's article which is now featured at a page that we created for it!


In early April, 2015, Matt Phillips posted a wonderful interview that we did for his Moving the River blog as it offered us both the opportunity to speak about the "CASA LOCO" recording, and everything [well not quite everything!] that went into it back in 1983. Of course, we spoke about the brilliant contributions of Anthony Jackson, Steve Jordan and Manolo Badrena. For me, it was all wonderful reflecting back on those days, and feeling the enthusiasm and energy coming from Matt about an album that he obviously loved and felt was important to the whole scheme of the music from that time. I hope that everyone who visits these pages will take a few moments and read the conversation, and reflect on the music. Old fans will surely enjoy it, and perhaps a couple generations of new fans will be brought into the fold now too! One can always hope!
I have also posted the same Interview here at the website with a page that we created specifically for it! Thanks so much to Matt Phillips for wanting to do a feature on "CASA LOCO."


AVAILABLE NOW!!! "SUBTEXT" is the title of Steve's forthcoming recording, and again, there is a subtitle in Spanish, "Subtexto en Azul."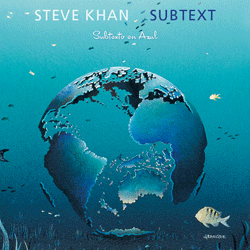 On the album, Steve continues his explorations of the grand traditions of Latin music, and this time, the core group features: Rubén Rodríguez (El. Bass & Baby Bass), Bobby Allende (Conga), Marc Quiñones (Timbal), and Dennis Chambers (Drums). At varying moments, they are joined by some great musicians, dear friends, as guest artists, including: Rob Mounsey (Keys & Orchestrations); Randy Brecker (Flügelhorn); Gil Goldstein (Accordion); and Mariana Ingold (Vocals).
In all, they perform Steve's arrangements of compositions by: Ornette Coleman: "Bird Food"(featuring Randy Brecker); Freddie Hubbard: "Baraka Sasa"; Wayne Shorter: "Infant Eyes"; Greg Osby: "Heard"; Thelonious Monk: "Hackensack"; and the gorgeous ballad, "Never Let Me Go"(Livingston-Evans). All this, plus 2 originals from Steve, and, a Cumbia driven Vallenato epic collaboration between Steve and Mariana Ingold(which features Gil Goldstein).
Once again, the music was beautifully recorded by James Farber at Avatar Studios during January 29th-30th, 2014. Michel Granger's spectacular image graces the cover, and contributes its own particular "subtext." The CD package was designed by the super-talented Janet Perr.
Again, 55 Records(Japan); ESC Records(Germany/Europe) and Tone Center Records(USA) will form this important part of the team. 55 Records released the album on May 21st, and it's safe to say that ESC Records released it on May 30th. The U.S. release is coming shortly on June 24th. If you enjoyed "PARTING SHOT," you will surely love this new one!!!
The reviews have just started to come in, beginning with a stupendous review from allaboutjazz.com's senior writer, John Kelman. It's so rare that a review is given the space to be so thorough and detailed. As the artist, one can only appreciate a moment like this and value it. Japan's JAZZ LIFE magazine has already written that the recording is: "An ambitious work, hot music filled with Khan's artistry!!!" AllAboutJazz' Dan Bilawsky writes: "....musicians know the score when it come to this venerable guitarist: Khan kills in his own special way."

For anyone who is interested in reading further Reviews and Press, you can now access them on a separate page via the link. Over the course of the run of the album, we continued to update this page and many reviews were added to it. Thanks to everyone from the public, to radio programmers, and the press, who have been so supportive of the recording since its release in late June, 2014.

---
On Wednesday, October 15th, 2014, I trekked out to Brooklyn and the home, and home studio, of singer/songwriter-drummer-podcast host, Leo Sidran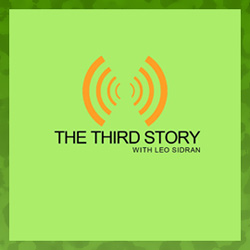 to sit down for a 90-minute conversation that ended-up being closer to 3 hrs.! You can listen to Episode 21: Steve Khan via this link. Past episodes have featured dear friends and respected colleagues, including: Will Lee; Michael Leonhart; Rob Mounsey; James Farber; Janis Siegel, and most recently, Gil Goldstein. Though I have known Leo and his well-known father, Ben Sidran, for the longest time, it was still a great honor and privilege to be asked to be a part of this wonderful series of conversations. If I had a great speaking voice like Leo possesses, I would probably enjoy doing these kinds of things too, but, as you'll hear, I don't think that I was gifted with such a voice. Our conversation was wide-ranging and, as it would be for any such setting, the fact the Leo had such a great understanding and empathy for my particular career path and philosophy, it made everything so very easy. I enjoyed it all very, very much. My most sincere thanks to Leo for making it such a fantastic experience.
In a recent development, for the first time, Leo has decided to add another portion of our interview, one that does not appear in the podcast, to the website, and you can now access the Bonus Segment just below the main interview.

---
Here is the most extensive interview that I have done in years, or it's certainly the only one that I can recall where the entire conversation has been shared in print. My most sincere thanks to Adam St. James and everyone at Guitar.com for affording me this kind of open-ended forum. Adam did a spectacular job transcribing a phone conversation that lasted longer than an hour!!! I hope that everyone who takes the time to read it will enjoy it.
Of course, over the years, I have realized that a spoken interview was meant to heard, and often times, when it goes to print and then becomes prose, what was intended to be heard just does not read well on the page. So, I have labored to revise many of my responses so that they now read as was my original intention or hope. The Interview by Adam St. James can now be accessed via this link as well. It's up to you.

---
This past May 29th, 2014, I had the privilege and honor to finally meet Juan, Andrés, and Mariano, the members of the brilliant group from Argentina, Aca Seca Trio, and to hear them perform at Joe's Pub here in New York City. I wrote a personal reflection of that experience in both Spanish and in English, and posted it here at the website for all to read. If you are not familiar with their music, just click on any of the photos, and that will transport you to YouTube and a video of any one of my favorites tunes of theirs. I hope that they can make a speedy return to the USA for more concerts. Buen viaje hermanos!!!

---
FINALLY AVAILABLE @ iTunes!!! After years of intense hard work, communications, and negotiations, the following recordings can now be downloaded via iTunes!!! Presently you can get: "TIGHTROPE"; "THE BLUE MAN"; "ARROWS"; "THE COLLECTION"; "EVIDENCE"; "EYEWITNESS"; "MODERN TIMES"; "CASA LOCO"; "LOCAL COLOR"; "PUBLIC ACCESS"; "LET'S CALL THIS"; "HEADLINE"; "CROSSINGS"; "GOT MY MENTAL"; "THE GREEN FIELD"; "BORROWED TIME"; "THE SUITCASE"; "YOU ARE HERE"; "PARTING SHOT"; and, of course, "SUBTEXT"!
As of January 28th, all the significant catalog recordings will have been made available. My most sincere thanks to everyone involved in making this become a reality. Check back here for more news.

---
During the evening of Sunday, February 10th, 2013, I received a wonderful phone call from engineer James Farber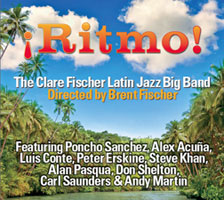 informing me that, Brent Fischer had just accepted the Grammy for his beloved father, Clare Fischer, as ¡RITMO!" had won a Grammy for the BEST LATIN JAZZ ALBUM!!! I was so happy for Clare, his dear wife Donna, and, of course, and his son Brent, who keeps the flame burning brightly!!! James also recounted to me that, in Brent's acceptance speech, he actually made the effort to mention me, along with fellow participants: Peter Erskine and Alex Acuña. That was so very thoughtful and kind of Brent. For me, it was, quite simply, a great, great honor to have played a small part in the recording! Congratulations to everyone involved!!! Bravo!!!
If you would like to read about my participation on the tune, "San Francisco, P.M."(Dedicated to Cal Tjader) which opens the CD, just click on the CD cover, and it will take you there. I hope that you will enjoy reading the story, and, of course, hearing the solo.

---
AVAILABLE!!! "PARTING SHOT" is Steve's brand new recording, and it features Eyewitness veterans: Anthony Jackson, Dennis Chambers, and Manolo Badrena, alongside the tremendous Latin percussion team of Marc Quiñones and Bobby Allende.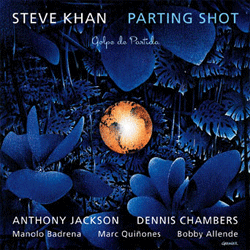 Together they perform 7 new compositions from Steve, and his interpretations of "Bye-ya" by Thelonious Monk, and both "Chronology" and "Blues Connotation" by Ornette Coleman. Recorded by James Farber at Avatar Studios on November 6th-7th, 2010, and mixing was just completed this past January 7th.
This spectacular recording features performances by guest artists: Rob Mounsey(keyboard & orchestrations), and, Steve was honored to have both Andrés Beeuwsaert(Aca Seca Trio) and Brasilian vocalist, Tatiana Parra singing the vocalese section on Steve's tune, "Influence Peddler." Perhaps, though it might be too bold to say, this is one of the first Latin Jazz recordings led by a guitarist in decades.
The simultaneous releases are now scheduled as follows: 55 Records(Japan) will release the CD first on April 20th. And then, on April 26th, both Tone Center Records(USA) and ESC Records(Germany/Europe) will follow. The cover art features another one of Steve's favorite artists, the great Frenchman Michel Granger. It has been a longtime dream for Steve to be able to feature a cover by Granger.
The reviews have just started to come in, beginning with great reviews from allaboutjazz.com's senior writer, John Kelman and Mark F. Turner. Please make certain that you also take some time to read STEVE'S PERSONAL REFLECTIONS on each tune from "PARTING SHOT." When "In the Artist's Own Words" was launched as a feature during 2006, the very first presentation was Steve's Personal Reflections on "THE GREEN FIELD
."
For anyone who is interested in reading further Reviews and Press, you can now access them on a separate page via the link. Thanks to everyone from the public, to radio programmers, and the press, who have been so supportive of the recording since its release in early May, 2011.

---
Recently, Steve was asked to participate in guitarist Adam Levy's survey, "13 QUESTIONS." The long list of participants, answering Adam's inventive questions, includes: Bill Frisell; Steve Cárdenas; Mark Goldenberg; Charlie Hunter; and, of course, the author himself!!! Hoping that everyone will take a moment to peruse the site and read Steve's responses as well as those of his colleagues.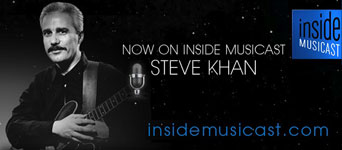 On Monday, May 24th, Steve will be the guest of both Rick Such and Eddy Cabello as Inside Musicast presents an hour-long interview, including songs that span the scope of Steve's recording career. The podcast will be archived from that date forward, and anyone can then access the interview. Many thanks to both Rick and Eddy for their meticulous preparation and for the fun and energetic dialog that took place that evening.
Not long after Steve's interview aired, Rick and Eddy presented a wonderful interview with Rob Mounsey. Hoping that everyone will get to hear both!!!

---
NOW AVAILABLE!!! In 2008, we announced that Tone Center Records(U.S./Canada), ESC Records(Germany/Europe), and 55 Records(Japan) had all released the double "live" CD titled: "THE SUITCASE." Needless to say, it was very exciting to see this finally happen!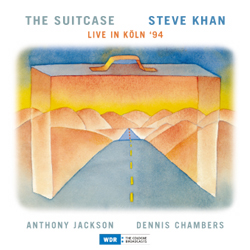 This incredible recording features Steve alongside Anthony Jackson(Contrabass Guitar) and Dennis Chambers(Drums) and was recorded on the last night of their European Tour on May 17th, 1994. The recording took place as part of a live radio broadcast for WDR as the trio performed at Stadtgarten Club in Köln, Germany. Recorded digitally and direct to a 2-track master, the CDs feature truly remarkable performances from all three players, but, it is easy to recognize that these are historic representations of the art of both Anthony Jackson and Dennis Chambers. What takes place on the nearly 18-minute version of Joe Henderson's "Caribbean Fire Dance" will be talked about for a long, long time. Anthony Jackson's solo 'prelude' to the title track is also a truly outstanding moment.
Once again, the CD is graced by a beautiful 'suitcase' image from Jean-Michel Folon which makes this package extra special for Steve. The release of this now legendary concert is not without a rather remarkable story. Please take a moment, click on the cover image link, and read about it. Some details have been left out to protect the innocent!
For anyone who is interested in reading the Reviews and Press, you can now access them on a separate page via the above link. Thanks to everyone from the public, radio programmers, and press who have been so supportive of the recording since its release.
As the year comes to an end, "THE SUITCASE" was just named one of the BEST JAZZ CDs OF 2008 by allaboutjazz.com's senior writer, John Kelman. We are, of course, most appreciative of this honor!

---
The Grammy nominated "BORROWED TIME" was released on June 5th,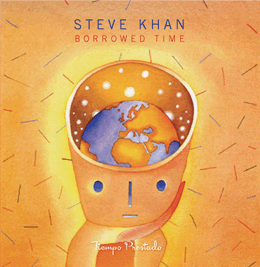 and since the first reviews had been published, the reaction to the recording from the music critics seemed to be pretty unanimous in favor of Steve's latest work. For anyone who is interested in reading the Reviews and Press, you can now access them on a separate page via the above link. Thanks to everyone from the public, radio programmers, and press who have been so supportive of the recording since its release.


But, before we get to the reviews, please make certain that you read STEVE'S PERSONAL REFLECTIONS on all the tunes from "BORROWED TIME." When this new column, "In the Artist's Own Words" was launched during 2006 by allaboutjazz.com, the very first feature was Steve's Personal Reflections on all the tunes from "THE GREEN FIELD." In both cases, they were originally written to give some personal and historical perspective for what were to be the Japanese liner notes, it is now hoped that everyone can benefit from reading just what went into both of these wonderful recordings.

---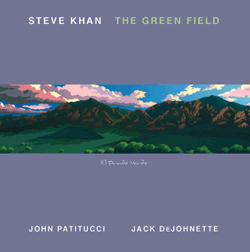 Though its release in early 2006 seems like such a long time ago, "THE GREEN FIELD" sessions from May 23rd & 24th, 2005 still remain fresh in the memory.
The last of the recorded tracks from those sessions, "Dreamsville" written by the great Henry Mancini, will still have to sit and await a new opportunity for a release as there just was not any room for it to fit on either of the last two CDs. Right now, it's hard to imagine just how that one isolated track could fit somewhere else.
For those of you who are still interested in reading the Interviews and Press associated with this release, you can now access them on a separate page via the above link.
Not to be redundant, but, another very popular feature has been "STEVE'S PERSONAL REFLECTIONS" on the recording, and those are available via the wonderful allaboutjazz.com website.

---
For those of you who have been asking about and requesting videos or DVDs, finally there is something that you can see on YouTube. For years I have had two VHS cassettes sitting in a DVD case and basically just collecting dust. They come from a concert that was recorded on February 7th, 1992 at New York's then very famous club, The Bottom Line. On that night, the trio consisted of Jay Anderson(Ac. Bass) and Ben Perowsky(Drums). We had been logging miles together as trio, along with some other great bassists and drummers for a few years and a nice chemistry had developed by the time we did this particular gig. Looking back, it's ironic that "HEADLINE" had been recorded just 3 weeks prior to this concert.
Recently, through the website, I had received several e-mails, mostly from Europe, from fans telling me that they now had bootleg audio versions of this concert, which included 14 tunes over 2 sets. I had no idea that anyone could have found these things because the videos were done for a production company in Japan. I have actually never even seen these performances, as I don't like watching such things. However, it was because of these e-mails that I decided to seek out the help of my good friend and renowned video artist/editor, Phil Fallo to make an artistic transfer from the VHS format to DVD. I, of course, kept both Jay and Ben 'in the loop' about our progress in doing this. We decided that we would have my webmaster, Blaine Fallis, upload four(4) tunes to YouTube and see what happens. So now, you can watch and listen to the following tunes via these links: "Tyrone" which appeared on the "HEADLINE" CD. "Masqualero" which appeared on the "LET'S CALL THIS" CD. "Gee Baby Ain't I Good To You" which I have never recorded, and we rarely ever played this one live. It is my little tribute to Kenny Burrell. And finally, "Caribbean Fire Dance" which appears on both "HEADLINE" and now "THE SUITCASE."
From a purely historical perspective, I suppose that it's interesting to note that "CROSSINGS" was recorded just two years later. And, "THE SUITCASE" was recorded on tour just after that. Jay, Ben and I hope that everyone will enjoy seeing these videos.


I suppose that, sooner or later, everything just catches up to you.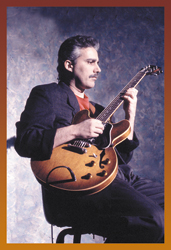 A fan from Europe wrote and asked me if I had seen myself on YouTube. My answer was: "Of course not!" So, I clicked on the link which he had sent, and suddenly I was taken back to May 11th, 1990, when I taped a local public access cable TV show called: "THE GUITAR SHOW" for my good friend, and neighbor, Christian Roebling. Over the years, he probably did shows with 100+ guitarists, some legendary, some less so. When the show no longer aired, he tried to find someone to put them out in DVD format, but those efforts initially failed.

Now, Stefan Grossman is about to release various performances from this series in DVD. Lucky me, my performances of both Larry Young's "Backup" and my own tune, "Dr. Slump" will be part of "JAZZ MASTERS: VOLUME ONE" of the DVD packages. Also featured on this very special DVD will be Pat Martino and Bill Frisell, obviously both great artsits, respected colleagues, and good friends. Stefan recently was kind enough to send me the still photo portrait lifted from the video. Before having seen it on the back of the DVD package, I had never seen this shot. It's nice to be able to share it here for the first time.
---
KHAN'S KORNER which is divided into KORNER 1 and KORNER 2 to better serve all our visitors.
KORNER 1, which now has 115 hand-written solo transcriptions, offers classic solos by: Miles Davis, Jim Hall, Grant Green, Wes Montgomery, Thelonious Monk, Freddie Hubbard, Herbie Hancock, Michael Brecker, Stanley Turrentine, Clare Fischer, Chick Corea, Pat Martino, Kenny Burrell, Paul Desmond, George Benson, George Coleman, Steve Grossman, John Scofield, Gabor Szabo, Leonardo Amuedo, and Robben Ford, plus corresponding mp3s.

During the most trying of times, April, 2020 arrives and for some sense of relief and distraction, a great Stanley Turrentine solo on "My Shining Hour" is featured from his 1961 Blue Note album, "DEARLY BELOVED." The performance features: Shirley Scott (organ) and Billy Brooks (drums).

With the September, 2019 release of Steve's new CD, "PATCHWORK," we are in the process of presenting some 7 Steve Khan solos over the coming months from the new album. During the month of September, we posted his solo on his own composition "Naan Issue." in October, the Thelonious Monk-Kenny Clarke classic, "Epistrophy." For November, Joe Henderson's "A Shade of Jade." For December, we will be presenting Steve's solo on Bobby Hutcherson's gorgeous ballad, "Bouquet" performed as a bolero in 3/4. The new year of 2020 will open with Steve's solo over Ornette Coleman's "C. & D.." In February, the 2nd spectacular ballad, this time a standard by Lerner & Lane, "Too Late Now" will be available. And finally, in March, Steve's nylon-string solos during Jorge Estrada's brilliant tune "Huracán Clare" will be offered. Always stay tuned to these pages!!!

To celebrate the BGO Records(UK) reissue of PUBLIC ACCESS-HEADLINE-CROSSINGS remastered, and packaged together on 2 CDs, we are presenting Steve Khan's solo, that originally appeared on CROSSINGS(Verve) in 1994. This 4-chorus solo was performed on Thelonious Monk's classic composition, "Think of One" and receives one of Steve's early Latin-influenced treatments driven by the interactive brilliance of Anthony Jackson(contrabass guitar), Dennis Chambers(drums) and Manolo Badrena(percussion). As Bill Milkowski put it in his liner notes:
"Hearing these records again reminds one of just how radically fresh and experimental they were when they came out 25 years ago. There was no template for this sound back then. The spaciousness and misterioso vibe, the brilliant use of counterpoint between guitar and bass, the bizarro midi percussion floating in and out of the mix, all while still being grounded by an insinuating Latin undercurrent... it was unprecedented for the '90s.....and there is still nothing quite like it!"

2018 opened with another incredible solo from Michael Brecker on the title track from bassist Eddie Gómez' 1988 album, "POWER PLAY." The tune also featured co-composer LeeAnn Ledgerwood(keyboards) and, for the 1st time only on this song, drummers Steve Gadd and Al Foster playing together. Mike's solo begins with thematic units to develop and along that journey, he explores the full range of his saxophone, a remarkable four octaves. This 40 bar solo over a funk-oriented 16th-note groove with two modal m7(9sus) chords is sure to become a favorite with those who visit these pages.

As 2017 continued, we offered Wes Montgomery's wonderful solo on "Stella by Starlight" from the album DANGEROUS which was originally recorded in 1961 with brothers Buddy and Monk Montgomery. Finally, the year closed with the presentation of Steve's own solo on Greg Osby's "Concepticus in C" from Steve's most recent CD, "BACKLOG." Steve is once again supported by the spectacular keyboard work of Rob Mounsey alongside the very funky cha-cha-cha rhythms of Marc Quiñones(timbal & güiro), Bobby Allende(conga) and Rubén Rodríguez(baby bass) alongside the most serious fatback groove of Mark Walker(drums). While negotiating the complex harmonies, Steve's solo is rooted in the blues language. One of the best tunes on the album!
In 1979, keyboardist Neil Larsen recorded the 2nd of his two albums for Horizon Records, HIGH GEAR, and on that album, Michael Brecker contributed two brilliant solos. For September, we feature his solo on the Larsen penned tune, "Nile Crescent." Buzz Feiten(Guitar), a fixture with Larsen, joins Abraham Laboriel(El. Bass); Steve Gadd(Drums); Paulinho Da Costa(Perc.) and Joe Farrell(Flute) on the track. Michael's 22-bar solo over a Phrygian mood embodies all the wonderful qualities in his playing. As it has now been some 10 years since Michael left us, it only seems fitting to pay tribute to him again, and just how glorious his body of work remains. He was so very special. Hoping that everyone enjoys this solo to the fullest.
Then in October, we featured his solo on the Larsen penned tune, "Demonette." Buzz Feiten(Guitar), a fixture with Larsen, joins Abraham Laboriel(El. Bass); Steve Gadd(Drums); and Paulinho Da Costa(Perc.) on the track. Michael's solo here is really more about being right in the center of the flow of the time feel, and swingin' really hard! To these ears, there is not one single note in this solo that ventures outside the harmonies, not one! How rare is that for a Michael Brecker solo? There is hardly any chromaticism within the solo. How rare is that? It proves one thing at the very least, if you play with aggressive and swinging time, you can play anything, and it's going to work - and, more than this, you can play completely inside, and have a monster of a solo! See if you don't feel the same way.

With the February, 2017 release of Steve's CD, "BACKLOG," we have embarked on a journey of presenting some 7 of Steve's solos from the new album. During the month of March, we posted, two weeks apart, his solos on: Thelonious Monk's "Criss Cross" and then, Ornette Coleman's "Latin Genetics." For April, we will be presenting Steve's solo on Bobby Hutcherson's great tune, "Head Start." May offered Steve's solo over the Cahn-Van Heusen tune, "Our Town" which was transformed into a gorgeous Afro-Bolero. June offers the steel-string acoustic guitar feature from the album, and a solo over a 2nd Hutcherson tune from his 1966 "HAPPENINGS" album, "Rojo." July and August will present the final 2 solos by Steve, over Ornette Coleman's "Invisible," and the Mandel-Mercer classic, "Emily." Always stay tuned to these pages!!!

We began 2015 with Michael Brecker's great solo on "Sound Off" from his "TIME IS OF THE ESSENCE"(Verve) CD. This was followed by a wonderful Chick Corea solo from Airto's great album "FREE"(CTI) on the tune, "Creek"(Arroio). As the year progressed, we presented another incredible Michael Brecker solo from an early and never released Steve Khan demo from 1972, "The Hobgoblin Stomp." Then, a Kenny Burrell solo from Ed Thigpen's album "OUT OF THE STORM"(Verve) on the unique arrangement for "Cielito Lindo." And finally, another wonderful and very swingin' Stanley Turrentine solo from his album "NEVER LET ME GO"(Blue Note) on the Gershwin Bros. classic, "They Can't Take That Away From Me."

From June through December of 2014, we presented Steve Khan's solos from "Bait and Switch"; "Hackensack"; "Never Let Me Go"; "Blue Subtext"; "Bird Food"; and finally, closing out the year with, "Cada Gota de Mar."

Dating back to February of 2013, with great pleasure that we are offered Steve Grossman's fantastic solo that appeared on the 1971 Miles Davis album, A TRIBUTE TO JACK JOHNSON(Columbia). This 3-minute plus exploration of what one can do over a static Bb7(sus) chord, when accompanied by: Herbie Hancock, John McLaughlin, Michael Henderson and Billy Cobham, gives cause for great thought and study. If you haven't heard this before, pay special attention to it now!!!
Hoping to lift the spirits of those musically inclined, we presented to you Pat Martino's swingin' 2-chorus solo over the Cole Porter standard, "It's All Right With Me," which appears on the 1977 Willis Jackson album, BAR WARS(Muse). Accompanied by organist Charles Earland and drummer Idris Muhammad, this particular solo would have been part of a 2nd Volume for Steve's book, "PAT MARTINO - The Early Years" but alas, it was not to be.
There was a nice chill in the air as October arrived that year, and to keep things warm and cozy, we presented Steve Khan's wonderful 1/2-chorus solo over a Clare Fischer classic composition, "San Francisco, P.M.," which appears on the just released album ¡RITMO!(Clavo) by the Clare Fischer Latin Jazz Big Band led by Clare's beloved and devoted son, bassist/arranger, Brent Fischer. Of course, there's a lovely story that accompanies the transcription, and which is shared in Steve's analysis. There's a good reason why this tune was chosen to open the album, and why Steve's solo is the first one as well! Don't miss this one!!!

KORNER 2 continues to house the lead sheets and arrangements to Steve's originals. During 2014, we presented Steve's two originals from "SUBTEXT" which included: "Bait and Switch"(El Estafador) and "Blue Subtext"(Subtexto en Azul).
Dating back to 2011, we presented Steve's seven new compositions from "PARTING SHOT." During May, our first presentation was, "Change Agent." This was followed by: June, "Los Gaiteros"; July, "María Mulambo"; August, "Influence Peddler"; September "When She's Not Here"; October, "Zancudoville"; And finally, during November, "Just Deserts," a spectacular Latin percussion descarga was the feature. If you missed them then? Don't worry, they're still there, and easy to access.

---