Herbie Hancocks's Acoustic Piano solo on:
"Samba(Struttin') with Some Barbecue"(Louis Armstrong)



During the late 1960s, before there was a CTI record label, Creed Taylor produced some very beautiful recordings for the A&M label, presenting artists such as: Wes Montgomery; George Benson; Antonio Carlos Jobim; Quincy Jones; Milton Nascimento; Herbie Mann; and Paul Desmond. Just as it was with Creed's earlier production work for Verve, the high-gloss production values and compact presentation of the songs seemed to garner these recordings nothing but bad reviews, from critics and musicians alike.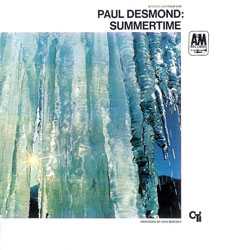 For me, many of these recordings stand today as works of great style and grace. Say what you will, but Creed Taylor has always selected artists who have, at the very least, the gift of stating a melody with tremendous warmth and a very personalized touch. For this alone, these recordings stand tall. Even though the soloing was, by most standards, constricted to a chorus, a part of a chorus, or a prescribed number of bars, all the featured players offered improvisations of a special relaxed dignity. During this period, alto saxophonist Paul Desmond made two gorgeous recordings, recordings which had a decided Brazilian lilt to them. The first of those recordings was titled "SUMMERTIME" and featured the wonderful arrangements of Don Sebesky. The opening track is a Brazilianized, samba-inflected, version of Louis Armstrong's classic, "Struttin' With Some Barbecue." Propelled along by the drumming of Airto Moreira, bassist Ron Carter, and the nylon-string guitar work of Joe Beck, the track features a wonderfully sparse 2-chorus piano solo by the great Herbie Hancock, which I have chosen to present here.
First, allow me to offer a few notes on the presentation of this transcription. It was done many years ago and for the express purpose of helping some of my guitar students develop a greater sense of melody in their soloing. With this in mind, you should know that the solo is written in the range of the guitar which means it is written an octave higher than it actually sounds. There are also passages which Herbie Hancock plays with both hands(B.H.) two octaves apart though I have only written out the right-hand. So, with these factors in mind, let's now take a look at this piano solo.
We'll begin with the basics. The song is in what I would describe as an A-A' 32-bar form with each [A] being 16-bars in length. Again Hancock plays two full choruses. Perhaps because of the Brazilian attitude of the arrangement, Herbie plays this solo in a Jobim-esque fundamentally one-handed(the right-hand) style. To my mind, this allows the solo to speak as a melody through the rhythms of the accompaniment. The solo begins with a device certainly familiar to fans of the great Miles Davis Quintet of this same time period. When you hear the last phrase of Paul Desmond's solo, which precedes the piano solo, you can then hear Herbie Hancock pick-up on that, and utilize and expand upon it as a point of departure for his OWN improvisation. This motif carries through the first 8-bars of the solo.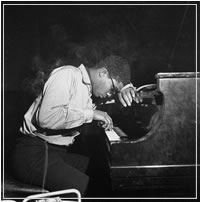 One of the elements in this solo which I love to point-out to younger players (players just coming to understand the 'language' of jazz....just how a jazz line is configured) is Hancock's usage of certain 'classic' jazz line shapes. Shapes which, when played, will immediately announce that one is speaking the language properly. The first is a classic minor-7 line which appears in bars 12-14. Modally speaking, one would essentially be playing Bb-Dorian(Bb, C, Db, Eb, F, G, Ab) in these bars, but, you'll notice Herbie's usage of an A-natural. This pitch, coupled with the 'C' surround the root of Bb in a linear way which gives a sense that there is V7 chord(F7) when there never is. You see him do this again in bars 20-21, this time on an Abm7. Then in bars 22-24, he offers a classic line configuration on the GbMaj7 chord. Here there is not a single chromatic passing tone or neighboring tone, it's just the way the line is presented. All within the Gb major scale though the 4th or #4th is left-out. It's also worth mentioning the jazz-style 'ornamentations' Herbie presents. These stylistic elements are things where rhythm section instruments attempted to emulate the phrasings of the trumpet and saxophone. Listen carefully to bars 14, 44-45 and 62. These 'mannerisms' are VERY subtle and may not seem like much but they are also 'essentials.'
Another element in any great solo is the flow of ideas or the development of small ideas, motifs. I've already pointed out that the opening phrase came from Paul Desmond, but further examples of small ideas Herbie develops can be found in bars: 17-20; 26-29; 33-36; 49-52; 57-61, and 63-64. As guitarists, we tend to have a particular way in which lines have been played on our instrument and one of the reasons to study the work of other instrumentalists is to try and get AWAY from things that lay naturally on the guitar. Like many players, I tend to enjoy looking at how another player approaches various V7(alt.)-I Maj or i-min7 chords. In this solo, Herbie offers two nice little ones in bar 32 and in bar 40, one resolving to major and one to minor.
In my view, this is a wonderful solo to study for a young player, and even for a very experienced player. It offers a great example of 'less is more'....that a player with the extraordinary gifts of a Herbie Hancock can walk-in, sit-down, and play, what seems to be, a solo in such an effortless manner. He never sounds like he's 'trying too hard,' there is a flow and purpose to everything he plays. He possesses the gift of having the good taste to blend-in with the style of Paul Desmond and the attitude of the music. As with any solo transcription I would offer, it is my hope that you enjoy the playing and learn a great deal from this most special of players, Herbie Hancock.



[Photo of Herbie Hancock by Francis Wolff, Englewood Cliffs, New Jersey, December 24th, 1964.]