When I was growing-up in Los Angeles, mostly during the '50s & '60s, my father, lyricist
Sammy Cahn
's main songwriting partner was the great
Jimmy van Heusen
. Of course, to me, a kid, he was just
Uncle Jimmy
- and I thought that he was wonderful - certainly very kind to my sister Laurie and me. I remember Dad would often call him "Chester" and I was confused by that for years. Until one day, I finally had the courage to ask my father, "Why do you always call Jimmy,
Chester
? And my father responded by saying, "because his real name is
Chester Babcock
." I just thought that that was really funny. Over my own relatively long life, people, including musicians, friends and fans alike, tell me how great all the songs were that Dad wrote with Jimmy van Heusen. Often, if there's leisure time, I will tell them that, "Yes, some of those songs are wonderful, but.... if you consider just
8
of the songs that Jimmy wrote, mostly, with lyricist
Johnny Burke
, those songs outshine almost any list you could make." If you consider how many times Jazz musicians, all the giants, and all of the great vocalists have interpreted these very
8
songs, ANYONE would be beyond thrilled to have written them, and in turn, could consider them a
catalog
- just those
8
songs!!!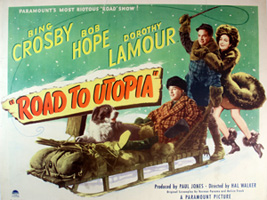 So, take a look at this list that I have assembled, and you can decide for yourself: "Here's That Rainy Day"; "But Beautiful"; "Polka Dots and Moonbeams"; "Oh You Crazy Moon"; "It Could Happen to You"; "Like Someone in Love"; "Darn that Dream" (w/ Eddie DeLange); "I Thought About You" (w/ Johnny Mercer) and "Nancy (with the Laughing Face)" (w/ Phil Silvers). To me, every time I look at or hear those songs, I am simply speechless at the depth of this work.
So, sometime after my arrival in New York in 1970, I heard pianist
Hal Galper
's remarkable 1971 album, "
THE GUERILLA BAND
"(Mainstream) and tucked away neatly within this album I saw a song titled, "
Welcome to My Dream
" and who were the composers of this song? None other than, Jimmy van Heusen and Johnny Burke. Up until that moment, I thought that I knew all that there was to know about Uncle Jimmy and his writing history. How could I not have known about this song? To me, there are so many remarkable things about it, stories within the story, but as I began to assemble my transcription and analysis of
Michael Brecker
's tenor sax solo on Hal Galper's original, "
Point of View
," which closes that album, I was drawn back to "Welcome to My Dream" and this started me down a wondrous journey of research and discovery. I entered "Welcome to My Dream" into both YouTube and iTunes expecting to find versions by all of the great singers from years/decades past. I was stunned to only find versions by two recognizable names:
Bing Crosby
(1946) and
Dinah Shore
(1945). The latter's version actually preceded Bing's classic version by one year! I wanted to buy Bing's version for my iTunes library, and could not find the YouTube version that I had heard anywhere at iTunes. Bummer!!! Finally, I found a shorter version on the soundtrack album for the film "
ROAD TO UTOPIA
"(1946) which starred Bob Hope, Bing Crosby and Dorothy Lamour. It was all so remarkable to me - and, in the end, a lot of fun. Oh, I almost forgot. I did find a nice version by
George Shearing
(2004) which was very much in his style and appears on perhaps his last recording.
Having spent so much of my life and musical life immersed in the study of Latin music, Latin Jazz and trying to make a more prominent place for the guitar within that wondrous genre and its own body of work, I began to look at Hal Galper's very creative and imaginative arrangement of "Welcome to My Dream" with its opening Rhodes montuno in 6/4 to be a revelation. But hearing the way the melody was stated by
Randy Brecker
(Trumpet) and
Michael Brecker
(Tenor Sax) brought home other feelings of love and respect for everyone involved in Hal's recording.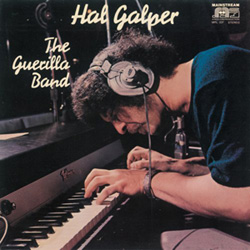 And, I just had to sit down and write out a lead sheet for my own enjoyment and discovery to actually see what I was hearing. The exercise of doing that was jaw-dropping - especially because, I still had not even heard the Bing Crosby original. When I finally heard that? I had to write-up a simple lead sheet for the chords in Bing's version. I couldn't believe it. For a standard song from that time period, the mid to late '40s, the post-WWII era, there really aren't any surprising changes or interesting van Heusen melodic twists. It's a simple song in its way. When you return and really listen to and look at what Hal Galper did to transform that same song into a magical piece of Latin Fusion, it is just miraculous. Somehow, the same melody was colored by all dominant 7(sus) chords - rich harmonies. And then, taking what is in essence a love song, a ballad, and suddenly it becomes a pulsating 6/4 Latin epic. To repeat myself, this is where the imagination of a great musical mind like Hal Galper can only be admired.
I can't say enough about the way that Mike and Randy interpret this melody together. It is the perfect example of beautiful ensemble playing, and the very intuitive phrasing connection that existed between these two remarkable brothers. They seemed to always have a way seemingly moving together as one while each one retained his own voice and sense of phrasing - often laying back behind the time. This feeling that they project through music can make one think that they are
floating
over the time feel. It is that feeling that I wanted to better understand - and so, in writing out a lead sheet in 6/4, it was so much easier to see what was actually going on and how Randy and Mike could take the written notes and bring them to life in a very, very personal way. And that makes Hal's interpretation positively magical. The other featured players on this album were:
Bob Mann
(Guitar);
Victor Gaskin
(El. Bass);
Steve Haas
(Drums); and
Don Alias
(Drums).
---
Those Hal Galper sessions were all recording sessions we so looked forward to doing. Hal was always well-prepared, and we had played some of the music on gigs - so we just basically set-up and played. They are so far in the past, a time when we were working in the studios just about every day, so everything tends to run together in my head.
As for playing the heads with Mike on anything, we just had a special 6th sense to phrase together. The pitch was always nailed, and we never had to talk about the phrasing. Conceptually, we always heard things the same way: the use of that particular vibrato on certain notes, or lack thereof on other notes; the bending of other notes; adding grace notes, things like that. So we developed that so-called Brecker Sound together without any discussion. It was just natural. There was a certain joie de vivre in our sound that people seemed to latch onto! We just loved playing together, and that's about all that I can say about it! - Randy Brecker

---
It is my hope that being able to see and study these extra lead sheets, plus the opportunity to examine the great
Michael Brecker Solo
on Hal's "
Point of View
," will inspire everyone to listen intently to this great album by
Hal Galper
. Then you can feel free to explore some or all of his recordings that followed during the '70s and beyond. During that period of time, Hal Galper spent a couple of years in
Cannonball Adderley
's Quintet before moving on to spend quite a period of time with another great alto saxophonist,
Phil Woods
.