"For of all sad words of tongue or pen, The saddest are these: "It might have been!" - once wrote poet John Greenleaf Whittier.

I was thinking about this quote in relation to how I began the DISCOGRAPHY pages for each of the last 3 albums: "PARTING SHOT"(2011), "SUBTEXT"(2014) and "BACKLOG"(2016). I was being most sincere while reflecting in those moments that I believed that each one, for similar and differing reasons, was going to be my last recording. And yet, as time passed and life moved along, there came a flash of inspiration, and I was, yet again, driven to realize another musical dream and, in doing so, take another step further down this particular musical path.
Now, with the existence of "PATCHWORK," I can honestly say that I feel a little closer to having completed this exploration into carving out a particular musical territory that offers a perspective on just how the guitar, as I hear it and conceive of it, can be an important voice in Latin Jazz - now, and in the future. Now, looking back over the past 4 albums, the constants in the rhythm section have been Marc Quiñones and Bobby Allende.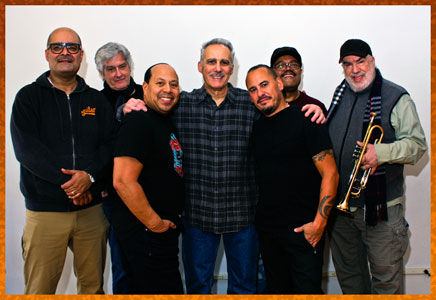 Though he joined us on parts of "BORROWED TIME"(2007), the legendary bassist Rubén Rodríguez has been a huge part of the last 3 albums. Fortunately for me, production coordinator Jill Dell'Abate was able to pull things together, and this time we were joined for a 3rd time by the spectacular drumming of Dennis Chambers. Though in 1,000 ways, seen and unseen, heard and not heard, Rob Mounsey has been a presence through each recording since "THE GREEN FIELD"(2005), but as the direction and dedication to Latin Jazz became 100% with "PARTING SHOT"(2011), the role of Rob Mounsey's keyboards went from only appearing on one tune to now, on "PATCHWORK," appearing on almost every single tune. It was not my plan that things would go this way, it just evolved into what you now will hear, and I couldn't be more pleased about anything. Once again, there are some wonderful guest performances by Randy Brecker, Bob Mintzer and Tatiana Parra, and those contributions will be highlighted as the songs are written about.
If I may return to the Whittier quote, if I had allowed myself to just sit here, wondering "what might have been IF" I had not recorded, instead of summoning all of my drive and courage, and doing it in the face of knowing that few might actually care enough to want to hear it - I would be forced to live the rest of my life with a deep, deep regret that could never be fixed. And so, I no longer have to even consider that, because the work has been done - and to everyone who became a part of this journey, you are forever and always in my heart and memories. Thank you so, so very much!

For "BACKLOG," as there were 10 tunes, I thought that one might try breaking the album up into two halves, 5 tunes apiece. I believed that doing this offered a good sense of the music in total, and would give the listener a nice break in the middle. It was just a thought, because I still don't really believe that anyone is going to sit and listen to nearly 70-minutes of music in one sitting, without a break. This just doesn't happen in contemporary life! Now, with "PATCHWORK," on the physical CD, there are 9 tunes and a total music time that borders on 78-minutes. So, this time, perhaps dividing the album into groups of 3 songs might seem like a reasonable approach, but, not so fast! With one tune being nearly 11-minutes and another being over 15-minutes, that's asking a lot right there. So, I'm out of suggestions, you, the listener, will just have to figure what is going to be best for you!!! Now, I will attempt to talk briefly about each tune, though breaking them in half as it were.

The challenge for me on each of the last 4 albums, but that could be taken back to "THE GREEN FIELD"(2005) has been to discover just how I can take songs that are, for me, iconic and have impacted my life, my musical life in a most profound way, and transform them into Latin interpretations that respect both the song and this vibrant and unique genre? The process of executing this is never easy for me, and can last right up until the last moment as a recording nears completion. But there is something so engaging, daunting and rewarding to labor for hours, days, weeks, months until I believe, truly believe, deep within myself that I have something to offer to the piece, and to those who will eventually interpret it with me. As I never envisioned being able to do another album, returning to this part of my creative process did not even seem like a distant dream.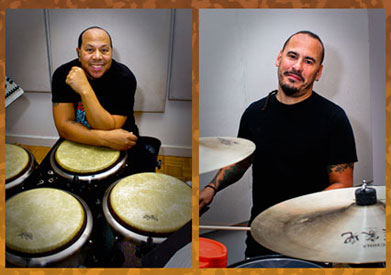 I never actually thought that I would be sitting here ever again and writing like this about what helped to form and to frame this experience. As always, I want to speak about each of these songs, so special to me, and perhaps bring to you, the reader, a better sense of what you will eventually hear.

If one must know the truth, it is that it was "Epistrophy" that spawned this entire album. Somehow, a simple conversation about the rhythmic components hinted at in various versions helped me to relocate my creative center which, as it often seems to do, had gone into hiding after "BACKLOG" when another painful period of self-doubt had consumed me. For a time, I wasn't at all certain just where to place this performance in the final sequence of this music, conceiving it as one entire piece of work. But, once we had recorded it with everyone, my perspective changed, and I felt certain that I wanted to open "PATCHWORK" with this Thelonious Monk-Kenny Clarke composition. It's a bit hard to pinpoint one interpretation by the composer as the "source" of inspiration for me. But, if pressed, I would say that the two versions that featured John Coltrane are essential. Both were recorded in 1957, "MONK'S MUSIC"(Riverside) and then the release, many years later, of "THELONIOUS MONK QUARTET with JOHN COLTRANE at CARNEGIE HALL"(Blue Note). And then, there was a short version that appears on "MONK: BIG BAND AND QUARTET IN CONCERT" with a fantastic arrangement by Hall Overton. Finally, I have to add in organist Don Patterson's version from "BOPPIN' & BURNIN'(Prestige)(1968), which really caused me to firmly hear that I could do this piece within the context of Afro-Cuban 6/8. All along, I heard another element, and that was that the brilliant Dennis Chambers could play his take on the "[Bernard] Purdie Shuffle" against the 6/8. When Dennis and I finally spoke about this piece, he listened to my demo and assured me that this WAS possible. So, with all those elements now in place. I felt ready and confident that this would work. More than that, it would enable me to play what I feel as 4/4 with a swing to it over the 6/8 - and this, for me, is really crucial to the mixing of the genres. During the recording, there were several moments that were so moving and emotional for me that, I can tell you that I will never ever forget them for as long as I may continue to be alive. The fade of "Epistrophy" and the trading that developed between Dennis and timbalero Marc Quiñones was so fiery and spontaneous that I was just stunned and overjoyed that it had happened. I have endeavored to preserve and present as much of it as I can on this disc.

On "GOT MY MENTAL"(Evidence)(1997), I recorded "R.P.D.D." from the 1962 Ornette Coleman album "ORNETTE!"(Atlantic), now on this new album I have decided to interpret two more tunes from that very same album. The first of those two tunes is "C. & D." which was originally conceived to be played as a songo, but ended-up being mostly a son montuno. It features the warm, wonderful, swingin' and creative tenor sax voice of Bob Mintzer. I was so happy to have Bob join us yet again, because what he adds is easy to hear but hard to quantify. Once again, Rob Mounsey's keyboard became the glue to everything as he supplied the various montunos and rhythmic punctuations that kept this complex arrangement moving forward. As has become a bit of a tradition, prior to Bob's solo there is a Soli based upon reorganized fragments of Ornette's original solo, and performed by Bob, Rubén and yours truly. Later in the piece, there's a fantastic timbal solo from Marc Quiñones, which includes a tricky little break of his own invention. It is interesting to note that, on the original version, Ornette improvised two very different [B] sections for the melody, and they are both presented as part of my arrangement.

Since the mid-'60s and my college years at U.C.L.A., I have always loved Bobby Hutcherson's 1966 "HAPPENINGS"(Blue Note) album, and in 1974, I had recorded his beautiful composition, "Bouquet" on the duet album "TWO FOR THE ROAD" with Larry Coryell. I'm not sure exactly why things unfolded this way, but on "BACKLOG"(2017),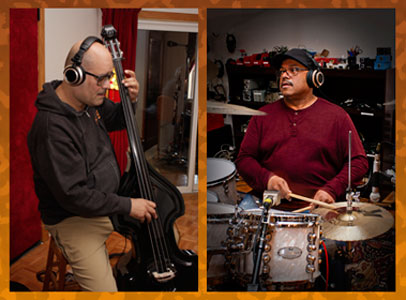 it seemed to become an unplanned "tribute" to Hutcherson featuring 2 other songs from this very same album, and even an Andrew Hill song that had appeared on Hutcherson's "DIALOGUE"(Blue Note)(1965) album. "Bouquet" becomes one of the ballads on this album, but it is a most rare one because it is performed as a bolero, but in 3/4. Perhaps, this is a first? Here, I am heard my Martin MC-28 steel-string acoustic accompanied by a hauntingly beautiful orchestration by Rob Mounsey. After many discussions, I simply yielded to his harmonic vision of just how to treat this piece and our collaboration became a work of great beauty. I'm very proud of what we did with this tune. On this particular guitar, I think that this is my best work since I played it on "Drink Moon Garden from Rob's solo album "BACK IN THE POOL"(1993) or, on "Face Value" from "BORROWED TIME"(2007). As always, I love Dennis Chambers' sensitivity on brushes.

As I have never been the kind of artist or composer who stockpiles tunes around my apartment, there is never really a surplus of material, original tunes, to draw upon. When I do record, what goes on the most recent album is everything that I had. When I was preparing for this new recording, I tried to compose some kind of an original blues. How hard could that be? Well, for me, it wasn't so easy. But, one day, I was trying to come-up with an interesting teaching strategy for a particular student of mine who has always been a blues player, and we have been trying to expand his vocabulary in that area. I don't know how it happened, but my mind and memory drifted back to Wes Montgomery and his original blues in Eb which is the title song from his 1960 album, "MOVIN' ALONG"(Riverside). At that point, I did not have a cha-cha-cha on this album, and so, I decided that that would be the rhythmic approach for "Naan Issue." Taking Wes' basic chord changes, I laid-out the piece, and eventually came-up with a melody that resonated with me. The harmonies that support the melody, and the last 3 choruses of the solo are all, yet again, Clare Fischer influenced, and required the superb musicianship of Rob Mounsey. The super funky underpinning from Rubén, Bobby, Marc and Dennis is, as always, priceless to me.

Joe Henderson's 1966 album "MODE FOR JOE"(Blue Note), since the moment that I first came home with it and put it on the turntable, has always been an iconic recording for me. The sound, Joe's playing and writing became a fascination which has lasted to the present. I first recorded "Caribbean Fire Dance" in 1992 on "HEADLINE" with Anthony Jackson, Manolo Badrena, and Dennis. "A Shade of Jade" was also a brilliantly unique composition for me. I had entertained the idea of recording it for years, but just wasn't certain as to how I could cover everything either in a guitar trio format, or what has become a guitar trio format plus Latin percussion. But during 2018, I began to believe that I could do it while integrating, as always, the keyboard harmonies of Clare Fischer, which would, of course, be realized by the great Rob Mounsey. In this arrangement, the tune is treated as a son montuno. When I sent various demos to Randy Brecker, his response was almost instantaneous in choosing this tune as his tune for the album. Randy's performance and contributions completely changed the shape and concept of what I had originally planned. I had written out the 3 horn parts for flügelhorn, but other than a few horn stabs, I never expected that Randy would actually perform them all. Once he did that, my role on guitar was transformed into more of a linear instrument. It was strange, at this point in time, to see myself that way. On the other hand, the one key component of Latin music that I have just not been able to integrate or afford on this series of recordings is having the presence of a brass section. So, quite by accident, for the first time, we now have one, and, as one might expect, it gives this arrangement a kind of punch that it might not have otherwise possessed. So, for that alone, I am really thrilled. The arrangement also includes another Soli for Randy, Rubén and me, which I labeled as a "Joe Shout" because it was culled from fragments of Joe's original solo on this tune. This kind of device has become an integral part of all the recent recordings.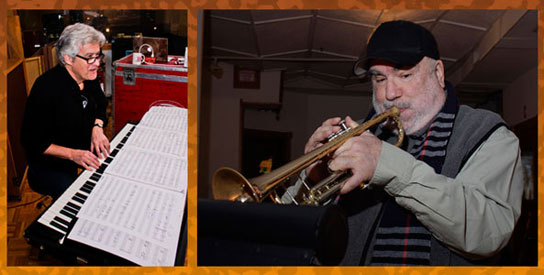 Though the piece is very long, I absolutely believe that it is worth the commitment of time to come along with us on this musical journey.

Originally from the 1951 film "ROYAL WEDDING," Alan Jay Lerner and Burton Lane's "Too Late Now" becomes the ballad of this album and, though I had always known Wes Montgomery's version, in my heart, I will always hear Nancy Wilson singing this song from her 1967 album "TENDER LOVING CARE"(Capitol), with arrangements by the great Billy May. For me, it is one of the great songs with lyrics about love, love lost, songs of yearning that came from a particular cultural sensibility. My arrangement is performed as an Afro-bolero-cha embracing these Latin rhythms at various times during the journey of this tune. On "BACKLOG," the greatness and huge heart of Rob Mounsey was on full display on both "Our Town" and "Emily" - I never expected an arrangement of mine to be graced with the orchestrations and the counterpoint that Rob graciously created for those pieces. But here, on "Too Late Now" I have come to feel that Rob has surpassed himself. Over a long history, this might be the most beautiful work that we have created together. Once again, the brushwork of Dennis Chambers gives the flow a more elastic and jazzy feel. People have told me that they hear the influence of Clare Fischer in my original arrangement of this song as well, and I could not be more pleased about anything, because it should be obvious that his influence is there. Suffice it to say that this performance means a great deal to me on every level.

And now, the second Ornette Coleman tune from "ORNETTE!"(Atlantic) arrives, but "T. & T." so we are told, stands for Freud's "Totem and Taboo." The original performance of this piece was marked by the absence of Scott LaFaro on acoustic bass. When such things happen, there is always "a story" - but, reading through the extensive liner notes in the Ornette box set, and scouring the internet for information revealed no such story - but I can imagine what might have happened. In the end, the original version served as a vehicle for Ed Blackwell's drum explorations, which actually seemed to indicate some kind of Latin or Caribbean rhythm. When I consulted with Venezuelan saxophonist/arranger (and brilliant photographer) Rafael Greco, as I almost always do, he indicated that the closest Latin rhythm to what Ed had played seemed to reveal Mozambique. And so, I decided that my interpretation of "T. & T." would use that rhythm, and would become the percussion and drum feature for the album. As my arrangement unfolded to me, the piece became a tribute to montunos that I have known and loved over the many years. One can hear echoes of Clare Fischer, or Chick Corea with Herbie Mann, or the early incarnation of Corea's Return to Forever. It is a mélange of many influences all coming together. To craft an arrangement was most challenging because, as there was no bass on the original, I had to hear the lines, and how one might harmonize them, In the end, that is what I did. I'm certain that there could be no right or wrong way to do that - because any player would go in his/her own direction. As always, Rob Mounsey played everything that I wrote to perfection, and then you add in the solos from Bobby, Marc and Dennis, I could not be more pleased with the end result. I allowed myself a little time for playing during the ride-out.

When Keith Jarrett's "MY SONG"(ECM)(1978) was recorded, it is hard for me to imagine that Jan Garbarek, Palle Danielsson, and Jon Christensen did not sense that they had just recorded something so very, very special. In the end, for many of us, this is simply an iconic recording. So iconic, in fact, that it is most daunting to even think about trying to interpret any one of the tunes. Each song is marked by a brilliant mixture of elements, and could probably have only been achieved by the coming together of these four great international players. A mix of North American Jazz, folk, country, and blues, then mixed with a most European darkly emotional sensibility. The song "The Journey Home" to me is really a 3 or 4 part Suite. How do you retain some of that, add your own emotions to it, and then turn it somehow into Latin Jazz? I began by hearing the obvious, and that was that Part II was really a Cha-cha-cha and could easily be interpreted that way. The two sections that follow, which I ended-up labeling as Part IIIC and Part IIID were composed, as I hear them, in 3/4 and 9/8 respectively. I always felt that the part in 3/4 could easily become Afro-Cuban 6/8 with a romantic twist to it. We play that section 3 times, and on the 3rd go 'round it is given a surprise twist with the addition of vocalese supplied by the great Tatiana Parra and yours truly.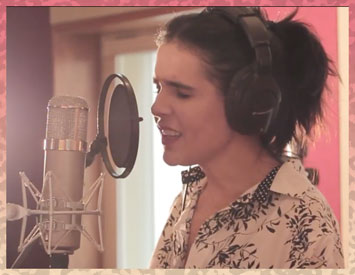 Hearing it now, this Jarrett melody becomes even more emotional and moving for me. It was always my intention that Part I would fundamentally be performed as a duet with me on my Yamaha APX-10N nylon-string acoustic and Rob Mounsey on Fender Rhodes. We did that together one afternoon in a freezing cold studio in Brooklyn near Rob's home. Once that was done, Rob added some brilliant orchestral touches. When we recorded this section, for me, it immediately became one of the most significant and very personal moments on this entire recording. Rob and I have been performing improvised rubato sections like this for many years now, perhaps beginning with our album, "LOCAL COLOR"(Denon) from 1986. I'm not at all certain just how or why, but Part II, relative to the guitar, became a very free-wheeling statement of a most personal exploration of many things that I feel, but more than that, all the things that playing this great piece of music brings out in me. I am very proud of what happened in such a spontaneous way. If you are curious about just how I transported myself, and then rode this WAVE, just click on the link, and you can read my explanation. For me, this particular solo has come to represent everything that I am and have been as a human being.
Another one of the most emotional moments for me during the recording happened during Part IIID as the piece is fading out. During a wonderful conversation that I had with Dennis about the arc of this piece, I told him that during the 9/8 finale, it would all rest upon his mighty shoulders to drive the piece home as it was fading out. It calls upon his background in gospel music, R&B, and Jazz and Jazz-Fusion - and what he delivered as we were playing, and as I watched it unfold, was so moving and so remarkable that it has become a moment that is now frozen in my memory, where it will reside forever. Thank you so much Dennis!!! You are very special in all ways.

How Jorge Estrada's fantastic tune, "Huracán Clare" came to be a part of this album is quite a story, but here is a most abbreviated version. In 2013, bassist Jimmy Haslip contacted me to see if I wanted to be a part of a tune that was dedicated to Clare Fischer. I was most skeptical at first, because there are those who think that they are really into Clare's harmonic or compositional style - but then, it turns that they are often not even close. But that aside, I asked Jimmy to send me the demo of the track. When I first heard keyboardist Jorge Estrada's song, I was completely knocked out, and said to myself, "This guy really gets it! He understands!!!" And, beyond that, I called Jimmy immediately and said that I wanted to be a part of it. So much so that, I paid for myself to go into a small studio, and not only recorded myself on my nylon-string guitar, but I heard that some vocalese would add just the right touch to the piece, and bring together Clare's Latin influences with his love of Brasilian music. Lucky for me, when Jorge heard what I had done, he was thrilled, and I knew that one day, I would be part of a great, great tune. However, time passed, and time continued to pass. And, no album was ever finished and released, and so, as I prepared to record one last time. I came-up with the rather crazy idea that I would offer Jorge that I would record the tune as I heard it, leaving all of his principal parts there, but performing it with our rhythm team here in New York. I don't know that I've ever heard such a story before. But Jorge actually liked the idea, sent me the files, and here we are! In addition to Jorge's great Rhodes solo, there is an incredible conga solo from our beloved and fiery Bobby Allende. I am so proud that this wonderful song graces this recording. Thank you so much Jorge for your faith and confidence in me - in all of us!

At some point in 2015, I was speaking with Rekha Ohal, a wonderful singer/songwriter from Denver, and she told me that she had been asked to sing "Nature Boy" at a funeral - of course, I didn't hear her correctly and, as it turned out, it was actually for a wedding. Oops! But no, then I re-read her message again, and it was, in fact, to be for a funeral!!!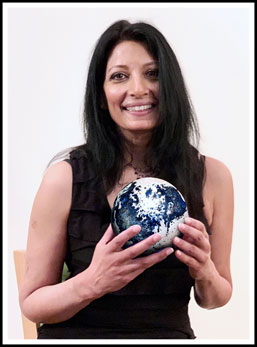 Or, at least that's what she said! Anyway, she asked me if I knew the chord changes, etc. - so, inspired by our conversation, I began to craft an arrangement for her, and I did it in two different keys, thinking that she could play and sing along with what I had done, and it would have been very effective and evocative. As it turned out, it never went any further than that. And so, I was left with what I felt was a very beautiful arrangement, one that had no place to exist, not anywhere. In 2016, just as we had finished recording all of the music for "BACKLOG," I asked the guys assembled if they would do me a favor, and just play on this simple bolero. One take later, they had done it. That full performance had been sitting around doing nothing. As "PATCHWORK" was coming to life, I felt that perhaps Eden Ahbez' mysterious "Nature Boy" would make a great 'bonus track' for Japan, or some other territory outside of the USA. And so, sitting at home, which is, in NO WAY, a "home studio" - I recorded myself doing the vocalese, and felt that, at the very least, I had captured the feeling of the song. It was quite some time afterwards that I sat down again, and recorded myself on my Martin MC-28 playing all the significant acoustic guitar work that you now hear. Suddenly I felt that I had something of some substance, even though the piece was under 3-minutes!
Still there were a couple of touches that were missing. Though I had written out everything for the keyboard, I was so fortunate to have Rob Mounsey to play the part, and add his own personal touches, but more than that he added to the arrangement that I had created in a really artistic and emotional way. The last touch was to finally add the beautiful voice and feelings of Tatiana Parra, who recorded her voice from São Paolo for me!!! And here we are!
Two lines from the lyrics are especially meaningful to me as poetry in English. [1] Where it says: "a little shy, and sad of eye" - This is hauntingly beautiful. And, of course, [2] The emotional pay-off of the song: "The greatest thing, you'll ever learn, is just to love, and be loved in return."
My favorite versions of this song are: Nat "King" Cole's from his 1948 album "THE NAT KING COLE STORY"(Capitol) which was first released as a single. And, at the other end of the spectrum, yet exceptionally spiritual and intense, is the 1965 John Coltrane version, from "THE JOHN COLTRANE QUARTET PLAYS"(Impulse!). Remarkable how two interpretations can be so vastly different and still reach you - yet in very singular parts of your being and experience.

During my recent interview with Dr. David Schroeder as part of his wonderful NYU Jazz Interviews Series we spoke about life's mileposts and the necessity to, every so often, take stock of one's own life situation. For me the key question, in a moment of great introspection, is to ask oneself this: "Is this where I thought that I would be at this time in my life?" It could be suggested that one might begin asking this question at around the age of 25. Then, you could continue every 5 years or so, or just mark the passing of the decades. There does not have to be any specific timetable for such a moment of self-examination.
Speaking for myself, I don't think that I have ever answered that question, at any point in my life, by saying, "Yes! This is exactly where I thought that I would be!"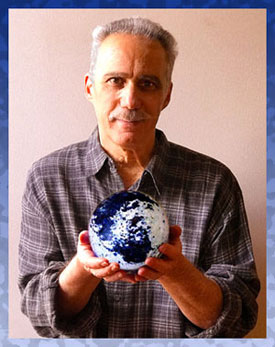 This in no way means that one should feel like a 'failure' if the answer was "No!" Not at all. When you are an artist, or in the arts, how could you possibly be where you thought you would be, where you dreamed of being? This just doesn't seem possible, because there is always more to learn, and more to do. An artistic journey is never completed, and much is left undone. However, in stark contrast to this kind of honest assessment, I would answer that question by saying the following.....
Remember, when I picked-up the guitar at 19 years old, my dream was to become the 'next Wes Montgomery.' Needless to say, that did not exactly happen. But, let's look at it all from another perspective. If, let's say, a being from another world, somewhere in the cosmos, came down to earth, and had already somehow seen the future, and chose to speak to, and share that knowledge with me - and he or she said, "Steve, I am here to tell you the following things. [1] You will not be the next Wes Montgomery, not even close! But, [2] I can tell you this, at 72 yrs. of age, you will have just completed another album, and your musical life will have seen many albums, some even considered as important by others. And, you will have led a life filled with many enriching experiences." If I had known that at 19 years old? I would have signed the paper for that right then and there, no questions asked! In other words, "No, I'm not where I hoped that I might be by this time in my life, and that extends well outside of music and into the personal realm as well - but, though I've had countless disappointments, and many regrets, I can tell you that, when everything is tabulated, I feel like a most fortunate man. And, I am eternally grateful for what I've experienced.

As always, how does one say "Thank you so much!" in a way that seems sufficient to someone like: Rob Mounsey, whose contributions in all phases, and at all levels are so immense that no words could ever be enough! Rubén for your huge bass presence throughout, and for always being a voice of calm during the many moments of stress and fragile sanity. Marc & Bobby for being the centerpiece of these past 4 albums, and for arriving at new levels of freedom and creativity. The many breaks that you created throughout this album are highlights for me of the highest order. Dennis, having you here for this album meant the world to me, and there were several moments during the recording when your playing actually brought tears to my eyes. To see and hear you playing like this, when it was only a few years ago that we all almost lost you, was at times a bit overwhelming for me. The power of the human spirit to push through life's darkest moments is remarkable - and you are remarkable - as a person, and as a musician. For his efforts to craft the overall sound of the recording, I'm so thankful that I had James Farber by my side to serve as the sonic/audiophile voice of reason. Last but hardly least, Greg Calbi for his superb mastering job, one that insured me, despite my immense worries and nerves that, "PATCHWORK" would, in fact, be under the crucial 78-minute line.
A recording is always a team effort, and this one was really just that. The contributions that everyone made can never, in my heart and mind, be minimized!!!


If there is a subtext, on one level, this might be it:
Here we are, it is now 2019, and I seem to be telling an all too familiar story as when "PARTING SHOT" was recorded in 2010, I honestly thought that I would never be able to record again, physically speaking. I had not been thinking about it at all. Then, one morning during the Holiday Season of 2012, I accidentally discovered a very small bump in the palm of my left hand. Though it was causing me no discomfort at all, I knew one thing, and that was this: That bump had never been there before!!! So, I thought that I should, at the very least, consult with a hand specialist to find out just what it was, if anything. I thought that it might have been some kind of a cyst, and perhaps it could have been drained with a needle, and that would be that.
Never did I expect that some months later I would have been diagnosed with Dupuytren's Contracture an affliction about which not nearly enough is known. However, generally speaking, the cure seems to always be an eventual date with surgery. After viewing some post-operative photos on the Web, having the palm of my left hand turned into hamburger did not seem like the most appealing option. After all, let's face it, for a guitarist a paper cut is a disaster! After the initial diagnosis, I decided to consult with another physician, one who was considered to be an expert in this area. This time I went to his office armed with lots of questions. But, the main one was this: Based upon your examination today, would it be your considered opinion that I would have at least one year to continue to play the guitar as I have been? Of course, doctors are not in the "prediction business," but fortunately for me, his answer was, "Yes, I believe so!" From that moment forward, I dedicated myself to, yet again, putting together music, one last time, for a recording. After considerable thought, I simply felt that if I did not do this, and do it now, I would regret it for the rest of my life!
During the process of preparation and recording, I don't believe that any of my symptoms worsened, but one's mind can play terrible tricks on the psyche, and there were many, many moments when I felt that I was in great discomfort. I could be wrong, but it is now my sense that this was more a manifestation of my mind being too active, and not anything really having to do with Dupuytren's!!!
And so, it is with a great feeling of satisfaction that I can sit here, and write about "PATCHWORK." For those who might be concerned, for the moment, the condition really hasn't worsened, and the strange thing about this affliction is that it is possible it could just stay the way it is and never worsen. But, in my position, who would have wanted to have taken that chance?


[1] Epistrophy (Epistrofía) (Thelonious Monk-Kenny Clarke)(8:05)
[2] C. & D. (Civilización y sus Descontentos) (Ornette Coleman)(7:45)
[3] Bouquet (Un Ramo de Flores) (Bobby Hutcherson)(7:26)
[4] Naan Issue (Steve Khan)(7:41)
[5] A Shade of Jade (Un Tono de Jade) (Joe Henderson)(10:18)
[6] Too Late Now (Demasiado Tarde) (Alan Jay Lerner-Burton Lane)(7:45)
[7] T. & T. (Totem y Tabú) (Ornette Coleman)(6:13)
[8] The Journey Home (El Camino a Casa) (Keith Jarrett)(15:32)
[9] Huracán Clare (Jorge Estrada)(6:52)

[10] Nature Boy (Naturaleza del Amor) (Eden Ahbez)(2:41)
BONUS TRACK for DOWNLOADS ONLY





Photos in collage: Bobby Allende and Marc Quiñones
Rubén Rodríguez, and Dennis Chambers
Rob Mounsey and Randy Brecker
Tatiana Parra - Extracted from "Pasarero" Video by Rodolfo Lacerda
Rekha Ohal with the Michel Granger Globe
Steve Khan with the Michel Granger Globe
Photos by: Richard Laird


PREVIOUS | HOME | DISCOGRAPHY | NEXT