Jazz Radio remains a magical thing.....

Last night, in the overnight hours in San Diego, on their KSDS-FM Jazz station, DJ Norm Swanberg presented "The Journey Home"(Keith Jarrett)(15:34) from "PATCHWORK" in its entirety! The featured players are: Rob Mounsey(keys), Rubén Rodríguez(elec. bass), Bobby Allende(conga), Marc Quiñones(timbal & campana) and Dennis Chambers(drums). Yes, Norm played the WHOLE thing!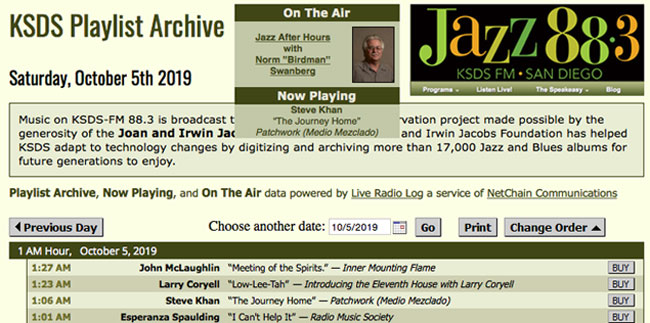 I can't explain to you all how much this means to me!!! It never gets old to know that, somewhere, you have been played on the radio. Even at this stage of life, it makes you feel like a kid again.
When I was assessing the timings of the tunes on this album, I knew that the only way that "The Journey Home" would ever get played would be if the "overnight guy" @ radio needed a serious 'bathroom break.' But last night's case was different.
In truth, when I wrote this piece, I had actually forgotten that the 1st person to play "The Journey Home" in full on the air, was Alisa Clancy of KCSM-FM on Tuesday morning, September 17th at 8:38 A.M.(PDT) - some 2 weeks before Norm Swanberg. I remember this moment, because I wrote to Alisa immediately to thank her for doing something so courageous - playing a track like this during daylight hours!!!

You see, I have always believed that, for each time that something is played on the radio - there is "someone" out there, often a young kid, who is listening - and their life is changed in some way, a positive way. We just never know WHO exactly that person might be - or what they will become one day.
As a kid, my life was changed by the radio, and the things that I heard growing-up in Los Angeles, listening to (then) KBCA!!! Radio is just so important. It is so meaningful, because that ONE PERSON out there, who is listening, will be greatly affected by what they hear, and perhaps hearing the entirety of this interpretation of "The Journey Home" - going on that "journey" with Norm, the recording will become meaningful for them - and might even inspire them to want to hear and own Keith Jarrett's original recording (10:34) on "MY SONG"!
That's what I used to do as a kid - I kept a little pad and pencil on my night table, and would write down the things that I heard late at night!!! Long tunes were never a problem for me, in fact, I loved them, and looked forward to hearing them. These are some tunes that were unforgettable for me during the '60s:



"My Favorite Things"(13:41) - John Coltrane
"Blue Train"(10:43) - John Coltrane
"Impressions"(14:40) - John Coltrane
"One Down, One Up"(12:28) - John Coltrane
"What Is This Thing Called Love?"(13:25) - Sonny Rollins
"Alfie's Theme"(10:25) - Sonny Rollins
"Search for the New Land"(15:44) - Lee Morgan
"Inner Urge"(12:00) - Joe Henderson
"Idle Moments"(14:58) - Grant Green
"Paraphernalia"(12:42) - Miles Davis
"Filles de Kilimanjaro"(12:52) - Miles Davis



...and so many, many others. These just came to mind as I was writing. You must remember that all of these recordings were made to be LPs, and, at that time, to get the best pressing, the most level on your pressing, record labels wanted these albums per side to be under 19-minutes. So, one long track could upset the balance of what, to them, could fit on an album.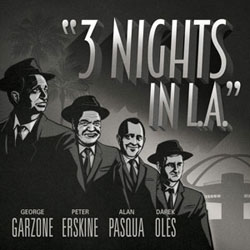 Where Jazz was concerned, most albums would have 6 tunes - 3 per side.
In so many ways, and not for the better, things have greatly changed. Sadly, most people, especially younger people can't come close to listening to tunes/performances of this length without being distracted by their damn smartphones, or something else, like life - or they have to be multi-tasking all the time. In what is left of the "record business," companies and many artists are terrified by having tunes that are over 5-minutes - such tunes represent almost certain 'death' @ radio! It's hard to fight against this kind of mindset. But, you have to do, to record what's in your heart, and damn the consequences! In part, that's what we are seeing as so many artists record themselves, and then release those same recordings on their own labels.

One of my favorite recordings right now is "3 NIGHTS IN L.A." featuring: George Garzone(tenor sax), Alan Pasqua(piano), Darek Oles(ac. bass) and Peter Erskine(drums). It's a 3-CD set, and it offers many performances that are well over the 10-minute mark. It's fearless - such great hard swingin' playing! They went into a club, played for 3 nights, and recorded them all - and Peter had the courage to release the material on his Fuzzy Music label. In this philosophy of music-making and recording, I am 100% in support of artistic decisions like this. From what I have observed, the album is being embraced by Jazz radio - and that is wonderful to see. I bought the CD, and just love listening to it.

Some musicians, even great musicians, have what I would describe as an 'internal clock' -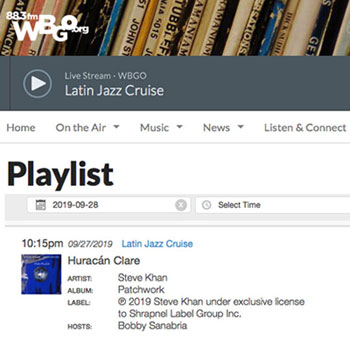 an instinct that tells them when enough is enough - especially when recording. This is not a bad thing - some players are just wired this way. Others have 'something' that tells them to just keep going, to keep exploring and they are guided by 'that' instinct. There's no right or wrong - but it is a fascinating thing to observe over time. If you look over the recordings of your favorite artists, I would bet that you would find that many of their tunes, originals or standards, are very close to being around the same timing. I don't believe that this is by design, it just seems to happen that way.
On another note, but related, for the 2nd week in-a-row, Grammy winning musician, Bobby Sanabria played a track from "PATCHWORK" on his WBGO Friday night "Latin Jazz Cruise" show!!! When we lost Awilda Rivera to retirement, I didn't know what would happen - it was a bit scary - especially when we lose Rhonda Hamilton (for the same reason) too!!! They were both AWE-some to my last CDs. Last week, Bobby played "Huracán Clare," and just last night, he played "Epistrophy" - so this was so great - as he explores the album.
I will close on this Saturday as I began - Jazz Radio remains a magical thing! We're so fortunate to still have some stations that are 24-hr. stations like: WBGO, here in the New York-New Jersey-Connecticut area; KCSM in the San Francisco-Oakland area; and KSDS in the aforementioned San Diego area. It wasn't so long ago when stations like this, sometimes 2 of them, existed in almost every city across the USA. I don't know that we will ever see a time like that again.

---
UPDATE!(12/15/19): As we arrive at this date, this point in time, "PATCHWORK" has now spent some 12 weeks on JazzWeek Radio Chart ascending as high as [#7] with a "bullet," but, as I always seem to be saying, I had been fully expecting, despite the Herculean efforts by Mark Rini and Josh Ellman of GROOV Marketing, that the album would begin to finally make its inevitable descent when the just published "JazzWeek" Radio Chart made its appearance this morning. BUT NO - not so fast, Stevie!!! Somehow the album, though falling 1 place to #8, it still retained its bullet. To me, it remains a M-I-R-A-C-L-E!!! With all the ups and downs, the end result is that it has been a great run and I am very grateful to Mark & Josh, and all of the stations, music directors and DJs who chose to present and play music from this album. Thank you all so much!!!
More in keeping with the theme of this particular, last night,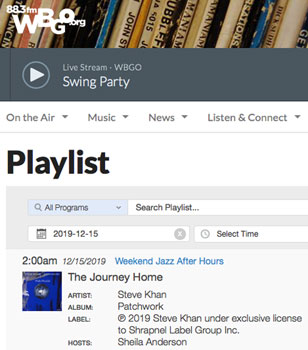 during the overnight hours here in the New York City area, WBGO DJ Sheila Anderson played "The Journey Home"(Keith Jarrett)(15:34) from "PATCHWORK" in its entirety! This is, to my knowledge, the 1st time that this particular tune has been played on this great radio station. Again, I want to be clear that I never expected any station to play this performance - and certainly never during daylight hours, so to see this at all just makes me feel so good about everything. If only one person was listening at that moment and heard the entire thing, I would be thrilled for that alone! So, in this moment, I can only extend my eternal gratitude to Sheila for presenting my interpretation of Keith Jarrett's "The Journey Home."
As the day dawned here, and I happened to see that this exceptionally long piece of music had actually been played on the airwaves of my hometown, it was so thrilling for me that I just had to sit down, yet again, and extend this particular piece, because it meant so much to me. We have arrived at a moment where next week's radio chart will be the last one for this calendar year, 2019 - I can't imagine that the album can somehow rise any higher than it has been - so I am just cherishing the fact that the album spent 12 weeks on the chart, and 5 weeks in the TOP 10!!! This, to me, is an amazing accomplishment considering that most Jazz stations are very, very traditional about the kind of "Jazz guitar" sound that they want to hear - and, when you add into the mix, the full compliment of Latin percussion - all of the various cowbells, conga, and hand percussion - this becomes even more difficult for many stations. If they even had a specific Latin Jazz show, they will gently push the recording into that slot - and sometimes, if they don't have that? They will just shun the album entirely! This too has happened at some stations across the land - and for me, it is most disheartening. But, you can't allow such things to break your spirit, nor your firm believe in this recording and this music!

---