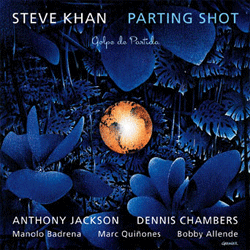 Welcome to the home page of Jazz guitarist Steve Khan!

NOW AVAILABLE!!! "PARTING SHOT" was Steve's latest recording, and features Eyewitness veterans: Anthony Jackson, Dennis Chambers, and Manolo Badrena, alongside the tremendous Latin percussion tandem of Marc Quiñones and Bobby Allende. There is even a title in Spanish, perhaps a phrase invented by Steve, "Golpe de Partida." Together they perform 7 new compositions from Steve, and his interpretations of "Bye-ya" by Thelonious Monk, and both "Chronology" and "Blues Connotation" by Ornette Coleman. Recorded by James Farber at Avatar Studios on November 6th-7th, 2010 and, for the first time, the cover image features another one of Steve's favorite artists, the great Frenchman Michel Granger. It has been a longtime dream for Steve to be able to feature a cover by Granger. This is, perhaps, one of the first Latin Jazz recordings led by a guitarist in decades.
The simultaneous releases were scheduled as follows: 55 Records(Japan) released the CD first on April 20th, 2011. And then, on April 26th, ESC Records(Germany/Europe) followed, Tone Center Records(USA) releases the recording officially on May 10th, 2012. For more of the story, go to the NEWS page.

A note from the Webmaster: Check out KHAN'S KORNER 1 which now has 77 hand-written solo transcriptions. Classic solos by: Miles Davis, Jim Hall, Grant Green, Wes Montgomery, Freddie Hubbard, Michael Brecker, Stanley Turrentine, Herbie Hancock, Clare Fischer, Pat Martino, Kenny Burrell, Paul Desmond, George Benson, George Coleman, Steve Grossman, John Scofield, Gabor Szabo and Robben Ford, plus corresponding mp3s.

With the passing of Nelson Mandela, a friend reminded me of my appearance on the title song from Michael Franks' 1987 album, THE CAMERA NEVER LIES(Warner Bros.), which was produced by the brilliant keyboardist, Rob Mounsey. I had forgotten how the lyrics were connected to the South African miner's strike from the mid-'80s, and yet, the struggle for freedom was still very much an issue. The YouTube video clip helped to bring back lots of memories of that song and those years. Here's hoping that some of you will enjoy the work that I did via my ESP Strat.

As February of 2013 arrived, it was with great pleasure that we offered Steve Grossman's fantastic solo that appeared on the 1971 Miles Davis album, A TRIBUTE TO JACK JOHNSON(Columbia). This 3-minute plus exploration of what one can do over a static Bb7(sus) chord, when accompanied by: Herbie Hancock, John McLaughlin, Michael Henderson and Billy Cobham, gives cause for great thought and study. If you haven't heard this before, pay special attention to it now!!!

Hoping to lift the spirits of those musically inclined, we present to you Pat Martino's swingin' 2-chorus solo over the Cole Porter standard, "It's All Right With Me," which appears on the 1977 Willis Jackson album, BAR WARS(Muse). Accompanied by organist Charles Earland and drummer Idris Muhammad, this particular solo would have been part of a 2nd Volume for Steve's book, "PAT MARTINO - The Early Years" but alas, it was not to be.
There is a nice chill in the air as October arrives, and to keep things warm and cozy, we are offering Steve Khan's wonderful 1/2-chorus solo over a Clare Fischer classic composition, "San Francisco, P.M.," which appears on the just released album ¡RITMO!(Clavo) by the Clare Fischer Latin Jazz Big Band led by Clare's beloved and devoted son, bassist/arranger, Brent Fischer. Of course, there's a lovely story that accompanies the transcription, and which is shared in Steve's analysis. There's a good reason why this tune was chosen to open the album, and why Steve's solo is the first one as well! Don't miss this one!!!

At KHAN'S KORNER 2, in celebration of the simultaneous recent uploads to iTunes of Steve's catalog albums from the past, we are pleased to offer the last remaining composition, the title song from the "MODERN TIMES"(1982) album. This live album was the 2nd of three recordings with the original Eyewitness configuration that featured: Anthony Jackson, Steve Jordan, and Manolo Badrena. If you are or were a fan of that group, don't miss this special presentation of a newly revised lead sheet. Here's hoping that this never-ending winter of our discontent is almost finished!!!

When we arrived at September of 2013, it has been almost one full year since any was presented here. It was a most interesting cosmic accident when someone happened to send me a YouTube link for "Macbeth," which was a song that I had contributed to Mark Colby's 1979 LP, "ONE GOOD TURN." The recorded performance featured: Bob James, Gordon Johnson, Steve Gadd, and Portinho. Honestly, I hadn't heard it in years, perhaps two decades at the very least, but, as I have tried to share the lead sheets for all the original tunes, I was inspired to rewrite the lead sheets. And so, here they are, and they come to you with the hope that you will enjoy reading the analysis and the story of this particular composition.

In December of 2012, we presented the lead sheets for Steve's composition, "Rites of Darkness" which now appears on Volume 2 of the just released compilation, "MONTREUX SUMMIT" by the CBS Jazz All-Stars. Recorded live at the Montreux Jazz Festival in 1977, this performance featured Steve alongside: George Duke; Bob James; Alphonso Johnson; Billy Cobham; and Ralph MacDonald. Though the performance has many flaws, on the odd chance that a new generation of players might find the tune interesting enough to try to play and perform made this presentation seem like a reasonably good idea. Steve's analysis offers insights into everything that happened leading up to the performance and the aftermath as well.

As 2011 came to a close, we finally shared the last of the original tunes from Steve's latest CD, "PARTING SHOT"(Golpe de Partida), when we posted "Just Deserts." As always, Steve's analysis was filled with interesting and informative stories about the music, the performance, and even about the title and its spelling. Take the time to get better acquainted with the percussion jam from the album that features: Bobby Allende, Marc Quiñones, and Dennis Chambers - and of course all the other originals.
"Zancudoville" was the last of the three cha-cha-chas to appear on the album. The bluesy nature of the groove and the main theme allows Steve to put to use his fantastic overdrive sound. To the surprise of all, Steve also performs the vocalese sections of the piece. Longtime musical associate Rob Mounsey performs all the keyboards parts with his usual stellar musicality. And while all this is going on, Manolo Badrena provides all the swampy atmosphere, and converses with the zancudos.
In September, we shared "When She's Not Here"(Cuando Ella No Está), the gorgeous bolero, the ballad from the album which features Steve in a most romantic setting. Augmented by Rob Mounsey's spectacular orchestration, the conversational bongo work of Marc Quiñones is one of the highlights of this great recording.
In August,"Influence Peddler"(Traficante de Influencias) was the 4th in the series, and it is the 2nd cha-cha-cha on the album. Rooted in its R&B influences, at the conclusion of this 10-minute journey, there are spectacular solos from Dennis Chambers, Marc Quiñones; and Bobby Allende. The appearance of the superb voices of Tatiana Parra(Brasil) and Andrés Beeuwsaert(Argentina) during the vocalese sections add a most special touch. It was a great thrill to have them appear on the recording.
In July, "María Mulambo" became the 3rd in the series, and offers a union of James Brown's "Doing It to Death" groove, Afro-Cuban 6/8 and Manolo Badrena's wild Brasilian-style Portuguese lyrics. Throw in the rock solid foot-stompin' pulse from Anthony Jackson & Dennis Chambers and you've got another classic in the Eyewitness extended song form mold. Wishing everyone a wonderful July with this one!
In June, "Los Gaiteros" was the 2nd in the series. Depending upon your point of view, it is a most interesting or unusual piece of music with a tumbao in 3/4, but, it can feel otherwise. Check it out, and decide for yourself.
In May, we began the series by posting the lead sheets to another one of Steve's new compositions, "Change Agent"(El Catalizador). This Bb blues, played as a cha-cha-cha, was actually the first of the 10 songs to be recorded for the CD. Steve's analysis states that this tune offers the best of the Eyewitness music-making sensibility coupled with all the Latin rhythms and percussion sounds supplied by Marc Quiñones and Bobby Allende. Enjoy this one with our very best wishes for a fantastic Summer!!! Yikes, the heat is already here!

This site created and maintained by Blaine Fallis, A Train Creative, Inc. . Graphic design Blaine and Youngsuk Fallis. Written and edited by Steve Khan. Steve Khan illustration by NED SHAW. Don't miss Ned's latest at our ONLINE GALLERY!