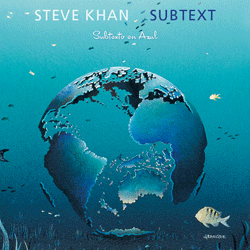 Welcome to the home page of guitarist Steve Khan!

NOW AVAILABLE!!! "SUBTEXT" is the title of Steve's forthcoming recording, and again, there is a subtitle in Spanish, "Subtexto en Azul." On the album, Steve continues his explorations of the wondrous traditions of Latin music, and this time, the core group features: Rubén Rodríguez(El. Bass & Baby Bass), Bobby Allende(Conga), Marc Quiñones(Timbal), and Dennis Chambers(Drums). At varying moments, they are joined by some great musicians, dear friends, as guest artists, including: Rob Mounsey(Keys & Orchestrations); Randy Brecker(Flügelhorn); Gil Goldstein(Accordion); and Mariana Ingold(Vocals). In all, they perform Steve's arrangements of compositions by: Ornette Coleman, "Bird Food"; Freddie Hubbard, "Baraka Sasa"; Wayne Shorter, "Infant Eyes"; Greg Osby, "Heard"; Thelonious Monk, "Hackensack"; and the gorgeous ballad, "Never Let Me Go"(Livingston-Evans). All this, plus 2 originals from Steve, and, a Cumbia driven Vallenato epic collaboration between Steve and Mariana Ingold.
Once again, the music was recorded by James Farber at Avatar Studios during January 29th-30th, 2014. Michel Granger's beautiful image graces the cover, and contributes its own particular "subtext."
Again, 55 Records(Japan); ESC Records(Germany/Europe) and Tone Center Records(USA) will form this important part of the team. 55 Records released the album on May 21st, and it's safe to say that ESC Records released it on May 30th. The U.S. release just happened on June 24th. If you enjoyed "PARTING SHOT," you will surely love this new one!!!

As 2014 came to a close, John Kelman selected "SUBTEXT" as one of the BEST RELEASES OF 2014. Obviously, this was a great honor to placed in such excellent company!!!

A note from the Webmaster: Check out KHAN'S KORNER 1 which now has 85 hand-written solo transcriptions. Classic solos by: Miles Davis, Jim Hall, Grant Green, Wes Montgomery, Freddie Hubbard, Michael Brecker, Stanley Turrentine, Herbie Hancock, Clare Fischer, Chick Corea, Pat Martino, Kenny Burrell, Paul Desmond, George Benson, George Coleman, Steve Grossman, John Scofield, Gabor Szabo and Robben Ford, plus corresponding mp3s.

February brings a wonderful Chick Corea acoustic piano solo, that appeared on fellow Return to Forever member Airto's 1972 album for CTI, FREE. This joyous song was composed by Brazilian saxophonist Victor Assis Brasil, and on board for this performance were: Joe Farrell, Ron Carter, and Nelson Ayres. This solo embodies Chick's harmonic and rhythmic concepts pre and post his stint with Miles Davis. This is a great one, don't miss it!!!

For January, 2015, we began the new year by celebrating the life and music of saxophonist Michael Brecker and his wondrous 3-chorus solo over the Larry Goldings penned composition, "Sound Off" from Mike's 1999 album, TIME IS OF THE ESSENCE(Verve). Supported by Goldings(organ), Pat Metheny(guitar), and Jeff "Tain" Watts(drums), the performance swings relentlessly. And so, in that spirit, we wished everyone a very, HAPPY NEW YEAR!!! Y, por supuesto, les deseamos un FELIZ AÑO NUEVO!!!

For the final month of December, as we close out 2014, we offer you Steve's solo over his tribute to Colombia and its Vallenato, the cumbia driven, "Cada Gota de Mar" which will be the final presentation from SUBTEXT(Tone Center). Co-composed with the wonderful and super-talented Mariana Ingold, the requisite sabor is supplied by Gil Goldstein(accordion). When you visit the page, please don't forget to click on Gil's photo for a very fun and special surprise!!! As always, we are wishing everyone a very, very MERRY CHRISTMAS!!! Y, FELIZ NAVIDAD!!!

Firstly, here's hoping that everyone had a very HAPPY HALLOWEEN!!! For November, and again from SUBTEXT(Tone Center), we bring you Steve's solo over the Ornette Coleman classic, "Bird Food," which features the fantastic flügelhorn of Randy Brecker. Marc Quiñones(Timbal & Güiro) & Bobby Allende(Conga & Bongo) decided that the piece would be performed over variations of the caballo rhythm, giving the album a fresh beginning, when compared to anything that appeared on "PARTING SHOT"(2011).

During mid-October, we presented Steve's 6-chorus solo over this Son driven, 16-bar form of "Blue Subtext" from SUBTEXT(Tone Center), that is laced with both Jazz and blues references, and even the sudden appearance of some Wes Montgomery-esque octaves. All this over the lush and romantic chordal sonorities, in the style of Clare Fischer, performed by Rob Mounsey over the percolating rhythms of: Rubén Rodríguez(El. Bass); Dennis Chambers(Drums); Marc Quiñones(Timbal & Bongo) & Bobby Allende(Conga).

For September, we brought what is perhaps Steve's finest moment from SUBTEXT(Tone Center), occurring during his very romantic interpretation of beautiful ballad, "Never Let Me Go." With sensitive and subtle rhythmic support, the solo flows within Steve's superb arrangement, realized by Rob Mounsey gorgeous orchestration, as Steve paints yet another tribute to a mutual harmonic hero, Clare Fischer.

During August, we offered Steve's solo on Thelonious Monk's classic, "Hackensack" also from the current album, SUBTEXT(Tone Center). A favorite with radio programmers and fans alike, the solo is a wonderful example of how the great piano artists have influenced Steve's approach to the guitar. This is especially evident in all the very creative chordal passages. Don't miss this great opportunity for study!!!

For July, we presented Steve's solo on "Bait and Switch" which appears on the current album, SUBTEXT(Tone Center). As there are not many avenues for small artists to pursue, when one is offered an interview in a jazz or guitar magazine, it becomes important to maximize the opportunity to communicate with fans, old and new. The series of solo transcriptions that will be offered at the pages of KORNER 1 were all born of such circumstances. Hopefully, everyone will enjoy what is offered here now.

With the passing of Nelson Mandela, a friend reminded me of my appearance on the title song from Michael Franks' 1987 album, THE CAMERA NEVER LIES(Warner Bros.), which was produced by the brilliant keyboardist, Rob Mounsey. I had forgotten how the lyrics were connected to the South African miner's strike from the mid-'80s, and yet, the struggle for freedom was still very much an issue. The YouTube video clip helped to bring back lots of memories of that song and those years. Here's hoping that some of you will enjoy the work that I did via my ESP Strat.

As February of 2013 arrived, it was with great pleasure that we offered Steve Grossman's fantastic solo on "Right Off" that appeared on the 1971 Miles Davis album, A TRIBUTE TO JACK JOHNSON(Columbia). This 3-minute plus exploration of what one can do over a static Bb7(sus) chord, when accompanied by: Herbie Hancock, John McLaughlin, Michael Henderson and Billy Cobham, gives cause for great thought and study. If you haven't heard this before, pay special attention to it now!!!

At KHAN'S KORNER 2, offers Holiday treat with Steve's arrangement of "The Christmas Waltz," his father's one real Christmas song that reunited Steve with Randy and Michael Brecker for the 1995 JAZZ TO THE WORLD(Blue Note) album. The arrangement serves as a homage to influences as different as: Peggy Lee, Frank Sinatra, Clare Fischer, and the Jazz Crusaders too. Wishing everyone a very HAPPY HOLIDAY SEASON

With the arrival of autumn, October, 2014 is here and we're happy to share "Blue Subtext," the 2nd of Steve's original from "SUBTEXT." The tune began as an experimental play-along tribute to the lush and romantic keyboard harmonies of Clare Fischer. On the recording, that role was filled with love and care by the great Rob Mounsey. The changes to the tune are based upon a well-known Jazz standard, and serves as a great vehicle for Steve's playing. Quite out of nowhere, echoes of his guitar hero Wes Montgomery popped-up in couple of places.

"Bait and Switch" was the first tune posted from "SUBTEXT," composed as a tribute, in part, to the late, great Joe Zawinul, with whom Steve shared many stages and many miles of travel, conversations, and gin rummy, during the summer of 1986. Judging by the feedback, everyone seemed to enjoy reading about just how this tune was put together!!!

We celebrated of the simultaneous recent uploads to iTunes of Steve's catalog albums from the past, we are pleased to offer the last remaining composition, the title song from the "MODERN TIMES"(1982) album. This live album was the 2nd of three recordings with the original Eyewitness configuration that featured: Anthony Jackson, Steve Jordan, and Manolo Badrena. If you are or were a fan of that group, don't miss this special presentation of a newly revised lead sheet. Here's hoping that this never-ending winter of our discontent is almost finished!!!

When we arrived at September of 2013, it has been almost one full year since any was presented here. It was a most interesting cosmic accident when someone happened to send me a YouTube link for "Macbeth," which was a song that I had contributed to Mark Colby's 1979 LP, "ONE GOOD TURN." The recorded performance featured: Bob James, Gordon Johnson, Steve Gadd, and Portinho. Honestly, I hadn't heard it in years, perhaps two decades at the very least, but, as I have tried to share the lead sheets for all the original tunes, I was inspired to rewrite the lead sheets. And so, here they are, and they come to you with the hope that you will enjoy reading the analysis and the story of this particular composition.

In December of 2012, we presented the lead sheets for Steve's composition, "Rites of Darkness" which now appears on Volume 2 of the just released compilation, "MONTREUX SUMMIT" by the CBS Jazz All-Stars. Recorded live at the Montreux Jazz Festival in 1977, this performance featured Steve alongside: George Duke; Bob James; Alphonso Johnson; Billy Cobham; and Ralph MacDonald. Though the performance has many flaws, on the odd chance that a new generation of players might find the tune interesting enough to try to play and perform made this presentation seem like a reasonably good idea. Steve's analysis offers insights into everything that happened leading up to the performance and the aftermath as well.

This site created and maintained by Blaine Fallis, A Train Creative, Inc. . Graphic design Blaine and Youngsuk Fallis. Written and edited by Steve Khan. Steve Khan illustration by NED SHAW. Don't miss Ned's latest at our ONLINE GALLERY!